Pitt Team's Replacement Heart Valve Could Decrease Need for Pediatric Surgeries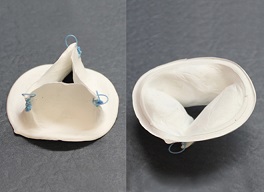 Garrett Coyan, MD, sees many patients each week, from children to the elderly, to check on their replacement heart valves.
"We have to counsel patients every day on which current technology is right for them, including what medicine they need to take and what limitations they have for their lifestyle," said Dr. Coyan, a resident in the University of Pittsburgh's six-year integrated cardiothoracic surgery residency program and a team member in the lab of McGowan Institute for Regenerative Medicine director, William Wagner, PhD. "It can be hard to do sometimes."
Heart valve disease affects over 2.5% of the US population, resulting in the need for over 150,000 heart valve replacements each year—and the need is only growing. Current mechanical and bio-prosthetic replacement valves have drawbacks, however. They require a lifelong commitment to a strict blood-thinning medicine regimen, aren't very durable, and don't allow for growth when implanted in children.
"There's a serious need for valves that will last longer," said Dr. Coyan. "For children, you're basically setting them up for several operations in their lifetime, because you don't have an option that can last for the entirety of their adolescence. They might need up to four operations to get to adulthood."
Seeing this trend, Dr. Coyan and a team of researchers at the McGowan Institute work to create an engineered, scaffold-based heart valve replacement that relies on internal tissue growth. In other words, the device, called OneValve, recruits the patient's cells to help it grow within the patient, meaning anticoagulation therapy and costly reoperations wouldn't be necessary.
"We use biopolymer materials that degrade over time, and these materials create a mesh that works as a valve immediately," Dr. Coyan said. "But the cool thing is, over time, the patient's own cells will invade that mesh and grow into it. After about a year to a year-and-a-half, the patient's cells have created their own heart valve in its place."
The mesh provides an organic blueprint for cells to latch onto and reproduce to recreate the natural valve that current replacement valves can't achieve.
"Mechanical valves and bioprosthetics are simply not designed to perform those kinds of tasks," said Antonio D'Amore, PhD, research assistant professor in the departments of surgery and bioengineering at Pitt and also a team member in the Wagner Lab. "Cells can't attach to those valves and treat them as foreign objects. This mesh acts like a sponge for those cells."
Dr. D'Amore is another lead investigator for OneValve, as well as a principal investigator and head of the cardiac tissue engineering program, Fondazione RiMED, an international partnership between the Italian government, the University of Pittsburgh, and the University of Pittsburgh Medical Center.
The OneValve team's prototype proved to be successful in 24-hour porcine studies. The team next wants to test the device for a longer period of time, about several months, and move OneValve more toward clinical trials and commercialization.
And, as winners of the 2019 Pitt Innovation Challenge hosted by Pitt's Clinical and Translational Science Institute, that next step is very near.
"We're excited about it. We're happy to have won the competition and will use the resources to move things along," said Dr. Wagner, Distinguished Professor in the departments of surgery, bioengineering and chemical engineering at Pitt, and a third lead investigator for OneValve.
The team has also been working with Pitt's Innovation Institute to move OneValve more toward commercialization.
Illustration:  The OneValve device shown here recruits a patient's own cells to the heart valve, then degrades over time, coaxing a natural replacement heart valve into being. The blue sutures pictured anchor the device to the right ventricle of the heart. (Courtesy of OneValve.)
---
RESOURCES AT THE MCGOWAN INSTITUTE
December Histology Special
Ho Ho HEROVICI!!
The Herovici combination of picro methyl blue or aniline blue and picro acid fuchsin in proper proportion results in a red stain for Type I mature collagen, while reticulum and newly formed Type III collagen stains blue.
The holidays are a magical time for collagen of all ages!   Bring your samples to the McGowan Histology Lab and receive a 25% discount on all Herovici Stains for the entire month of December.
Happy Holidays Collagen! Let's paint the town Red… or Blue.


You'll receive 25% off Herovici Staining for the entire month of December when you mention this ad.  Email perezl@upmc.edu or hartj5@upmc.edu or call 412-624-5265.
As always, you will receive the highest quality histology work with the quickest turn-around time.
Did you know the more samples you submit to the histology lab the less you pay per sample?  Contact Lori to find out how!
---
Save the Dates!
Ophthalmology Networking Session
The McGowan Institute and the University of Pittsburgh Department of Ophthalmology is organizing a Faculty Networking Session on Tuesday, February 18, 2020.  This even will be held in Alumni Hall Connolly Ballroom, 4227 Fifth Avenue, Pittsburgh.  There will be mini-presentations by scientific and clinical faculty.  Areas of consideration include devices, tissue engineering, cell therapy, biologics, and gene therapy.  Do not miss this opportunity to share your needs and ideas or to introduce your lab's capabilities.  Registration is now open.
To register, please click here.
---
McGowan Institute Annual Retreat
Save the dates of March 9 and 10, 2020 for the McGowan Institute Scientific Retreat. The program committee under the leadership of Julie Phillippi, PhD is developing an exciting program. Updates will follow soon.
---
SCIENTIFIC ADVANCES
DOD Grants $600K to Study Novel Regulator of Kidney Cancer Progression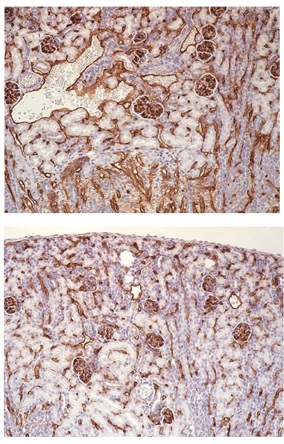 According to the American Cancer Society, kidney cancer is among the top ten most common cancers in men and women, and clear cell renal cell carcinoma (ccRCC) – the most common subtype of tumor associated with kidney cancer – accounts for more than 75 percent of cases.
McGowan Institute for Regenerative Medicine affiliated faculty members will serve as co-investigators on a $603,807 award from the Department of Defense to identify novel regulators that can potentially target ccRCC progression.  The collaborators are Partha Roy, PhD, Associate Professor of Bioengineering, Cell Biology, and Pathology at the University of Pittsburgh, and Michael Lotze, MD, Professor of Surgery and Bioengineering, University of Pittsburgh; Vice Chair of Research, Department of Surgery, University of Pittsburgh School of Medicine; and Assistant Vice Chancellor Sponsored Training Grants, University of Pittsburgh Schools of the Health Sciences.
"The five-year survival of patients with advanced ccRCC is still only 10 percent," said Dr. Roy. "A distinguishing hallmark of ccRCC is the highly vascular (angiogenic) tumor microenvironment due to genetic loss of VHL, a major negative regulator of angiogenesis – the process in which a network of blood vessels is developed."
Through this network of blood vessels, oxygen and nutrients can be supplied to the tumor microenvironment, allowing it to grow and spread.
"The tumor microenvironment is a collection of cells, molecules, and blood vessels that surround a tumor," explained Dr. Roy, "and studying the close relationship and interactions between the tumor and its microenvironment may help researchers better understand the growth and development of cancer.
"Given my lab's research interests in angiogenesis and cancer, we would like to identify novel regulators of tumor blood vessel formation in the kidney that contribute to disease progression when dysregulated and therefore, be potentially targeted to slow down tumor progression."
Dr. Roy directs the Cell Migration Laboratory in the Swanson School of Engineering, where they have developed a better understanding of the role of actin-binding protein profilin1 (Pfn1) in physiological and pathological processes and want to examine its role in kidney cancer.
"With clear evidence of a clinical association between high Pfn1 level and poor disease outcome in ccRCC, we plan to use this study to determine whether Pfn1 contributes to ccRCC progression and investigate whether Pfn1 inhibition by novel small molecules is an effective strategy to control the tumor microenvironment and slow down the progression of RCC."
The underlying hypothesis of this study is that Pfn1 stimulates tumor angiogenesis and limits the immune responses that otherwise would help slow cancer progression. In the first part of the study, the group will address whether Pfn1 dysregulation in vascular cells effects the tumor microenvironment and ccRCC progression. They will also determine if Pfn1 expression has any correlation with the responsiveness of ccRCC patients to immunotherapy.
In the second part of the study, they will determine if novel investigative compounds targeting Pfn1 function can be used to suppress tumor angiogenesis, improve immune response, and inhibit ccRCC progression.
"The results of this study could establish Pfn1 as a novel regulator of ccRCC progression and a biomarker for predicting the therapeutic response of ccRCC patients," said Dr. Roy. "This could pave the way for future development of improved classes of Pfn1 inhibitor as a possible novel therapeutic direction that might benefit patients who are resistant to standard VEGF-targeted anti-angiogenic therapy."
Illustration:  Renal microvasculature in wild-type (top) vs conditional profilin1 knockout (bottom) mice showing profilin1-dependency for blood vessel generation in the kidney (courtesy: Roy lab).
---
Re-Envisioning Ophthalmology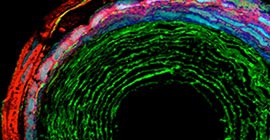 In her article, Elaine Vitone, a writer for PittMed, recently laid out the extraordinary activity arising in Pittsburgh in UPMC's planned vision and rehabilitation hospital in Uptown, near the UPMC Mercy hospital. The nine-story, 410,000 square-foot facility, which was painstakingly designed to spec with both patients and scientists in mind, will be ready for the entire Ophthalmology Department in 2022.
The effort is led by José-Alain Sahel, MD, The Eye and Ear Foundation Endowed Chair, Department of Ophthalmology, University of Pittsburgh School of Medicine, and the Director, UPMC Eye Center.  Dr. Sahel is also an affiliated faculty member of the McGowan Institute for Regenerative Medicine.
In 2008, Dr. Sahel, one of the world's top experts in retinal diseases and vision restoration research, founded Institut de la Vision in Paris. That colossal venture is in the same vein as what UPMC and the University of Pittsburgh are planning. In its first 10 years, the Paris institute launched several companies and created 1,000 jobs.
Dr. Sahel continues to advise his colleagues in Paris and has established a robust collaboration between the institute and its academic partner—the Sorbonne's scientific and medical school known as Université Pierre et Marie Curie—and Pitt/UPMC. This new intercontinental partnership is likely the largest biomedical research undertaking of ophthalmology in the world.
Before Pitt/UPMC joined forces with Paris, they had strengths in corneal biology, infectious disease research, immunology, drug delivery, neuroscience, information technology, engineering, and ocular biomechanics. Pitt is home to the Louis J. Fox Center for Vision Restoration, perhaps the first multidisciplinary research program dedicated to optic nerve regeneration in the nation, which is directed by McGowan Institute affiliated faculty member Jeffrey Gross, PhD, the E. Ronald Salvitti Chair in Ophthalmology Research in the Department of Ophthalmology, University of Pittsburgh School of Medicine.
Ms. Vitone shares in her article some of the current research efforts of Drs. Sahel and Gross and others, such as McGowan Institute for Regenerative Medicine affiliated faculty member Ryad Benosman, PhD, professor of ophthalmology at Pitt, as well as an adjunct faculty member in the Robotics Institute of Carnegie Mellon University.
Today, many diseases of the retina and optic nerve remain untreatable. Changing that, experts say, will require an all-hands-on-deck approach: developmental biologists, stem cell biologists, physiologists, neuroscientists, mathematicians, engineers, pharmacologists, and surgeons all charging full force—and most importantly, doing it together.  The new UPMC facility will help make that happen.
Illustration:  Lens for A of V.  Jeffrey Gross, PhD.
---
Researchers Find New Role for Dopamine in Gene Transcription and Cell Proliferation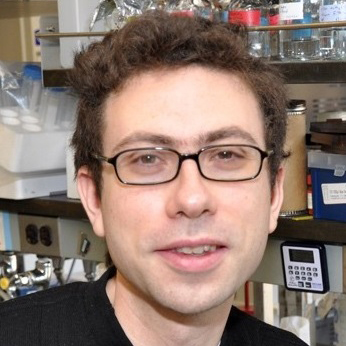 The dopamine D2 receptor has a previously unobserved role in modulating Wnt expression and control of cell proliferation, according to a new study from the George Washington University (GW) and the University of Pittsburgh. The research, published in Scientific Reports, could have implications for the development of new therapeutics across multiple disciplines including nephrology, endocrinology, and psychiatry.  Zachary Freyberg, MD, PhD, an assistant professor of psychiatry and cell biology at the University of Pittsburgh School of Medicine and an affiliated faculty member of the McGowan Institute for Regenerative Medicine, is a senior author on the study.
Dopamine is traditionally studied in the central nervous system, however, it is increasingly implicated in regulating functions of various other organs. This new study identifies a new role for dopamine signaling via the D2 receptor outside the brain – in controlling signaling through the Wnt/β-catenin pathway, in part, through its effects on expression of Wnt3a, a key Wnt receptor ligand.
Both dopamine and the Wnt/β-catenin signaling pathways are ubiquitous across organ systems and species. Wnt signaling is essential for development and cell proliferation and is associated with a number of diseases from cancer to schizophrenia. However, little is known about the underlying mechanism regulating expression of Wnt3a, or the modulation of its activity.
"In our research, we found that the dopamine D2 receptor is a transcriptional regulator of Wnt signaling and this ability to modulate Wnt signaling is important for better understanding development of hypertension," said Prasad Konkalmatt, PhD, assistant research professor of medicine at the GW School of Medicine and Health Sciences and a first author on the study.
The research team focused the study on signaling in the kidneys and in the pancreas. More broadly, the study shows that dopamine receptors can act as regulators of gene transcription and that this signaling is important in controlling cell proliferation under healthy and disease conditions.
These results were unexpected, surprising the investigators by how well conserved this dopamine regulation was across species and organs. This work also showed for the first time that lithium, one of the most commonly used psychiatric medications today, strongly increases the expression of D2 receptors, providing a new mechanism of action for this drug.
"Our work opens the door to a new way of thinking about dopamine signaling and its regulation," said Dr. Freyberg. "By providing a new mechanism for the actions of lithium, we can better understand how this medication works and make better medications in the future to treat bipolar disorder and to improve the lives of the millions of people living with this illness."
The investigators also discovered that a number of common gene polymorphisms associated with hypertension and renal injury control D2 receptor expression in renal cells. This discovery provides new mechanisms and drug discovery targets for hypertension and renal injury.
"Our findings have broad implications in terms of how we think about dopamine receptor signaling, especially given that the receptors are targets for diabetes and potentially for hypertension and renal injury," explained Ines Armando, PhD, associate research professor of medicine at the GW School of Medicine and Health Sciences and a senior author on the study.
"Expanding our understanding of this unique signaling specific to individual patients offers the promise of more effective precision medicine."
---
SPRY Clinical Trial Is First of Its Kind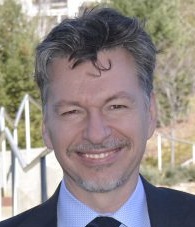 Jenny Blair, writer for PittMed, reports in her article that in April 2019, Pitt began enrolling patients in one of the world's first trials that combines the electronic health record with a new, efficient, safety-focused randomization process. The system is powered by software created by the Texas-based Berry Consultants. The approach, called REMAP (randomized, embedded, multi-factorial, adaptive platform), may transform the way doctors learn from patients—and how they care for them.
In 2015, McGowan Institute for Regenerative Medicine affiliated faculty member Derek Angus, PhD, MPH, published in JAMA the article entitled "Fusing Randomized Trials With Big Data: The Key to Self-learning Health Care Systems?"  His landmark paper proposed the new REMAP approach to clinical trials.
The trial, called SPRY, will determine whether the antidiabetic drug metformin helps older adults recover from surgery. SPRY is funded by UPMC's Immune Transplant and Therapy Center. It costs about $5 million, a fraction of what it would cost to run a more conventional trial to answer the same questions. Some takeaways:
New participants are likely to be randomized to the better performing arms of the study. Likewise, patients already enrolled who don't respond well to their assigned experimental treatment may be reassigned to groups that seem to be responding better.
The odds of being assigned to the best therapy go up as enrollment proceeds and researchers learn more.
The algorithm watches the results throughout.
New treatment arms are introduced in response to what's been learned.
Hopefully, in the end, there's a newly vetted treatment that becomes a standard of care. If not, the platform can test another therapy.
The platform can be adjusted for other clinical trials.
Dr. Angus imagines that REMAP-type trials may one day become part of everyday care. Experimental treatments for cancer, sepsis, and other highly complex problems are particularly well-suited to this approach.
"In a way, it would seem intolerable to ever let your bedside clinician with imperfect knowledge try to make a decision under uncertainty when an overarching adaptive platform may have more knowledge about the best odds of treatment than anything else," Dr. Angus says.
Dr. Angus is Chair of the Department of Critical Care Medicine of both the University of Pittsburgh School of Medicine and the UPMC Healthcare System. At the University, he holds the rank of Distinguished Professor and the Mitchell P. Fink Endowed Chair in Critical Care Medicine with secondary appointments in Medicine, Health Policy and Management, and Clinical and Translational Science and he directs the CRISMA (Clinical Research, Investigation, and Systems Modeling of Acute Illnesses) Center. He also co-directs the UPMC ICU Service Center, responsible for the provision of ICU services across the 20-plus hospital system.
---
Dr. Tracy Cui Leads Pitt Neuron Research in Pitt/CMU Brain Collaboration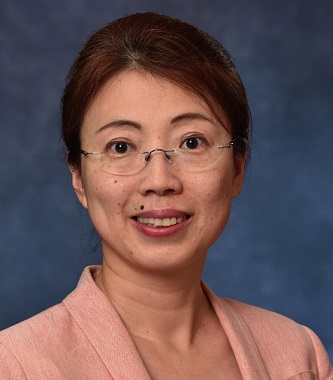 The brain is a complex organ full of neurons that work together to help us move, feel, think, and more. A multidisciplinary group from the University of Pittsburgh (Pitt) and Carnegie Mellon University (CMU) is working to expand the amount of information researchers can receive from a neural interface device and received two grants from the National Science Foundation (NSF) for their collaborative effort.
The team, headed by CMU's Maysam Chamanzar, PhD, plans to develop an all-in-one implantable device that can simultaneously record neural activity, identify the cell type, and determine cell function through chemical stimulation. More information about these cells may help researchers determine how they communicate and help our bodies function.
McGowan Institute for Regenerative Medicine faculty member Xinyan Tracy Cui, PhD, professor of bioengineering in the Swanson School of Engineering, will lead the research at Pitt with a $293,138 award. She runs the Neural Tissue/Electrode Interface and Neural Tissue Engineering Lab, where they develop new engineering tools to study and clinically control the interface between tissue and implanted neural devices.
"There are currently methods that researchers can use to identify cell types, mostly using imaging, but we wanted to create an innovation that combines imaging capability with electrical recording, all on a small probe," said Dr. Cui. "Additionally, we're incorporating the focal chemical stimulation technology that was developed in my lab to be able to perturb the neurons that we're imaging at a very local level and identify the function of those neurons within the network."
This novel device will give researchers more information and allow them to avoid the more invasive methods used to determine cell type.
"In the past, researchers had to open the brain to a large field of view for a microscope or use a sort of endoscopic device to determine cell type. Unfortunately, these methods cause a lot of damage and prevents you from continuously monitor neural activity over a long period of time," said Dr. Cui. "Our device will not only be less invasive, but it will also be coupled with additional technology that will provide more dimensions of information on brain function."
Dr. Cui will collaborate with William Stauffer, PhD, assistant professor of neurobiology at Pitt, whose lab investigates the neurocomputational roles for different neuron types during learning and decision making.
"Understanding how different types of neurons participate in, and contribute to, the 'neural ensembles' that orchestrate behaviors is a principal goal of neuroscience," said Dr. Stauffer. "This combined neural interface will permit recording of cell type-specific neural activity in awake behaving animals. Thus, this device will add a new dimension to behavioral neurophysiology experiments and move us a step closer to understanding how the brain generates behavior."
The lab of Dr. Chamanzar, assistant professor of electrical and computer engineering at CMU, focuses on designing and implementing next generation multimodal (Acousto-opto-electrical) neural interfaces to understand the neural basis of brain function and realize functional brain-machine interfaces. He is leading the design and implementation of the neural interface technology in this project.
"In this project, we seek to develop a novel neural interface technology consisting of high-density recording electrodes and an array of flexible optical waveguides for simultaneous electrical recording and optical imaging of neurons," says Dr. Chamanzar. "The flexible polymer waveguides will be designed in the shape of a small, form-factor array to enable endoscopic optical imaging of the recording volume. Some of the electrodes will be modified to enable closed-loop localized chemical stimulation in synchrony with electrical stimulation and optical imaging."
---
Pitt School of Dental Medicine Goes Opioid-Free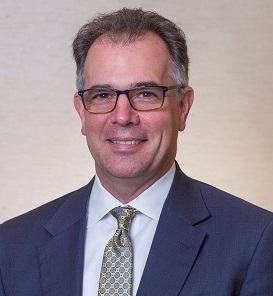 The University of Pittsburgh School of Dental Medicine is the first in the nation to establish opioid-free pain management guidelines for the vast majority of procedures performed in all of its clinics.
For decades, opioid pain relievers have been routinely prescribed for dental procedures, including the surgical extraction of wisdom teeth – often a teenager's first exposure to opioids. Since current evidence shows that alternative, non-opioid medications generally work as well or even better for managing pain after dental work, without the side effects of nausea, vomiting, constipation and potential for misuse, Pitt Dental Medicine has developed a set of updated pain management guidelines to help practitioners make the best choices for their patients.
"It's not a cookbook approach to how to take care of patients," said McGowan Institute for Regenerative Medicine faculty member Bernard Costello, DMD, MD, dean of the Pitt School of Dental Medicine. "This allows clinicians to make good choices based on what they know of the biology of the patient and the patient's concerns."
The Pitt Dental Medicine guidelines advocate that clinicians prescribe non-opioid pain-relievers first whenever possible.
If a patient can't tolerate one of several opioid alternatives, or requires additional pain relief as a rescue medication, clinicians should:
Choose the lowest potency possible.
Limit to a three-day supply.
Check the Pennsylvania Patient's Prescription Drug Monitoring Program (PDMP) database.
If the patient is already taking opioids for chronic pain or a substance use disorder, additional opioids should not be prescribed without first consulting a pain management clinician and formulating an alternative plan.
The Appalachian corridor, which includes Western Pennsylvania, is a hot zone for opioid addiction. With deaths occurring every day from opioid abuse, and costs of rehabilitation care approaching $90,000 per hospitalization, deliberate strategies to minimize dental pain after treatment and eliminate the need for opioid pain relievers are now available to combat this public health crisis in the Appalachian region.
"Pitt Dental Medicine is leading the way with the adoption of this new protocol by teaching our students and residents the best way to manage pain effectively without the unnecessary risk of opioid dependence," Dr. Costello said. "When these trainees move on to other practices, they'll take these opioid-free guidelines with them."
---
Metastatic Breast Cancer Research Receives A Glimmer of Hope Foundation Funding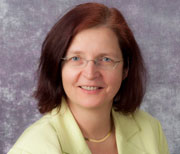 Magee-Womens Research Institute (MWRI) has received $112,500 in funding from A Glimmer of Hope Foundation (GOH) to further research of metastatic breast cancer (MBC) and to enhance patient support services at UPMC Magee-Womens Hospital.
"We are grateful to A Glimmer of Hope Foundation for supporting our research efforts," said McGowan Institute for Regenerative Medicine affiliated faculty member Steffi Oesterreich, PhD, director, Women's Cancer Research Center at MWRI and UPMC Hillman Cancer Center. "This funding will help us to measure patient response to treatment and identify changes that may have emerged during tumor evolution."
The use of solid tumor biopsies — a surgical procedure when tissue is removed from a tumor and examined — to measure patient responses to treatment is mainstay in current breast cancer research. MWRI has found that breast cancers evolve and adapt as a result of therapy treatments and changes in hormones. Better understanding the process of breast cancer evolution is key to combating drug resistance and mortality, but solid tumor biopsies hinder research progress due to the cost and potential clinical complications involved.
MWRI also will analyze liquid biopsies, or blood samples, to better understand how to combat metastatic breast cancer. DNA fragments from tumors are shed into the blood and can be separated from the plasma for genetic sequencing. This may allow real-time monitoring of the size and severity of breast cancer tumors and its response to therapy. Additionally, liquid biopsies are less invasive so they may be taken more frequently than standard solid tumor biopsies.
About half of the total funding will support the genomic analysis of blood samples previously collected from patients of UPMC Magee. The GOH funds will enable sequencing of the samples and will establish a baseline for future clinical trials.
Additionally, $25,000 will be used for acupuncture treatments, and $25,000 will be used for massage therapy to help reduce pain, stress and anxiety for patients at UPMC Magee — a holistic approach that incorporates integrative medicine services with traditional treatments, aimed at healing the mind, body and spirit.
"The generous donation we have received from A Glimmer of Hope will allow us to continue progress on metastatic breast cancer therapies," said Michael Annichine, chief executive officer of MWRI & Foundation. "Through their support, we can continue to improve and personalize breast cancer diagnoses and provide services to ease treatment-related side effects."
"Because of the tremendous generosity of all our supporters, we have been able to fund metastatic breast cancer research. This is just the beginning. Our passion is the cure. I am very grateful to Magee and MWRI for their commitment to this important study," said Diana Napper, founder of GOH Foundation.
---
Review Article Provides a Framework for Ongoing/Future Brain Tissue Healing Studies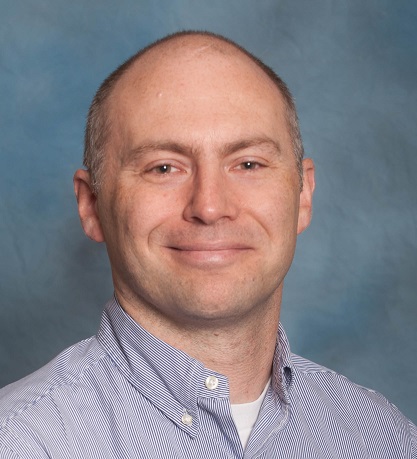 Some of the most challenging medical conditions are acute brain injury and progressive neurodegenerative disease.  Aiming to examine these issues, Frontiers in Neuroscience recently published the review article entitled "Bioscaffold-Induced Brain Tissue Regeneration" by Michel Modo, PhD, Professor in the Department of Radiology at the University of Pittsburgh with secondary appointments in the Department of Bioengineering and the Center for Neural Basis of Cognition.
Dr. Modo writes, "Although little is currently known about mechanisms involved in brain tissue regeneration, this review outlines the various components and their interplay to provide a framework for ongoing and future studies. It is envisaged that a better understanding of the mechanisms involved in brain tissue regeneration will improve the design of biomaterials and the methods used for implantation, as well as rehabilitation strategies that support the restoration of behavioral functions."
Dr. Modo's article explores the options towards brain tissue healing.  The article spans these topic areas:
Tissue Repair Versus Regeneration
The Brain's Failure to Regenerate
Wound Healing Versus Tissue Regeneration
Fetal CNS Tissue Transplants and Brain Development
Neural Stem Cells: From Tissue Repair to Regeneration
Inductive Bioscaffolds to Promote Brain Tissue Regeneration
Immune System Response to Implantation
Biodegradation of Scaffolds
Neural Tissue Formation and Connectivity
Cell-Bioscaffolds and Engineered Micro-Tissue Constructs for Repair and Regeneration
Training of Functional Circuitry
Criteria to Evaluate Functional Brain Tissue Regeneration
Dr. Modo concludes, "The utility of brain tissue regeneration is not to perfectly restore the damaged brain, but to produce a sufficient tissue substrate that can reduce behavioral deficits. It is expected that this review provides the context for future studies to improve engineering strategies that will produce a robust regeneration of brain tissue."
---
Dr. Dobrawa Napierala Awarded Grant to Commemorate Soft Bones 10th Anniversary and Hypophosphatasia Awareness Day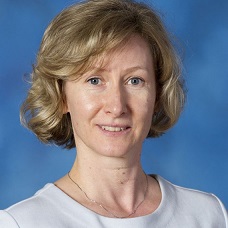 To commemorate Hypophosphatasia Awareness Day (October 30), Soft Bones, Inc., an organization dedicated to providing information, education and support to those affected by hypophosphatasia (HPP), awarded its tenth annual Maher Family Grant.  In commemoration of its tenth anniversary, Soft Bones awarded two grants for the first time ever.  McGowan Institute for Regenerative Medicine affiliated faculty member Dobrawa Napierala, PhD, Associate Professor of Oral Biology at the Center for Craniofacial Regeneration, University of Pittsburgh School of Dental Medicine, is one of this year's awardees and will study adolescents and adults with HPP.
Dr. Napierala will address the novel role of tissue-nonspecific alkaline phosphatase (TNSALP) in the mineralization process, which is the underlying cause of the majority of skeletal deformities and dental problems in HPP patients.
"My ultimate goal is to understand the molecular bases of human disorders affecting the formation of bone and teeth for the improvement of therapeutic approaches," said Dr. Napierala. "This grant will allow me to explore the novel, previously unrecognized, function of alkaline phosphatase in bone and tooth cells, as I seek to help identify new treatment approaches that are applicable to various bone and tooth formation diseases."
"Dr. Napierala's research aims to provide a better understanding of molecular mechanisms underlying genetic mineralization disorders including rickets, osteomalacia, and, most importantly for soft bones, HPP," noted Michael Whyte, MD, Medical-Scientific Director at the Center for Metabolic Bone Disease and Molecular Research, Shriners Hospital for Children and Professor of Medicine, Pediatrics and Genetics at Washington University School of Medicine in St. Louis, MO. "Her research may provide a premise for evaluating TNSALP as potential treatment for these disorders."
Hypophosphatasia is an inherited, ultra-rare, metabolic (chemical) bone disease of broad-ranging severity that causes life-threatening disease in approximately one per 100,000 live births. Depending on the severity of the skeletal disease, symptoms can include deformity of the limbs and chest, pneumonia, and recurrent fractures. While there is currently no cure for hypophosphatasia, treatment is directed towards preventing or correcting the symptoms or complications.
Soft Bones, Inc. was founded in 2009 to provide information and to establish a forum to educate, empower, and connect patients living with hypophosphatasia, their families, and caregivers. The Foundation also promotes research of rare bone disease through awareness and fundraising efforts. Under the leadership of Deborah Fowler, Soft Bones has raised awareness around the world, including advocating for the disease to receive the policy recognition and research funding it deserves, by bringing attention to children affected by hypophosphatasia around the globe.
---
AWARDS AND RECOGNITION
CMU's Dr. Newell Washburn Recognized by Covestro for Scientific Excellence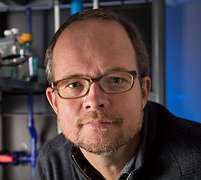 Covestro announced Carnegie Mellon University's (CMU's) Newell Washburn, PhD, as the recipient of its global Science Award in recognition of his role in pioneering a scientific innovation that speeds the development of customized polymer formulations. Dr. Washburn, an associate professor of chemistry and biomedical engineering, with a courtesy appointment in the department of materials science and engineering, accepted the award during the Covestro Science Celebration at K 2019 held in Düsseldorf, Germany. Held every three years, K 2019 is the world's leading trade show for the plastics and rubber industry.
"Our collaboration with Dr. Washburn is the latest example of how Covestro is harnessing the promise of digitalization and innovation to address shorter product cycles and an increased demand for new products," said Haakan Jonsson, PhD, president and managing director, Covestro LLC. "This ability puts us in position to better meet the needs of our customers and consumers."
Dr. Washburn was singled out for a proprietary technology that solves a common industry challenge. Traditionally, formulating polyurethane elastomers, foams and coatings to a customer's exact specifications is a time-consuming process, filled with trial and error in the lab. Dr. Washburn's hierarchical machine learning approach, developed in collaboration with Barnabás Póczos, PhD, associate professor of machine learning at Carnegie Mellon, leverages data analytics and simulation to more quickly determine the formulation that meets customer requirements. Dr. Washburn, on sabbatical from CMU, is working closely with Covestro experts in the coatings, adhesives and specialties, and polyurethanes businesses to optimize this novel approach.
"The experience I've had with Covestro has been extremely valuable," said Dr. Washburn. "I'm thankful for the opportunity to work with an organization that nurtures innovation and recognizes the value it brings to its business, and the business of its customers."
---
Dr. Rory Cooper Appointed to Pennsylvania Department of Health's Spinal Cord Research Advisory Committee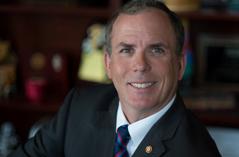 McGowan Institute for Regenerative Medicine affiliated faculty member Rory Cooper, PhD, has been appointed to the Pennsylvania Department of Health's Spinal Cord Research Advisory Committee.  Rachel Levine, MD, Pennsylvania's Secretary of Health, notified Dr. Cooper of this honor.
Dr. Cooper is the FISA & Paralyzed Veterans of America Professor and Distinguished Professor of the Department of Rehabilitation Science & Technology, and professor of Bioengineering, Physical Medicine and Rehabilitation, and Orthopedic Surgery at the University of Pittsburgh. He is also the Founding Director and VA Senior Research Career Scientist of the Human Engineering Research Laboratories a VA Rehabilitation R&D Center of Excellence in partnership with Pitt.  Dr. Cooper is an adjunct professor in the Robotics Institute of Carnegie Mellon University, and PM&R of the Uniformed Services University of Health Sciences, and he was awarded Honorary Professor at Hong Kong Polytechnic University and Xi'an Jiatong University where he was awarded an Honorary Doctorate.
As a member of the Spinal Cord Research Advisory Committee, Dr. Cooper will have an integral role in making recommendations to the Department of Health regarding research priorities, evaluation and accountability procedures and related issues.  Additionally, the Committee will advise on the appropriation of eligible program funding.
Congratulations, Dr. Cooper!
---
Weber Lab Student Clinches First Place at SHPE Poster Competition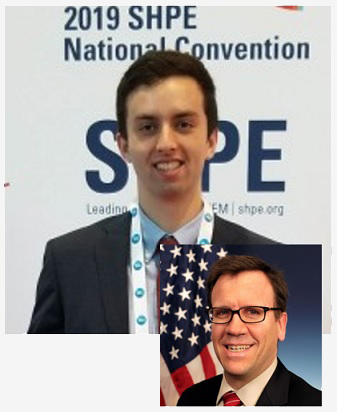 Sebastian Correa, a junior bioengineering student in the lab of McGowan Institute for Regenerative Medicine affiliated faculty member Douglas Weber, PhD, associate professor in the Department of Bioengineering at the University of Pittsburgh and director of the Rehab Neural Engineering Labs (RNEL), attended the Society of Hispanic Professional Engineers (SHPE) National Convention in Phoenix and received the first place award at the Engineering Science Symposium poster competition.
Mr. Correa presented a poster on using a high-density electromyography (HDEMG) electrode sleeve array to analyze surface EMG from individuals who have sustained spinal cord injury.
"We use the HDEMG sleeve to record EMG signals from a patient's forearm while they do several hand movements and then process and classify these movements," Mr. Correa explained. "The purpose of the project is to optimize the methods of processing and classifying the data to enable individuals who have sustained a spinal cord injury the ability to accurately control assistive devices through the use of EMG signals found on affected limbs."
Jordyn Ting, a bioengineering graduate student in the RNEL Labs, has helped mentor Mr. Correa during his undergraduate research. Her work involves studying spared muscle and motor unit activity in individuals with tetraplegia with the goal of restoring intuitive control of hand function through non-invasive methods.
"Sebastian's work has helped to identify some of the key analysis steps necessary in analyzing muscle activity from individuals with spinal cord injuries," said Ms. Ting. "We will continue to build upon this foundation in future work on the project."
Mr. Correa received a $1,000 award for his achievement among a competitive group of both graduate and undergraduate students. The presentations covered a variety of topics from a broad range of STEM fields with a focus on "engineering grand challenges."
"Sebastian was competing against PhD students from around the country, but still managed to bring home the top prize," said Dr. Weber. "He and Jordyn worked very hard on this research, and it's wonderful to see their efforts rewarded."
Illustration:  University of Pittsburgh (Mr. Correa) and McGowan Institute for Regenerative Medicine (Dr. Weber).
---
Regenerative Medicine Podcast Update
The Regenerative Medicine Podcasts remain a popular web destination. Informative and entertaining, these are the most recent interviews:
#203 –– Dr. Lance Davidson discusses his work in the interfaces between engineering, physics, and biology.
Visit www.regenerativemedicinetoday.com to keep abreast of the new interviews.
---
PUBLICATION OF THE MONTH
Author: Michel Modo
Title: Bioscaffold-Induced Brain Tissue Regeneration
Summary: Brain tissue lost after a stroke is not regenerated, although a repair response associated with neurogenesis does occur. A failure to regenerate functional brain tissue is not caused by the lack of available neural cells, but rather the absence of structural support to permit a repopulation of the lesion cavity. Inductive bioscaffolds can provide this support and promote the invasion of host cells into the tissue void. The putative mechanisms of bioscaffold degradation and its pivotal role to permit invasion of neural cells are reviewed and discussed in comparison to peripheral wound healing. Key differences between regenerating and non-regenerating tissues are contrasted in an evolutionary context, with a special focus on the neurogenic response as a conditio sine qua non for brain regeneration. The pivotal role of the immune system in biodegradation and the formation of a neovasculature are contextualized with regeneration of peripheral soft tissues. The application of rehabilitation to integrate newly forming brain tissue is suggested as necessary to develop functional tissue that can alleviate behavioral impairments. Pertinent aspects of brain tissue development are considered to provide guidance to produce a metabolically and functionally integrated de novo tissue. Although little is currently known about mechanisms involved in brain tissue regeneration, this review outlines the various components and their interplay to provide a framework for ongoing and future studies. It is envisaged that a better understanding of the mechanisms involved in brain tissue regeneration will improve the design of biomaterials and the methods used for implantation, as well as rehabilitation strategies that support the restoration of behavioral functions.
Source: Frontiers in Neuroscience. 13.2019:01156.
---
GRANT OF THE MONTH
PI: Partha Roy
Co-PI: Michael Lotze
Title: Profilin 1 as a Novel Target in Patients with Renal Cancer
Description: Malignant tumors of the kidney account in 2018 for 63,000 new cases and 15,000 deaths in the U.S. The most common subtype, clear cell renal cell carcinoma (ccRCC), is found in >75% of cases. Approximately 20%-30% of patients have metastasis at the time of diagnosis. About one-third of patients following initial treatment will develop either local recurrence and/or distant metastasis. The five-year survival of patients with advanced ccRCC is still only 10%. Drugs targeted to block expansion of vascular network in the tumor (anti-angiogenic therapy, a common treatment for ccRCC patients) is only effective initially, but in most patients the disease continues to progress due to drug resistance. Immunotherapy, a mode of treatment that hijacks the patient's immune system to fight back the cancer, has shown significant promise, at least in some patients. Therefore, a more in-depth molecular understanding of the pathogenesis and progression of the exuberant vascularization of ccRCC, coupled with understanding of the immunologic sequelae, will lead to new integrated therapies. In this proposed study, we will address several major FY18 KCRP areas of emphasis including targeted therapies, microenvironment and immunology, and prognosis of RCC. Specifically, we will investigate whether and how profilin1 (Pfn1), a molecule elevated primarily in blood vessels in ccRCC and that correlates with advanced stage of tumor and poor prognosis of patients (a) contributes to altering tumor microenvironment and disease progression, and (b) predicts the response of RCC patients to immunotherapy. We will then explore whether efforts to target Pfn1 function through novel small molecules are effective in retarding disease progression in preclinical models. From these studies we will identify Pfn1 as a regulator of disease progression as well as a prognostic marker for predicting therapeutic response of RCC patients. A successful proof-of-concept demonstration of the efficacy of Pfn1-targeting chemical tools in retarding angiogenesis-dependent disease progression will establish the conceptual basis for a path forward toward a new direction of Pfn1-targeted therapy for patients with ccRCC. If successful, these small molecules can be further advanced through medicinal chemistry to generate next-generation drugs for RCC, demonstrating that our studies have translational potential in the future.
Source: Department of Defense
Amount: $603,807