Stories by Cristina D'Imperio
McGowan Town Hall with Drs. Shekhar and Sen
On Monday, August 28, 2023, Anantha Shekhar, MD, PhD (pictured top), Senior Vice Chancellor for the Health Sciences and the John and Gertrude Petersen Dean of the School of Medicine, and Chandan Sen, MD (pictured center), Director of McGowan, held a town hall at the McGowan Institute.
Dr. Shekhar spoke first, followed by Dr. Sen and Stephen Badylak, DVM, PhD, MD (pictured bottom), McGowan faculty.
Dr. Shekhar began by welcoming Dr. Sen, his faculty, and staff to the University of Pittsburgh and the McGowan Institute. Dr. Shekhar stated, "McGowan is a premiere institute by reputation, and I want it to be the number one regenerative medicine institute in the world in five years."
"Leadership, talent, and resources," he noted, were necessary components to achieving this goal and could all be found "here in Pittsburgh, at Pitt, and at UPMC." He further spoke of what he termed as "a new model" that "in addition to the extraordinary research talent [at McGowan], what we are also doing is moving toward integrating all of that work that could happen here immediately into clinical care."
"McGowan has been successful in doing discoveries and developing devices, start-up companies, and commercializations," Dr. Shekhar continued. "What we are going to add now, not only doubling these capabilities, but we are going to add McGowan's discoveries directly to patient care here at UPMC."
While undertaking these new goals, the reporting structure of McGowan within the university is to remain the same. "Resources are going to double, roughly, for the McGowan Institute" stated Dr. Shekhar. "What that also means is that productivity needs to double, accountability needs to double."
He concluded his remarks, stating, "I am very happy to be here, to launch this new direction for McGowan, for regenerative medicine, for all of the great things that have happened here before and that will happen in the future."
Upon concluding his remarks, Dr. Shekhar took questions from the audience before Dr. Sen took the podium.
Dr. Sen expressed his excitement, honor, and sense of responsibility as he "joins the Pitt-McGowan family," stating, "I am inspired by the legacy of excellence that defines this institute." He also discussed the origins and growth of the field of regenerative medicine.
In addition, Dr. Sen discussed the Pitt-McGowan Wound Research Consortium. The Consortium will be a "dedicated clinical research arm of [the McGowan] Institute," which will also be the Pennsylvania hub of the National Institute of Diabetes and Digestive and Kidney Diseases (NIDDK) Diabetic Foot Consortium. The Consortium aims to address the threat of diabetes in the state of Pennsylvania, which Dr. Sen noted "ranks in the lowest quartile in the country with a high-than-average rate of amputation." An estimated 85% of leg amputations are the result of a diabetic ulcer foot wound. More than 500 leg amputations are performed daily in the U.S.
Dr. Sen stated, "The Pitt-McGowan Wound Research Consortium's goal will be to address that threat to our community through our network of community-based wound care clinics. Our first new Pitt grant award from the NIH," he continued, "is aimed at enrolling underrepresented minorities in clinical studies on diabetic foot ulcers."
Dr. Sen closed his remarks by mentioning the start of new lecture and seminar series, the formation of a new Executive Committee at McGowan, the value of face-to-face interactions, and the need for financial sustainability. "I am excited to lead the McGowan Institute for Regenerative Medicine into a new era of discovery, collaboration, and impact," he concluded. Dr. Sen's full address can be read here.
Dr. Sen took questions from attendees before Dr. Badylak addressed the audience.
Speaking as a seasoned faculty member, Dr. Badylak spoke informally and broadly discussed the unique strengths that individual leaders bring to their roles. In terms of the institute itself, Dr. Badylak maintained, "McGowan has been, and continues to be, recognized as a leader. What we need is the institutional support we've heard about today, what we need is the cooperation of everybody in this room."
Dr. Badylak also commented on McGowan's past successes, including being ranked globally as a top leader among regenerative medicine institutes. He spoke, too, of McGowan's translational successes.
"Actually, there is a fair amount of translational success happening today [at McGowan]. It is front and center on our mind," he continued. "I've had the opportunity, fortunately, […] to visit institutes around the world, and I can tell you everybody talks about clinical translation. Very few people do it. We are really among a select group of institutes who have successfully done this."
He concluded his remarks by expressing his optimism for continued success for McGowan.
After the Town Hall, refreshments and hors d'oeuvres were served.
---
RESOURCES AT THE MCGOWAN INSTITUTE
September Histology Special – Safranin O Staining
Safranin O staining is used for the detection of cartilage, mucin, and mast cell granules on formalin-fixed, paraffin-embedded tissue sections or frozen sections. The cartilage and mucin will be stained orange to red, and the nuclei will be stained black. The background is stained bluish green.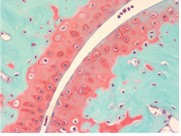 You'll receive 30% off your Safranin O staining in September when you mention this ad.
Contact Julia at the McGowan Core Histology Lab by email: Hartj5@upmc.edu or call 412-624-5265.
Sample Submission Procedures: Please contact us to schedule a drop off time. When you arrive at the building you can call our laboratory at (412) 624-5365. Someone will meet you in the lobby to collect your samples. When your samples are completed, you will receive an email to schedule a pickup time.
---
SCIENTIFIC ADVANCES
Dr. Singh Awarded R01 for Research on Chronic Skin Wound Therapies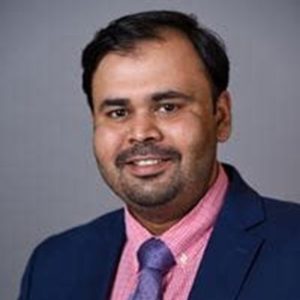 Kanhaiya Singh, PhD (pictured), McGowan affiliated faculty, has been awarded a new R01 by the National Institute of Diabetes and Digestive and Kidney Diseases (NIDDK).
The study, titled "Regulatory Mechanisms Addressing Diabetic Vasculopathy," is focused on chronic skin wounds fueled by rising diabetes, obesity, and vascular disease rates in an aging U.S. population. The abstract notes that over 8 million Medicare beneficiaries are impacted by chronic skin wounds at a cost of $96 billion annually. Overall, 2.5% of the U.S. population is impacted by chronic wounds.
Many current studies, as stated by the abstract, focus on vascular endothelial growth factor (VEGF) therapy to address poor perfusion related to diabetic ulcers (DU). Dr. Singh's study, however, proposes that VEGF single-gene "monotherapy" is limiting, noting that "in diabetic ischemic skin endothelial cells, PLCγ2 levels remain low."
In order to address this inefficiency, the abstract suggests "gene targeted DNA demethylation has potential to rescue PLCγ2 gene expression" and proposes to study "CRISPR/dCas9-based in vivo targeted epigenetic editing of dermal endothelial cells as a therapeutic intervention for enabling VEGF therapy."
By determining the role of PLCγ2 and its impact on VEGF therapies, Dr. Singh ultimately aims to maximize clinical outcomes, helping to better serve patient populations with chronic skin wounds.
Read the full abstract here.
---
Treating Aortic Aneurysms with Click Chemistry: Dr. Vorp Receives Collaborative Sciences Award from the American Heart Association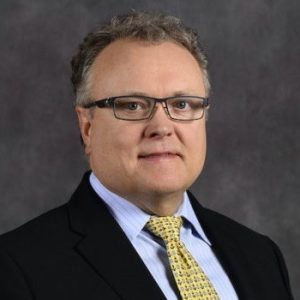 Click chemistry has been described by Nobel-winning scientists as a way of "snapping molecules together […] sort of like a molecular Lego¾ a group on one molecule specifically attaches to a group on another molecule." This "snapping together" of molecules can be used to devise therapies to target disease more precisely, as well as to explore cells, map DNA, and create synthetic materials.
David Vorp, PhD (pictured), McGowan affiliated faculty and Associate Dean for Research at the Swanson School of Engineering, alongside researchers from Carnegie Mellon's Bioengineering Department and Vanderbilt's Department of Vascular Surgery, was recently granted the Collaborative Sciences Award from the American Heart Association (AHA) for research that utilizes click chemistry.
Dr. Vorp and collaborators were awarded $750,000 from the AHA, allocated over three years, for their use of click chemistry to innovate a minimally invasive treatment for previously untreatable abdominal aortic aneurysms (AAA).
Abdominal aortic aneurysms (AAA) are the 15th leading cause of death in the U.S.¾every year, more than 200,000 people are diagnosed with an AAA. Current treatments for an AAA differ depending on the size of the aneurysm. For example, small aneurysms of less than 5 cm. in diameter are monitored every 6 to 12 months. Larger aneurysms frequently require the placement of a prosthetic graft, a hospital stay of four to ten days, and a recovery time of up to three months. Many times, people who are diagnosed early with a small aneurysm must wait for it to get worse before receiving treatment.
Dr. Vorp and his team will collaborate with Carnegie Mellon and Vanderbilt universities on a project tiled, "Clickable Extracellular Vesicles for Aneurysm Stabilization" that aims to provide early treatment for an AAA. Using click chemistry, the researchers will bind extracellular vesicles to a material for minimally invasive delivery to the aneurysm wall.
Achieving this goal will enable patients with an AAA to be treated sooner, reducing the risks involved with waiting for aneurysms to reach a certain size, invasive surgery, and prolonged recovery times.
---
At McGowan, Patents Translate to Patients, the Economy, and Putting Regenerative Medicine on the Map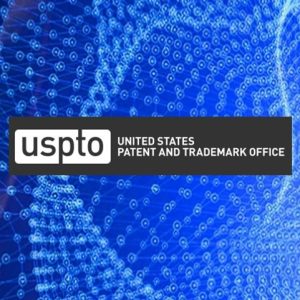 In 2022, the University of Pittsburgh ranked 22nd on the National Academy of Inventors (NAI) Top 100 Worldwide Universities Granted U.S. Utility Patents. Pitt innovators were issued a total of 105 patents. Of these, more than 40 were issued to McGowan faculty and affiliated faculty.
On the NAI's website, Dr. Paul Sanberg, President of the Academy stated, "Throughout its existence, the National Academy of Inventors has sought to quantify with hard data, the vital role research and patented technology developed at academic institutions play in our society."
At McGowan, patents address critical national healthcare needs and are helping to revitalize Pittsburgh's regional economy. The continuum of research, clinical investigations, and technology transfer through commercial spin-outs and industry licensing has been successful in putting Pennsylvania on the map as a center of excellence in regenerative medicine.
To date, McGowan employs more than 2,000 faculty, staff, and trainees. More than 800 jobs have been created by 35 spin-out companies formed from technology developed by McGowan affiliated faculty members. This has resulted in more than $17 million in direct annual expenditure supporting local businesses. Importantly, more than 14 million patients have been treated with McGowan-Institute developed technologies.
Currently, from January to June of 2023, McGowan faculty and affiliated faculty have been issued a total of 24 patents. Patents issued in January and February 2023 can be found here. Patents issued from March to June are listed below.
March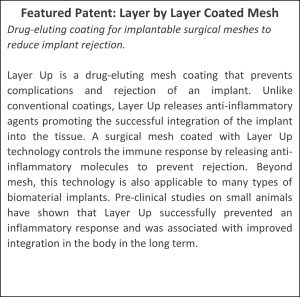 Patent No. 11,596,718
Layer by Layer Coated Mesh for Local Release of Bioactive Proteins
Daniel Hachim; Bryan Brown
Patent No. 11,598,778
Method for Diagnosis and Prognosis and Determination of fTreatment for Cutaneous T-Cell Lymphoma
Brittany Dulmage; Larisa Geskin; Louis Falo, Jr.
Patent No. 11,602,562
Conductive Polymer Graphene Oxide Composite Materials
Xiliang Luo; Xinyan Tracy Cui; Cassandra Weaver-Happe
April
Patent No. 11,623,022
Systems and Methods for Reconstruction of Nerve Defects
Kacey Marra; Jacqueline Bliley
Patent No. 11,629,370
Detection of Bacteria Using Bacteriophage
John Kellum; John Hempel; Robert Edgar; John Viator
May
Patent No. 11,638,724
Ocular Applications of Matrix Bound Vesicles (MBVS)
Yolandi van der Merwe; Anne Faust; George Hussey; Stephen Badylak; Michael Steketee
Patent No. 11,638,727
Probiotics and Probiotic Compositions for Regulating Body Weight
Abhinav Acharya; Steven Little
Patent No. 11,638,645
Biomimetic Plywood Motifs for Bone Tissue Engineering
Prashant Kumta; Gary Zhengbo Yu; Abhijit Roy
Patent No. 11,660,346
Engineered Microparticles for Macromolecular Delivery
Steven Little; Sam Rothstein
June
Patent No. 11,672,964
Bioactive Components Conjugated to Substrates of Microneedle Arrays
Louis Falo, Jr.; Geza Erdos
Patent No. 11,680,341
Mandrel-Less Electrospinning Processing Method and System, and Uses Thereof
Antonio D'Amore; William Wagner
Patent No. 11,684,763
Multi-Component Bioactive Drug Delivery and Controlled Release to the Skin by Microneedle Array Devices
Geza Erdos; Louis Falo, Jr.
Patent No. 11,684,574
Artificial Cells and Delivery Devices for Use in Tissue Engineering and Related Methods
Jeffrey Krawiec; David Vorp; Steven Little; Morgan Fedorchak; Justin Weinbaum; Katherine Lorentz
---
"Medical Readiness for the Future Fight": McGowan and the Center for Military Medicine Research Attend Symposium
The Military Health System Research Symposium (MHSRS) was held from August 14-17 in Kissimmee, Florida. The MHSRS is a joint symposium between military medical care providers with deployment experience, military scientists, academia, and industry. It is the U.S.'s foremost symposium focused on the medical needs of service members.
The 2023 symposium, titled "Medical Readiness for the Future Fight," served as a collaborative setting for attendees to discuss research and advancements in the fields of combat casualty care, military operational medicine, clinical and rehabilitative medicine, and military infectious disease. This year's event was comprised of 460 oral presentations covering more than 65 scientific topics and 1,400 posters. There were approximately 3,500 attendees.
McGowan, together with Center for Military Medicine and Research (CMMR), managed the University's participation including an exhibit booth, oral and poster presentations, and numerous partnership meetings where attendees were able to discuss with representatives the ways in which the University is addressing key military medicine research needs for the U.S. Department of Defense.
The exhibit booth was visited by hundreds of attendees. The Pitt team created a collaborative setting where military providers with deployment experience, research and academic scientists, and international and industry partners could discuss research and health care initiatives. Topics ranged from regenerative and reconstructive medicine; transplantation immunology; and neuroscience, including traumatic brain injury and neuroprosthetics, with the aim of getting innovative therapies to injured service members.
Representatives from the University included Dr. Ron Poropatich (pictured), Dr. J. Peter Rubin, Dr. David O. Okonkwo, Ann Gleeson, Jan Berkow, Melissa D'Loss, Dr. Chandan Sen, Patrick Cantini, Katy Wharton, Dr. Shomita Steiner, Brent Toto, and Dr. Jan Pringle, among others.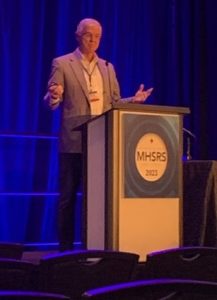 Ron Poropatich, MD (pictured), McGowan affiliated faculty and Director of the CMMR, gave an oral presentation titled "Field Testing of the Trauma Care in a Rucksack Closed Loop Diagnosis and Resuscitation System for the Medical Management of Circulatory Shock" on Wednesday, August 16, 2023.
Peter Rubin, MD, McGowan faculty, Chair of the Department of Plastic Surgery, and Director of UPMC Wound Healing Services, presented on Tuesday, August 15, in a break-out session titled "A Next-Generation Point-of-Injury Wound Therapy That Disrupts Biofilm, Reduces Inflammation, and Promotes Healing."
David O. Okonkwo, MD, PhD, McGowan affiliated faculty, Director of Neurotrauma and of the Scoliosis and Spinal Deformity Program at UPMC, and Clinical Director of the Brain Trauma Research Center, was part of a panel discussion titled, "Traumatic Brain Injury Treatment for Early Combat, In-theater Administration."
New scientific knowledge based on military-specific research and development helps to meet the unique medical needs of service members. The University of Pittsburgh is a leader in medical research and development, serving the needs of the military, and getting innovative therapies to injured service members.
Image courtesy of the MHSRS.
---
Dr. Vo Awarded R-01 Funding to Study Disc Degeneration in Older Adults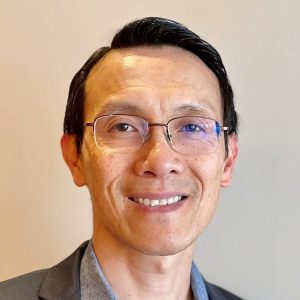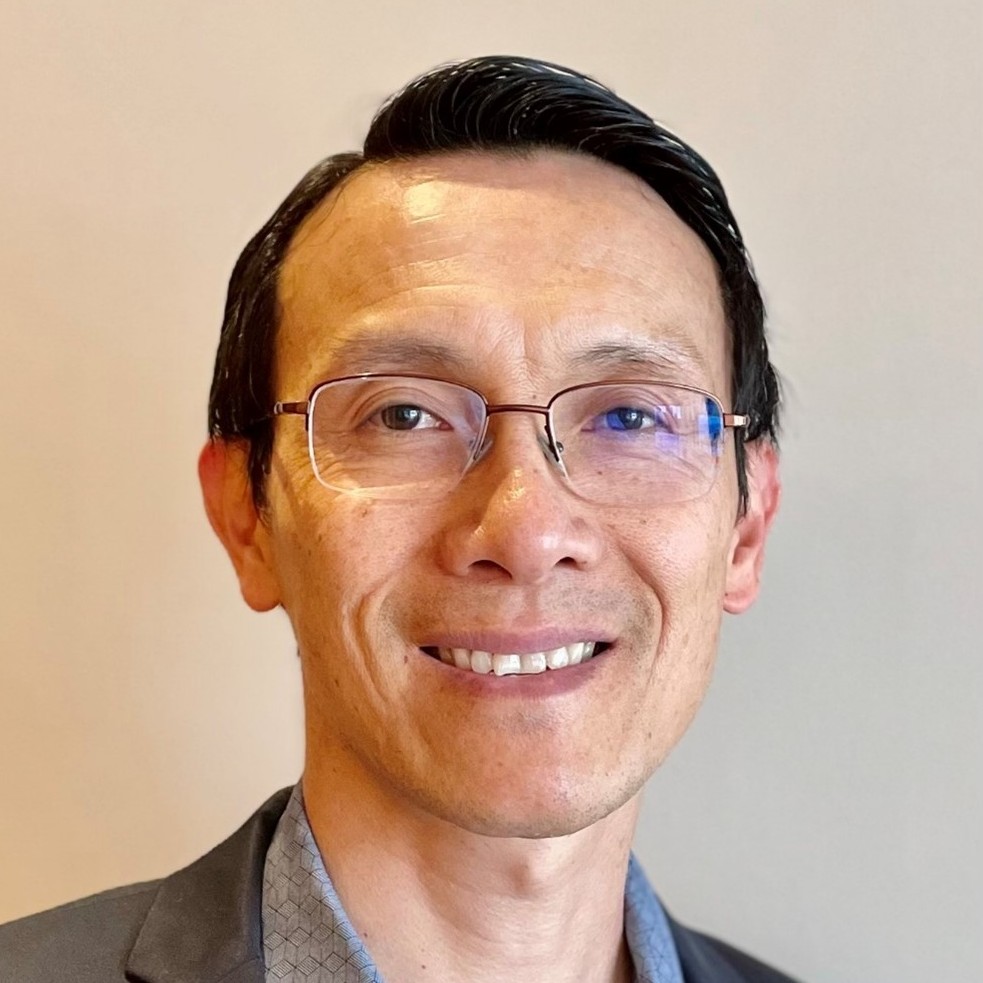 Nam Vo, PhD (pictured), McGowan affiliated faculty and tenured Professor of Orthopaedic Surgery and Deputy Vice Chair of Research in the Department of Orthopaedic Surgery at the University of Pittsburgh, is the Principal Investigator (PI) on a new R-01 award from the National Institute on Aging.
Dr. Vo's study, titled "Mechanisms of Cellular Senescence Driving Intervertebral Disc Aging through Local Cell Autonomous and Systemic Non-Cell Autonomous Processes," focuses on intervertebral disc degeneration (IDD).
IDD, a condition that is most common in older adults, occurs when a person's spinal discs wear down. Spinal discs act as shock absorbers between vertebrae, and as the discs wear away, the bones begin to rub together. Most people experience some degree of disc degeneration after the age of 40, even if they are asymptomatic. IDD leads to back pain in approximately 5% of adults.
IDD is also the underlying cause of numerous other spinal disorders, resulting in severe or debilitating back pain and in some cases disability.
Dr. Vo's lab has previously studied the impact of persistent DNA damage on senescent cells and their relationship to promoting disk aging and degeneration. The team's latest research seeks to determine whether cellular senescence drives disc aging locally, systemically, or both. Additionally, Dr. Vo's lab will study which cellular senescence pathways drive local and systemic impacts.
By determining these factors, Dr. Vo and his fellow researchers ultimately hope to identify therapeutic drug interventions to mitigate disc degeneration in older adults.
Read the full project abstract here.
Find out more about Dr. Vo's work here.
---
Discovering Why Women Are More at Risk from Respiratory Infection: Dr. Shoemaker Awarded Additional Funding for Study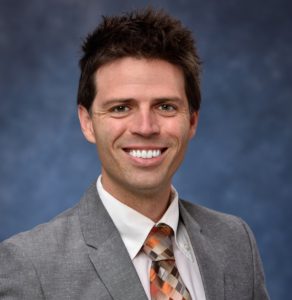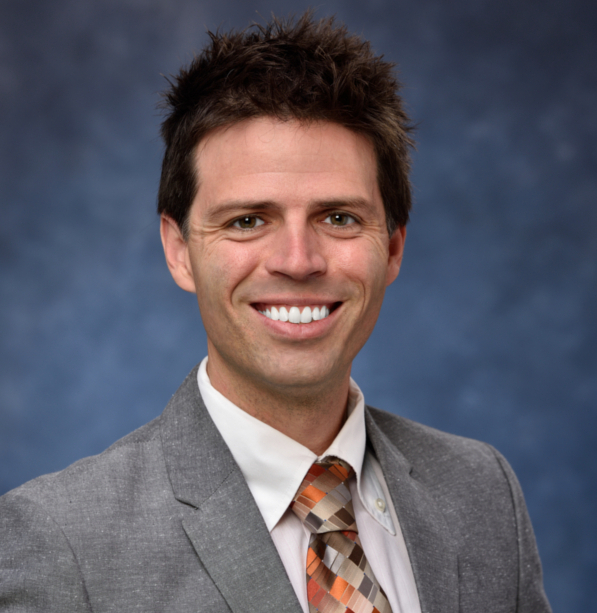 Women often experience a more severe infection from certain respiratory viruses, such as influenza and SARS-CoV-2, which also leads to higher mortality rates from these infections.
Researchers have found that immune responses during infection, specifically the speed and magnitude of the reaction of molecules and cells to the virus, differ between women and men. These responses have been linked to the sex hormone estradiol.
Jason E. Shoemaker, PhD (pictured), McGowan affiliated faculty, and Associate Professor, Department of Chemical and Petroleum Engineering, at the University of Pittsburgh, is the Principal Investigator (PI) on a project that studies the role of estradiol in the replication of respiratory viruses. His ongoing work has received additional funding from the National Institute of Allergy and Infectious Diseases (NIAID).
Dr. Shoemaker and researchers at his lab are investigating the ways in which different respiratory viruses use molecular pathways to promote infection and alter immune activity, as well as link estradiol activity to virus replication.
The project narrative states:
Many of the key pathways that allow different respiratory viruses to induce greater disease or that link important molecules, such as hormones, to respiratory virus infection remain unknown. The proposed research program will leverage recently developed bioinformatics algorithms and existing public datasets to identify new pathways that influenza and SARS-CoV-2 viruses exploit and pathways linking infection to hormone activity. Completion of the study will help in identifying new candidate therapeutic targets for treating respiratory infection.
The full abstract of the study, titled "Leveraging Leveraging Pathogen-Host Networks to Identify Virus-specific and Estradiol-regulated Mechanisms during Respiratory Infection," can be found here.
Visit Dr. Shoemaker's Immunosystems Lab here.
---
Engineering Brain Healing: Dr. Kozai Awarded Additional Funding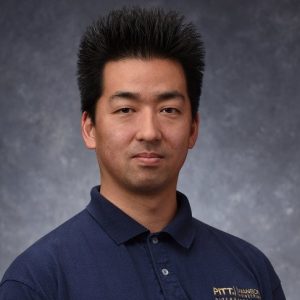 The B.I.O.N.I.C. Lab, headed by Takashi Daniel Kozai, PhD (pictured), McGowan affiliated faculty and Assistant Professor in the Department of Bioengineering at the University of Pittsburgh, studies non-neuronal braincells.
While there are approximately 100 billion neurons in the brain, there are 10 times more non-neuronal cells, or glial cells, of which there are three major types: astrocytes, oligodendrocytes, and microglia. Understanding the role non-neuron cells play in regulating neural activity could, in turn, help clinicians better treat and address brain injury and neurodegenerative diseases like multiple sclerosis (MS) and amyotrophic lateral sclerosis (ALS).
Dr. Kozai's latest research involves in vivo imaging technology that assesses how brain implants and oligodendrocytes interact. He is the principal investigator of a study titled "Mechanisms of Oligodendrocyte Activity on Chronic Brain Implants and Recording Performance," which has received additional funding from the National Institute of Neurological Disorders and Stroke (NINDS).
Dr. Kozai and his team of researchers will combine multiphoton imaging technology and neural engineering technology to better examine how oligodendrocytes impact neural health following brain injury and neurodegenerative disease in real time.
According to the project abstract, their work has the potential "to output basic and clinical science level knowledge relevant to neural engineering, ischemia, stroke, intracortical hemorrhage, aneurysm, traumatic brain injury, MS, ALS, and closed-loop neurostimulation."
Find the full abstract of the project here.
Visit B.I.O.N.I.C Lab here.
---
AWARDS AND RECOGNITION
Dr. Delitto Honored by University of Buffalo with Distinguished Alumni Award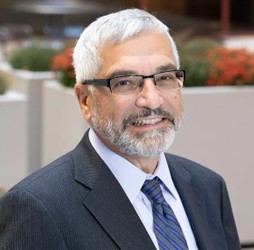 Anthony Delitto, PhD, PT, FAPTA (pictured), McGowan affiliated faculty and Dean of the School of Health and Rehabilitation Sciences at the University of Pittsburgh, has been recognized by the University of Buffalo (UB) with a Distinguished Alumni Award.
The UB Distinguished Alumni Award celebrates outstanding professional accomplishments, including research and scholarly activity, as well as university and community service.
Dr. Delitto, who earned his BS in physical therapy from SUNY-Buffalo in 1979, was a member of the recently convened Chronic Low Back Pain Task Force at the National Institutes of Health (NIH) and has been a member of the National Advisory Board for Medical Rehabilitation Research since 2015.
At Pitt, he has expanded the health and rehabilitation sciences doctoral program. As a result, U.S. News & World Report has ranked the university's physical therapy doctoral program as #1 in the nation.
Currently, Dr. Delitto is conducting trials in exercise interventions for people with Parkinson's disease and has authored or co-authored more than 100 peer-reviewed articles. He actively treats people with painful musculoskeletal disorders, and his current research is focused on implementing classification and treatment effectiveness studies into quality improvement initiatives.
Dr. Delitto is also a Catherine Worthingham Fellow of the American Physical Therapy Association (APTA) and has received numerous awards and recognitions from APTA, including the Mary McMillan (2008) and the John HP Maley Lecture Awards, the Lucy Blair Service Award, the Marion Williams Award for Research, and the Helen J. Hislop Award for Outstanding Contributions to Professional Literature. He is a seven-time winner of the Orthopaedic Section, APTA's Steven J. Rose Award for Excellence in Clinical Research.
The UB Alumni Association will present its Distinguished Alumni Award to Dr. Delitto on October 12, 2023, during the university's Homecoming and Family Weekend.
Read more about UB's Alumni Achievement Awards here.
Find out more about Dr. Delitto's research here.
---
Dr. Napierala Recognized with Adele L. Boskey Award for Bone and Mineral Research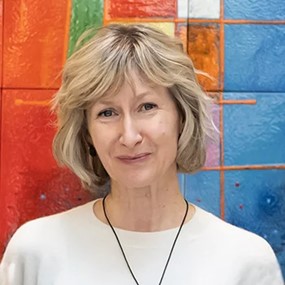 Dobrawa Napierala, PhD, McGowan affiliated faculty and Associate Professor, School of Dental Medicine, Center for Craniofacial Regeneration at the University of Pittsburgh has been recognized by The American Society for Bone and Mineral Research (ASBMR) with the Adele L. Boskey Award for Bone and Mineral Research.
The ASBMR advances bone, mineral, and musculoskeletal science worldwide and promotes the translation of basic and clinical research to improve human health. The Adele L. Boskey Award recognizes an ASBMR member for major scientific contributions, leadership, and mentorship.
Dr. Napierala's current research interests include molecular and cellular biology of the mineralization process; genetic diseases and animal models of skeletal and dental development and homeostasis; phosphate signaling in mineralizing tissues; regeneration and repair of mineralizing tissues; and, biogenesis of mineralization-competent extracellular vesicles.
Dr. Napierala is also co-director of the Pittsburgh Center for Interdisciplinary Bone and Mineral Research as well as a mentor with the Oral and Craniofacial Sciences Program at the University of Pittsburgh.
ASBMR will present the award to Dr. Napierala in Vancouver, Canada, at the 2023 Annual Meeting, which is the largest and most diverse meeting in the bone, mineral, and musculoskeletal research field. More than 2,000 scientists, clinicians, and researchers from over 60 countries will attend.
---
Dr. Badylak Talks Ancient Egyptians, Immunology, and the Future of Biomaterials with Cool Science Radio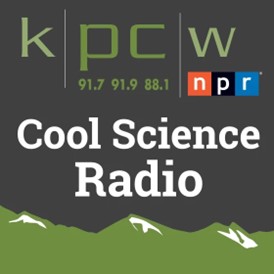 KPCW, an affiliate of National Public Radio (NPR), interviewed Stephen Badylak, DVM, PhD, MD, in an episode of Cool Science Radio titled "Improving Humans' Response to Metal Implants."
Host Katie Mullaly interviewed Dr. Badylak, a Deputy Director of McGowan, on his recent participation in an FDA panel investigation which produced a report on biological responses to metal implants, such as plates, rods, mesh, and screws.
"What improvements can we make to fix whatever limitations are there?" posed Dr. Badylak. "It's an ongoing, and probably will always be an ongoing, search for the next best biomaterial."
Dr. Badylak noted that implants have been found in humans as far back as the ancient Egyptians and credited many modern changes in biomaterials to advancements that have been made in the field of immunology.
"Our immune system is much more flexible than we ever thought before," he stated. "Instead of thinking of the immune system as something that simply protects us against infections and fights off foreign materials and so forth […] it plays an absolutely essential, critical role in everything from development to aging, to maintaining normal, healthy states of tissues all over the body."
"It sounds pretty straightforward," continued Dr. Badylak, "but if you think of it in the context of biomaterials, what is means is that if you can design a biomaterial that can perform its intended function, but not have the body treat it as an invader, as a foreign object it needs to get rid of, you're going to have a much better outcome."
To hear more on Dr. Badylak's thoughts on the future creation of biomaterials that are "immune-system friendly," listen to his conversation with Ms. Mullaly here, on Cool Science Radio.
Find out more about Dr. Badylak's research and lab here.
---
Dr. Singh Receives Early Career Abstract Award from the American Diabetes Association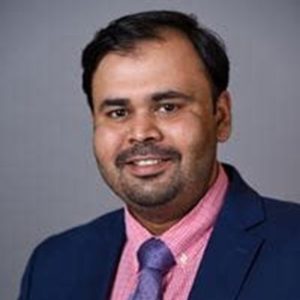 Kanhaiya Singh, PhD (pictured), McGowan affiliated faculty, received the American Diabetes Association (ADA) Professional Interest Group Early Career Abstract Award in the category of Foot Care.
His work, titled "Single-Cell RNA-Sequencing Identifies Novel Molecular Targets of Endothelial MicroRNA-200b in the Diabetic Ischemic Wound," was submitted to the ADA's 83rd Scientific Sessions held in San Diego.
This year's Scientific Sessions gathered together, in person and virtually, more than 12,000 physicians, scientists, and healthcare professionals from around the world. It included more than 190 sessions and 2,000 original research presentations. The ADA's Scientific Sessions are the world's largest diabetes meetings.
Dr. Singh stated he was honored to receive the award, which he said, "recognizes our team's effort and encourages us to build on our current findings."
His recent research includes investigating implications of single-cell transcriptomics and single-cell ATAC sequencing approaches to study compromised molecular pathways in diabetic wound healing.
Dr. Singh's work was also published in the June 2023 issue of Diabetes, a journal of the ADA. Co-authors on the study include McGowan affiliated faculty Dr. Manishekhar Kumar, Dr. Savita Khanna, and Dr. Sashwati Roy, as well as McGowan director Dr. Chandan K. Sen. The study was conducted at Indiana University and funded by the National Institutes of Health and the U.S. Department of Defense.
---
Former McGowan Postdoc Named Fellow of Royal Society of Chemistry
Yi Hong, PhD (pictured), a former postdoctoral researcher at McGowan and a research assistant professor at the University of Pittsburgh, has been named a fellow of the Royal Society of Chemistry.
The Royal Society of Chemistry, formed in 1841, is the world's leading chemistry community. An internationally renowned non-profit, the society now has more than 54,000 members globally. Of these, only 114 are Honorary Fellows. Fewer than 1% of chemistry professionals worldwide are given this recognition.
Dr. Hong is now a distinguished professor of bioengineering at the University of Texas at Arlington (UTA). He has published more than 100 peer-reviewed articles and holds 12 patents. His research focuses on developing functional and bioactive biodegradable soft materials and translational research for tissue repair and regeneration, specifically for cardiovascular disease treatment and women and children's health care.
In an interview with UTA, Dr. Hong stated he was honored by the selection. "Chemistry is amazing because it helps to create many new biomedical materials for human health and life saving," Dr. Hong said. "This recognition encourages me not only to invent more creative biomaterials through chemical design for disease treatment, but also to be a role model to our next generation of scientists and engineers in chemistry."
Read more from the University of Texas at Arlington here.
---
PUBLICATION OF THE MONTH
Author: Drake D Pedersen, Seungil Kim, Antonio D'Amore, William R Wagner
Title: Cardiac valve scaffold design: Implications of material properties and geometric configuration on performance and mechanics
Summary: Development of tissue engineered scaffolds for cardiac valve replacement is nearing clinical translation. While much work has been done to characterize mechanical behavior of native and bioprosthetic valves, and incorporate those data into models improving valve design, similar work for degradable valve scaffolds is lacking. This is particularly important given the implications mechanics have on short-term survival and long-term remodeling. As such, this study aimed to characterize spatially-resolved strain profiles on the leaflets of degradable polymeric valve scaffolds, manipulating common design features such as material stiffness by blending poly(carbonate urethane)urea with stiffer polymers, and geometric configuration, modeled after either a clinically-used valve design (Mk1 design) or an anatomically "optimized" design (Mk2 design). It was shown that material stiffness plays a significant role in overall valve performance, with the stiffest valve groups showing asymmetric and incomplete opening during systole. However, the geometric configuration had a significantly greater effect on valve performance as well as strain magnitude and distribution. Major findings in the strain maps included systolic strains having overall higher strain magnitudes than diastole, and peak radial-direction strain concentrations in the base region of Mk1 valves during systole, with a significant mitigation of radial strain in Mk2 valves. The high tunability of tissue engineered scaffolds is a great advantage for valve design, and the results reported here indicate that design parameters have significant and unequal impact on valve performance and mechanics.
Source: J Mech Behav Biomed Mater. 2023 Jul 27;146:106043. doi: 10.1016/j.jmbbm.2023.106043. Online ahead of print.
---
GRANT OF THE MONTH
PI: Kanhaiya Singh
Title: Regulatory Mechanisms Addressing Diabetic Vasculopathy
Description: The prevalence of diabetes, obesity, and vascular disease in an aging population is fueling a surge in chronic skin wounds, which affect >8 million Medicare beneficiaries at a cost of >$96 billion per year. An estimated 2.5% of US population is affected by chronic wounds. Diabetic ulcers (DU), complicated by infection/ischemia/high reactive oxygen species, often suffer from poor perfusion. Reliance on VEGF therapy to improve perfusion makes logical sense, yet clinical study outcomes fall far short of expectations. Possible factors limiting VEGF therapy outcomes include insufficient local concentration of VEGF signaling partners and regression of immature vessels. It is critically important to troubleshoot barriers and to establish a therapeutic regimen that delivers desirable functional outcomes. To circumvent the low-efficiency hurdle of VEGF single-gene "monotherapy", development of "combined gene therapy" was initiated to deliver of two or more angiogenic molecules to substantially enhance efficacy. Current literature presents compelling evidence recognizing a critical role of active lipid mediators such as eicosanoids in enabling VEGF-dependent angiogenesis. However, the implementation of VEGF therapy has not tested the significance of these lipid mediators as necessary adjuvant. Recently we have reported that in diabetic ischemic skin endothelial cells, PLCγ2 levels remain low accounting for diminished efficiency of VEGF therapy. However, the underlying mechanisms of such downregulation remain unknown. Emerging evidence demonstrate that hyperglycemia leads to DNA methylation and epigenetic silencing in the complex interplay between genes and the environment in DU subjects. In addition to endothelium, PLCγ2 enables macrophage function via TREM2 signaling. TREM2+ macrophages participate in tissue angiogenesis post-injury. The central hypothesis is that hyperglycemia dependent loss of vascular PLCγ2– myeloid TREM2 crosstalk compromises VEGF-induced increase in diabetic wound-edge vascularization. Gene targeted DNA demethylation has potential to rescue PLCγ2 gene expression. The proposed line of work is the first to study CRISPR/dCas9-based in vivo targeted epigenetic editing of dermal endothelial cells as a therapeutic intervention for enabling VEGF therapy. Three aims are proposed: Aim 1. Determine the epigenetic mechanisms underlying PLCγ2 regulation of VEGF signaling under hyperglycemic conditions. Aim 2. Elucidate the molecular mechanisms by which PLCγ2 regulates wound tissue vascularization. Aim 3. Evaluate the functional significance of endothelial-targeted PLCγ2 augmentation in vascular-myeloid crosstalk as it relates to diabetic wound vascularization. The proposed research will unveil the critical role of PLCγ2 and the impact of this important element in VEGF signaling to help improve the efficiency and robustness of vasculogenic VEGF therapy in diabetic wound healing.
Source: National Institute of Diabetes and Digestive and Kidney Diseases
Term: August 7, 2023 – June 30, 2028
Amount: $382,455 (one year)