What's Happening At The McGowan Institute?
LVADs as Destination Therapy Rather Than Bridge-to-Transplant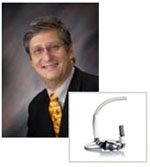 McGowan Institute for Regenerative Medicine faculty member Robert Kormos, MD, director, Artificial Heart Program, co-director Heart Transplantation at the University of Pittsburgh Medical Center (UPMC), and medical director of Vital Engineering, and the team of professionals of the UPMC Artificial Heart Program provide long-term cardiac support for patients suffering from advanced-stage heart failure who are and are not eligible for transplantation.
Congestive heart failure (CHF) is a major chronic condition in the United States, marked by increasing prevalence, hospitalizations, and deaths. One type of CHF, called left-sided failure, is caused by a progressive failure of the left ventricle—the large, muscular chamber of the heart that pumps oxygen-rich blood out of the heart to the rest of the body. This form of CHF is often treated with medications and/or surgery, including a heart transplant. Patients who are too old or too ill to qualify for a heart transplant now may have another treatment option available to them.
A particular heart assist pump, approved by the U.S. Food and Drug Administration (FDA), can be permanently implanted in patients who are not heart transplant candidates. The HeartMate is a left ventricular assist device (LVAD) that takes over the work of the left ventricle. The HeartMate II (pictured), a more compact device for smaller adults, is also FDA approved. This newer version is designed to be quieter, more comfortable, and more reliable than the older model. The technology for these devices was developed by a team of specialists including Dr. Kormos and McGowan Institute for Regenerative Medicine affiliated faculty member James Antaki, PhD, associate professor in Biomedical Engineering at Carnegie Mellon University and adjunct professor in the University of Pittsburgh's Departments of Surgery and Bioengineering.
LVADs extend a patient's life and improve the quality of life. Currently, Dr. Kormos said, 78 percent of destination therapy patients are alive at 1 year after implantation nationally, and at UPMC the survival rate is 76 percent. Numbers like that are encouraging more cardiologists to refer patients for possible LVAD implantation.
UPMC now has more than 40 patients living at home on heart pumps, close to 30 of them destination-therapy patients. Dr. Kormos said the number of heart-pump patients at home 3 years ago was much smaller.
"We're sending about 30 a year [home], but I think it's going to grow."
Illustration: HeartMate II LVAD. – Thoratec, Inc.
---
SCIENTIFIC ADVANCES
Versatile Synthetic Platform to Produce Biodegradable Biomaterials for Specific Biomedical Applications Developed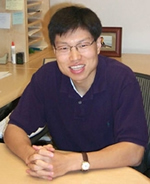 Despite significant advances, the development of synthetic biomaterials still presents significant challenges in the field of biomedical engineering. Although synthetic biodegradable materials such as polyester exist, most are biologically inert and lack functionality. Now, thanks to a research team at the University of Pittsburgh, led by principal investigator Yadong Wang, PhD, a professor in Pitt's Swanson School of Engineering and School of Medicine's Department of Surgery and a McGowan Institute for Regenerative Medicine affiliated faculty member, a synthetic platform has been developed that will help produce diverse biodegradable materials for specific biomedical applications. The Pitt team developed the platform using polymerization between acid and epoxide, a cyclic ether with three ring atoms.
"For the first time, we present a polymerization approach that is very practical and includes a wide range of starting materials, simple synthesis, and easy modifications," said Dr. Wang. "This platform shows promise in the advancement of tissue engineering and drug delivery and could produce a variety of biodegradable and functionalized biomaterials."
Dr. Wang and his team set out to address previous barriers regarding synthetics by designing a simple and versatile platform that yields functionalized polyesters with diverse physical, chemical, mechanical, and biological properties. More specifically, they focused on hydroxyl groups, a substructure of the water molecule. While using epoxides for another project, Dr. Yang and Pitt postdoctoral student Zhengwei You, PhD, speculated as to what reaction might occur between acids and epoxides. The result was a versatile synthetic platform with easy-to-produce capabilities.
"To the best of our knowledge, this level of simplicity and versatility for a synthetic platform is uncommon," said Dr. Wang. "Most of the reported synthetic strategies for functionalized polyester require elaborate preparation."
In addition to possessing biomedical applications, this type of functionalized polyesters will enrich the current collection of compostable polyesters, which, Dr. Wang notes, comprise the most promising class of eco-friendly materials.
---
Oscillating Gel Acts Like Artificial Skin, Giving Robots Potential Ability to "Feel"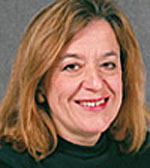 Sooner than later, robots may have the ability to "feel." In a paper published in Advanced Functional Materials, McGowan Institute for Regenerative Medicine affiliated faculty member Anna Balazs, PhD, Distinguished Professor of Chemical and Petroleum Engineering in Pitt's Swanson School of Engineering, and a team of researchers from the University of Pittsburgh and the Massachusetts Institute of Technology (MIT) demonstrated that a nonoscillating gel can be resuscitated in a fashion similar to a medical cardiopulmonary resuscitation. These findings pave the way for the development of a wide range of new applications that sense mechanical stimuli and respond chemically—a natural phenomenon few materials have been able to mimic.
Researchers at Pitt made predictions regarding the behavior of Belousov-Zhabotinsky (BZ) gel, a material that was first fabricated in the late 1990s and shown to pulsate in the absence of any external stimuli. In fact, under certain conditions, the gel sitting in a petri dish resembles a beating heart.
Along with her colleagues, Dr. Balazs predicted that BZ gel not previously oscillating could be re-excited by mechanical pressure. The prediction was actualized by MIT researchers, who proved that chemical oscillations can be triggered by mechanically compressing the BZ gel beyond a critical stress. A video from the MIT group showing this unique behavior can be accessed here.
"Think of it like human skin, which can provide signals to the brain that something on the body is deformed or hurt," says Dr. Balazs. "This gel has numerous far-reaching applications, such as artificial skin that could be sensory—a Holy Grail in robotics."
Dr. Balazs says the gel could also serve as a small-scale pressure sensor for different vehicles or instruments to see whether they'd been bumped, providing diagnostics for the impact on surfaces. This sort of development—and materials like BZ gel—are things Dr. Balazs has been interested in since childhood.
"My mother would often tease me when I was young, saying I was like a mimosa plant— shy and bashful," says Dr. Balazs. "As a result, I became fascinated with the plant and its unique hide-and-seek qualities—the plant leaves fold inward and droop when touched or shaken, reopening just minutes later. I knew there had to be a scientific application regarding touch, which led me to studies like this in mechanical and chemical energy."
Also on Dr. Balazs's research team were Olga Kuksenok, research associate professor, and Victor Yashin, visiting research assistant professor, both in Pitt's Swanson School of Engineering. At MIT, the work was performed by Krystyn Van Vliet, Paul M. Cook Career Development Associate Professor of Material Sciences and Engineering, and graduate student Irene Chen (group web site).
---
AWARDS AND RECOGNITIONS
New Director and Associate Director of McGowan Institute for Regenerative Medicine Named

William R. Wagner, PhD, professor of surgery, bioengineering and chemical engineering at the University of Pittsburgh, has been named director of the McGowan Institute for Regenerative Medicine, a joint effort of Pitt and UPMC, effective immediately. Rocky S. Tuan, PhD, the Arthur J. Rooney Professor in Sports Medicine and executive vice chair for research, Department of Orthopaedic Surgery, Pitt school of Medicine, has been named associate director.
Dr. Wagner, who has served as interim director since September and has been a deputy director at the McGowan Institute since its establishment in 2001, is an expert in biomaterials and polymer chemistry whose current research efforts focus on repair of damaged cardiovascular tissues.
"He has long held a leadership role at not only the McGowan Institute, but also globally in the fields of regenerative medicine and tissue engineering," said Arthur S. Levine, M.D., Pitt's senior vice chancellor for the health sciences and dean, School of Medicine. "I am delighted to have the experience and expertise of Dr. Wagner at the helm of the McGowan Institute to continue its mission of exploring the vast potential of these approaches to develop innovative treatments for our most challenging medical problems."
Dr. Wagner, who succeeds Alan Russell, PhD, founding director of the McGowan Institute and executive director of the Pittsburgh Tissue Engineering Initiative, joined the faculty of Pitt in 1991. He is the editor-in-chief of Acta Biomaterialia; deputy director and scientific leader for the National Science Foundation Engineering Research Center at Pitt; past president of the American Society for Artificial Internal Organs and current executive board member of the International Federation of Artificial Organs; a chief scientific officer for the Armed Forces Institute for Regenerative Medicine (AFIRM) Wake Forest University-University of Pittsburgh consortium; and co-founder of Neograft Technologies, Inc.
He completed his doctorate in chemical engineering in 1991 at the University of Texas, Austin, and his bachelor's degree in chemical engineering in 1986 at Johns Hopkins University.
"I am delighted to have this extraordinary opportunity to lead one of the premiere regenerative medicine research centers," Dr. Wagner said. "I am especially pleased to be working closely with Dr. Tuan, who will hold the new position of associate director. His extensive background in stem cell biology and tissue engineering is a great asset to the McGowan Institute."
Dr. Tuan joined the faculty in 2009 and will continue to be the director of the Center for Cellular and Molecular Engineering in the Department of Orthopaedic Surgery. He is also co-director of the Wake Forest-Pitt AFIRM Consortium.
"I am extremely excited about joining the McGowan Institute and the partnership with Dr. Wagner," said Dr. Tuan. "I look forward to developing a research infrastructure that aims to synergize life science and engineering technologies for the restoration of structure and function to diseased and injured organs and tissues."
Prior to joining Pitt, Dr. Tuan was chief of the Cartilage Biology and Orthopaedics Branch at the National Institute of Arthritis, and Musculoskeletal and Skin Diseases of the National Institutes of Health. He received his undergraduate education at Swarthmore College and Berea College, his doctorate in 1977 from Rockefeller University, NY, and postdoctoral training in Harvard Medical School.
A 2004 recipient of the Marshall Urist Award for Excellence in Tissue Regeneration Research of the Orthopaedic Research Society, Dr. Tuan is internationally known for his research in stem cell biology and musculoskeletal tissue engineering and regenerative medicine, and for his innovative leadership role in biomedical education. He is editor of the developmental biology journal BDRC: Embryo Today, and the founding editor-in-chief of Stem Cell Research and Therapy; a board of councilors member of the American Society for Matrix Biology and Tissue Engineering and the Regenerative Medicine International Society-Americas; and a scientific advisory council member of the Regenerative Medicine Foundation.
"The knowledge and skills of Drs. Wagner and Tuan will further enhance the already stellar reputation of the McGowan Institute as a place where revolutionary biomedical therapies are born and come to fruition," Dr. Levine said.
The McGowan Institute serves as a base of operations for 230 of the university's leading scientists and clinical faculty working in the areas of tissue engineering, cellular therapies, and artificial and biohybrid organ devices.
---
Badylak Lab Team Members Receive NIH Grants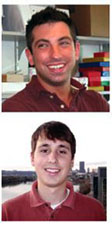 Team members in the laboratory of McGowan Institute for Regenerative Medicine deputy director Stephen Badylak, DVM, PhD, MD, professor in the Department of Surgery, University of Pittsburgh, and director of the Center for Pre-Clinical Tissue Engineering within the McGowan Institute, are the recipients of two National Institute of Health (NIH) F31 Grants. The two PhD candidates receiving the Ruth L. Kirschstein National Research Service Award (NRSA) are Brian Sicari (pictured top) and Denver Faulk (pictured bottom).
The NRSA predoctoral fellowship award is named after Ruth L. Kirchstein, MD, the first woman director of an NIH Institute. Aside from Dr. Kirschstein's scientific accomplishments in polio vaccine development, she was a champion of research training and a strong advocate for the inclusion of underrepresented individuals in the scientific workforce.
The titles and abstracts of Mr. Sicari's and Mr. Faulk's grants follow:
Brian Sicari
Project Title: Constructive Remodeling by ECM Scaffolds within Aging Skeletal Muscle
Abstract: Following injury, the inherent regenerative response of skeletal muscle depends on an activated microenvironment consisting of muscle progenitor cells and a heterogeneous macrophage phenotype. These microenvironmental factors can be negatively impacted through musculoskeletal disease, volumetric muscle loss (VML), and the decreased regenerative capacity of stem cells and immunosenesence associated with advanced age. Biologic scaffolds composed of extracellular matrix (ECM) have been used to promote the constructive remodeling of defects in a variety of soft tissues. These surgically placed scaffolds are composed of growth factors and matricryptic peptides which are able to positively impact the skeletal muscle microenvironment by recruiting progenitor cells and promoting an M1 to M2 macrophage phenotypic transition. Furthermore, ECM scaffolds have been used to effectively augment the skeletal muscle response to VML. The current proposal seeks to examine the ability of ECM scaffolds to mitigate age-related changes to the skeletal muscle microenvironment through increased myogenic progenitor cell recruitment and modulation of macrophage phenotype.
Denver Faulk
Title: Engineering a Functional Liver Graft for Treatment of End Stage Liver Disease
Abstract: Approximately 27,000 deaths occur annually in the United States alone from patients with end-stage liver disease. With an aging population, this number is only expected to increase. The current definitive treatment is orthotropic transplantation. However, due to high demand there exists a critical shortage of donor livers. Those patients fortunate enough to receive a transplant are burdened with the risk of chronic rejection and the morbidity associated with a lifelong regimen of immunosuppressant therapy. This treatment is especially difficult for elderly patients.
This proposal addresses a regenerative medicine strategy for engineering an implantable liver graft for patients with end-stage liver failure. It is based upon three fundamental concepts: 1) the native ECM of the liver, including the three-dimensional untrastructure and composition, represents an ideal and required substrate for liver regeneration, 2) whole liver ECM scaffolds retain the three-dimensional macrostructure, the native microvascular network, and the bile drainage system, allowing for complete recellularization of all native cell types, and 3) liver regeneration can be promoted when reseeded whole liver ECM grafts are placed in the appropriate three-dimensional microenvironment; specifically, in-situ in patients with liver failure.
The objectives of the proposed research are to (1) establish an effective method for reseeding a three-dimensional liver scaffold, with a focus on systematically seeding both parenchymal and non-parenchymal cells in their native location and to (2) evaluate the host response to the implantation of a reseeded three-dimensional liver scaffold. Additionally, the methods and techniques developed in this study present an important step towards the establishment of decellularization and recellularization criteria necessary to successfully produce the first fully functional bioengineered livers for organ transplantation and drug discovery.
Congratulations to Brian and Denver!
---
Dr. James Kang Named a Top Spine Surgeon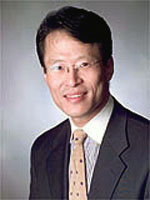 McGowan Institute for Regenerative Medicine affiliated faculty member James Kang, MD, was recently named by Becker's Orthopedic, Spine & Pain Management Review as one of its "207 Spine Surgeons & Specialists to Know," an annual list profiling spine surgeons and specialists from around the country. Dr. Kang and other physicians included on this list were chosen based on their professional accomplishments, leadership in orthopedic and spine organizations, and research in the field. Dr. Kang's recognition was based on his significant contributions to the advancement of spine surgery through research and technology development as well as by training spine surgeons of the future.
In the University of Pittsburgh Department of Orthopaedic Surgery, Dr. Kang is the Executive Vice Chairman for Clinical Services, Professor of Orthopaedic and Neurological Surgery, UPMC Endowed Chair in Orthopaedic Spine Surgery, and Director of Ferguson Laboratory for Spine Research. He also serves as the chair of the Ethics/Conflict of Interest Oversight Committee of the Cervical Spine Research Society.
Dr. Kang has a professional interest in practicing minimally invasive spine surgery and treating degenerative spinal disorders, scoliosis, and spinal stenosis. During his career, Dr. Kang has authored nearly 300 professional publications and earned recognition from North American Spine Society and International Society for the Study of the Lumbar Spine. Dr. Kang received his medical degree at the University of Oklahoma School of Medicine and completed his residency at the University of Pittsburgh. His additional training includes a spine surgery fellowship at Case Western Reserve University School of Medicine in Cleveland.
Becker's Orthopedic, Spine & Pain Management Review is an online and print publication dedicated to providing the most updated information on business and legal issues in orthopedic, spine and pain management fields.
---
Regenerative Medicine Podcast Update
The Regenerative Medicine Podcasts remain a popular web destination. Informative and entertaining, these are the most recent interviews:
#108 –– Dr. Frank Witte, Diego Mantovani, Prashant Kumta, and Charles Sfeir –– Dr. Witte is a Associate Prof. Exp. Orthopedics, Hannover Medical School, Germany; Dr. Mantovani is Director, Laboratoire de biomatériaux et bioingénierie at L'Université Laval, Canada; Dr. Kumta is the Edward R. Weidlein Chair in the Swanson School of Engineering, University of Pittsburgh; and Dr. Sfeir is an associate professor, Department of Oral Medicine and Pathology, University of Pittsburgh. The doctors discuss their research in new potential sources of biodegradable and implantable metals.
Visit www.regenerativemedicinetoday.com to keep abreast of the new interviews.
---
Publication of the Month
Authors:
Nieman G, Brown D, Sarkar J, Kubiak B, Ziraldo C, Dutta-Moscato J, Vieau C, Barclay D, Gatto L, Maier K, Constantine G, Billiar TR, Zamora R, Mi Q, Chang S, Vodovotz Y.
Title:
A two-compartment mathematical model of endotoxin-induced inflammatory and physiologic alterations in swine.
Summary:
OBJECTIVE: To gain insights into individual variations in acute inflammation and physiology.

DESIGN: Preclinical study combined with mathematical modeling.

MEASUREMENTS AND MAIN RESULTS: Study subjects exhibited various degrees of inflammation and acute lung injury. Plasma interleukin-1β, interleukin-4, interleukin-6, interleukin-8, interleukin-10, tumor necrosis factor-α, high mobility group box-1, and NO(2)/NO(3) were significantly (p μ .05) elevated over the course of the study. Principal component analysis was used to suggest principal drivers of inflammation. Based in part on principal component analysis, an ordinary differential equation model was constructed, consisting of the lung and the blood (as a surrogate for the rest of the body), in which endotoxin induces tumor necrosis factor-α in monocytes in the blood, followed by the trafficking of these cells into the lung leading to the release of high mobility group box-1, which in turn stimulates the release of interleukin-1β from resident macrophages. The ordinary differential equation model also included blood pressure, PaO(2), and FIO(2), and a damage variable that summarizes the health of the study participants. This ordinary differential equation model could be fit to both inflammatory and physiologic data in the individual swine. The predicted time course of damage could be matched to the oxygen index in three of the four study subjects.

CONCLUSIONS: The approach described herein may aid in predicting inflammation and physiologic dysfunction in small cohorts of subjects with diverse phenotypes and outcomes.

Source:
Critical Care Medicine. 2012 Apr;40(4):1052-63.
---
Grant of the Month
PI
J. Peter Rubin
Co-PI
Vijay Gorantla, Kacey Marra, Albert Donnenberg, Gretchen Haas
Title
Targeted Immunomodulation and Tissue Repair with MSCs and ASCs
Description

The major goal of this project is to develop novel treatment protocols that will enhance immunotolerance after composite tissue allotransplantation using stem cells obtained from autologous adipose tissue.

Source
ARM V Project #2
Term
09/01/11 – 07/31/13
Amount:
Direct: $567,160
Indirect: $232,840
Total: $800,000
---
Newsletter Comments or Questions: McGowan@pitt.edu