What's Happening At The McGowan Institute?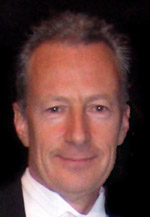 McGowan Institute for Regenerative Medicine faculty member, Eric Lagasse, PharmD, PhD, associate professor, Department of Pathology, University of Pittsburgh School of Medicine and his colleagues have demonstrated in a preclinical model that lymph nodes can provide a suitable home for a variety of cells and tissues from other organs, suggesting a cell-based alternative to whole organ transplantation might one day be feasible. In a report recently published in Nature Biotechnology, Dr. Lagasse and his colleagues showed in an animal model for the first time that liver cells, thymus tissue, and insulin-producing pancreatic islet cells can thrive in lymph nodes despite being displaced from their natural sites.
In many cases liver transplantation can be the only applicable therapy for cases involving hepatitis virus infection, alcoholic cirrhosis, and other diseases, noted senior investigator Dr. Lagasse. In addition, a potential therapy for diabetes is a pancreas transplant, and children with DiGeorge syndrome lack functional thymus glands to produce essential immune cells. Potentially, the findings by Dr. Lagasse and his colleagues may offer an alternative approach to treat these conditions.
"At this time the scarcity of donor organs means many people will not survive the wait for transplantation," said Dr. Lagasse "Cell therapies are being explored, but introducing cells into tissue already ravaged by disease decreases the likelihood of successful engraftment and restoration of function." In the study, lymph nodes which are abundant throughout the body and have a rich blood supply, served as a new home for cells from other organs in what is called an "ectopic" transplant.
They injected healthy liver cells from a genetically-identical donor animal into lymph nodes of mice at various locations. The result was an enlarged, liver-like node that functioned akin to the liver; in fact, a single hepatized lymph node rescued mice that were in danger of dying from a lethal metabolic liver disease. The photographs show a jejunal lymph node (yellow dotted oval) not transplanted (top) and just after transplantation (bottom) with primary hepatocytes. Likewise, thymus tissue transplanted into the lymph node of mice that lacked the organ generated functional immune systems, and pancreatic islet cell transplants restored normal blood sugar control in diabetic animals.
"Our goal is not necessarily to replace the entire liver, for example, but to provide sufficient cell mass to stabilize liver function and sustain the patient's life," Dr. Lagasse said. "That could buy time until a donor organ can be transplanted. Perhaps, in some cases, ectopic cell transplantation in the lymph node might allow the diseased organ to recover."
Co-authors of the paper include Junji Komori, MD, PhD, Lindsey Boone, PhD, and Aaron DeWard, PhD, all of Pitt's Department of Pathology and the McGowan Institute, and Toshitaka Hoppo, MD, PhD, now of West Penn Allegheny Health System.
The project was funded by National Institutes of Health grants P30CA047904 (through the University of Pittsburgh Cancer Institute) and R01 DK085711.
---
SCIENTIFIC ADVANCES
Dr. Peter Wearden Provides International Assistance with Regenerative Medicine Medical Device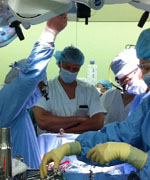 Recently, McGowan Institute for Regenerative Medicine faculty member Peter Wearden, MD, PhD, assistant professor of cardiothoracic surgery at the University of Pittsburgh School of Medicine and pediatric cardiothoracic surgeon and director of pediatric mechanical cardiopulmonary support at Children's Hospital of Pittsburgh of UPMC, helped make history in Japan. Dr. Wearden advised doctors in Japan on the implantation of the Berlin Heart EXCOR® ventricular assist device (VAD) which then, for the first time in the history of Japan, made it possible for doctors at the University of Tokyo to save a small child who was suffering from a severe heart condition. From a medical point of view, the 14-month-old girl would only have been able to survive a few more weeks without the VAD. Now the artificial heart has taken over the pumping function of the weakened heart. Until a donor heart is found for the girl, weighing only 7 kilograms (approximately 15.5 pounds), her life depends on the mechanical artificial heart.
The little patient would very probably not have survived waiting for transplantation in Japan, or for transport to another country for transplantation without the mechanical support. Assisted by the EXCOR® VAD, the infant could be stabilized well enough to be able to wait for transplantation. It was announced from clinical circles that the little patient is doing well after the operation.
Current VAD technology is not suitable for all pediatric cases. To meet this need and in addition to his clinical leadership in serving this tiniest-of-patients population, Dr. Wearden has a leadership role in an on-going research study to develop a miniaturized heart pump for children—the implantable pediatric VAD known as PediaFlow.
PediaFlow is designed for children from birth to 2 years. The heart pump, the size of a AA battery, will use a magnetically levitated impeller, technology that increases the life span of the pump, reduces the electrical power and cooling requirements, and drastically reduces blood damage and clotting. PediaFlow is designed to go inside a child's body to minimize the risks of infection from tubes piercing the skin. It is now in a preclinical trial and the availability for human trials is subject to the results of the current studies. There is one other potential spillover benefit, Dr. Wearden said. "I think just the process of making things smaller will allow us to have smaller, less [injurious] devices for adults."
---
NPR's Science Friday Addresses Regenerative Medicine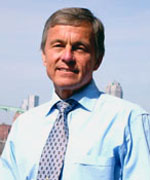 Ira Flatow, host of NRP's Science Friday, recently spoke with two pioneers of regenerative medicine about the emerging science of regenerative medicine. The guests were Stephen Badylak, DVM, PhD, MD, deputy director, McGowan Institute for Regenerative Medicine, professor in the Department of Surgery, University of Pittsburgh Medical Center, and director of the Center for Pre-Clinical Tissue Engineering within the McGowan Institute, and Anthony Atala, MD, director of the Wake Forest Institute for Regenerative Medicine. The conversation reviewed the latest laboratory studies addressing tissue and organ repair and the challenges of someday growing complex organs such as the heart, liver, or brain. Some of the highlights of the conversation included:
Update on the ongoing clinical trial which is assessing the effectiveness of extracellular matrix (ECM) to restore lost muscle tissue in the extremities due to trauma.
The different regenerative medicine research approaches being applied today, such as allowing the body to regenerate its own tissue from implanted biological scaffolds, vs. creating tissues/organs outside of the body and inserting them back into the body.
The relative levels of complexity of the science involved with regenerating flat structures (skin), tubular structures (blood vessels), hollow organs (bladder), solid organs (heart), and central nervous system tissues.
The challenges ahead: Cost of technologies, how to scale-up organ production when the technology matures, and regulatory approvals.
"One of the nice things about regenerative medicine," said Dr. Badylak, "is that we can come at it from multiple directions and solve these [medical] problems using the tools that are available."
---
ACL Reconstruction: Four Points from Dr. Freddie Fu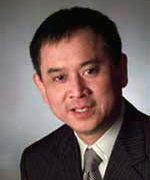 McGowan Institute for Regenerative Medicine faculty member Freddie Fu, MD, David Silver Professor of Orthopaedic Surgery and chairman of the Department of Orthopaedic Surgery at the University of Pittsburgh School of Medicine and University of Pittsburgh Medical Center (UPMC), is known worldwide for his pioneering surgical techniques to treat sports-related injuries to the knee and shoulder and his extensive scientific and clinical research in the biomechanics of such injuries. Dr. Fu performs surgery at UPMC and sees patients at its Center for Sports Medicine. Because of his reputation, Dr. Fu attracts both athletic and non-athletic patients from all over the globe and has been featured in several many publications.
Recently, Dr. Fu shared insights from his 30 years of medical/surgical experiences regarding anterior cruciate ligament (ACL) reconstruction. In her article for Becker's Orthopaedic Review, Ms. Heather Linder learns from Dr. Fu why he's moving away from traditional non-anatomic reconstruction and taking a closer look at anatomy. He also shared with her how his research has helped him overcome the learning curve. The learning curve for his new procedure is steep. "It took me 30 years to get to where I am, and we have just recently learned to place the ACL graft in an anatomic position."
Dr. Fu is the editor of 12 major orthopaedic textbooks and author of 60 book chapters on the management of sports injuries. He has contributed to more than 150 international research publications and has given more than 400 national presentations to his peers. As a former president of the Pennsylvania Orthopaedic Society, he still remains a member of 40 other professional and academic medical organizations.
---
Regenerative Medicine in Vision Research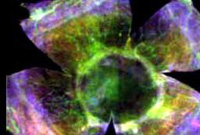 At the UPMC Eye Center, much of the research focuses on regenerative medicine, a field that started with restoration of heart tissue in the 1990s and has since included research into the use of stem cell therapy in vision restoration. The Louis J. Fox Center for Vision Restoration of UPMC and the University of Pittsburgh is studying what can be done to treat the most common diseases associated with vision loss, including macular degeneration, diabetic retinopathy, and corneal scarring.
"There is a lot of exciting things going on in our research, and lot of it is related to regenerative medicine. In the past, once a tissue was damaged, it was assumed the game was over. That's no longer the case," said McGowan Institute for Regenerative Medicine affiliated faculty member Robert Hendricks, PhD, the Joseph F. Novak professor and vice chair for research, Departments of Ophthalmology, Molecular Genetics, and Biochemistry and Immunology, and director, Ophthalmology and Visual Sciences Research Center, University of Pittsburgh School of Medicine.
Under the direction of Dr. Hendricks, the Ocular Immunology Laboratory focuses on immunity to viral infections of the eye. Of particular interest is a complex disease called herpes keratitis, the leading infectious cause of blindness in the United States. The disease results from infection of the cornea by Herpes Simplex Virus (HSV), a virus that also causes cold sores, venereal disease, and potentially lethal encephalitis.
Like other HSV infections (cold sores, genital lesions) patients experience recurrent episodes of herpes keratitis. Each infection results in inflammation in the cornea and scar tissue formation. Accumulation of scar tissue causes progressive visual loss and ultimately corneal blindness. Dr. Hendricks' laboratory focuses on three important issues:
Prevention of herpes keratitis: Up to 90% of us have been infected by HSV-1 and harbor the virus in a latent (quiescent) state in our sensory neurons, but in most of us the virus remains in a life-long quiescent state. In some people it periodically becomes active and causes disease. The Ocular Immunology Lab was first to demonstrate that a white blood cell called a CD8+ T cell attaches to latently infected neurons and maintains HSV in a quiescent state. The laboratory is exploring new approaches to augment the capacity of these CD8+ T cells to prevent recurrent herpes keratitis.
Treatment of herpes keratitis: Inflammation is a protective immune response, but when not properly controlled can damage tissue. The Ocular Immunology Lab is using state-of-the-art molecular and cellular approaches to understand the mechanisms of inflammation in eyes with herpes keratitis, with the goal of developing new and more efficient therapy to prevent progressive corneal scarring and visual impairment.
Replacement of scarred corneas: When corneas become badly scarred by recurrent herpes keratitis, the only approach to restore vision is to transplant a clear donor cornea. Unfortunately corneal transplants to eyes with herpes keratitis have a very high rate of rejection. In collaboration with a group from Aberdeen Scotland, the Ocular Immunology Lab is studying the cause of the enhanced rejection of corneal transplants in eyes with a history of herpes keratitis. Preliminary findings point to exciting new approaches to reduce the risk of transplant rejection in these patients.
---
Grants for Education Projects Related to Wounded Veterans, Persons with Disabilities Received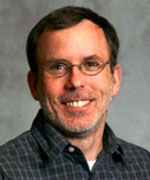 The National Science Foundation (NSF) awarded a $472,794 grant to McGowan Institute for Regenerative Medicine affiliated faculty member Rory Cooper, PhD, and Mary Goldberg of the Human Engineering Research Laboratories (HERL) and the University of Pittsburgh School of Health and Rehabilitation Sciences (SHRS) to study pathways for military veterans with disabilities transitioning into education. The project aims to create a model for such veterans and people with disabilities to succeed in Science, Technology, Education and Math (STEM) programs.
This marks the second education-related award Dr. Cooper and his team have received in recent months: this assistive technology and engineering award, and a July grant for a 5-year, $2,999,000 study to support interdisciplinary research training in graduate-level engineering and rehabilitation. The previous grant entails traineeships to design innovative rehabilitation devices, systems, and techniques that not only assist people with disabilities participating in society but, at the HERL/SHRS research headquarters at Bakery Square, also utilize veterans and persons with disabilities as researchers and scientists.
"We're extremely honored to receive these awards and excited to have the opportunity to directly help veterans and people with disabilities in the region and across the nation by creating models for how to succeed in STEM education," said Dr. Cooper, the FISA & Paralyzed Veterans of America (PVA) Chair and Distinguished Professor of the SHRS Department of Rehabilitation Science and Technology.
The latest grant, officially awarded Sept. 7, 2012, via the NSF Engineering and Education Center, takes effect Nov. 1, 2012. It is tentatively set to expire Oct. 31, 2015. The previous grant, scheduled from July 15, 2012, through mid-2017, was an award of the Integrative Graduate Education and Research Traineeships (IGERT) through the NSF Division of Graduate Education.
---
Regenerative Medicine: Technologies Enabling Novel Therapies—Call for Abstracts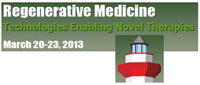 The 17th Annual Hilton Head Workshop —organized by Georgia Institute of Technology and the University of Pittsburgh and co-chaired by McGowan Institute for Regenerative Medicine deputy director Stephen Badylak, DVM, PhD, MD, professor in Pitt's Department of Surgery, and Robert Guldberg, PhD, director of the Parker H. Petit Institute for Bioengineering & Bioscience and professor, Mechanical Engineering at Georgia Tech—will be held March 20-23, 2013. The theme for 2013 is "Regenerative Medicine: Technologies Enabling Novel Therapies." The venue is the Sea Pines Resort on Hilton Head Island. The entire program will be built from submitted abstracts, with about 35 podium presentations, 8-12 "rapid-fire" presentations, and over 75 posters. Abstracts are due December 15, 2012. Abstract submission information can be found here Abstract submission information can be found here.
The goals of the workshop are to bring the regenerative medicine community together in an intimate, "Gordon-conference style" forum to share the latest insights and discoveries in this rapidly progressing field. The program is structured to allow ample opportunity for participants to interact with each other, both within the formal sessions and informally at other times.
Active researchers who are interested in keeping pace with the latest developments in regenerative medicine are encouraged to participate. This workshop sells out each year so early registration is encouraged. Registration opens on January 1, 2013.
---
AWARDS AND RECOGNITIONS
McGowan Institute Faculty Member Part of Team Receiving António Champalimaud Vision Award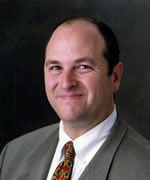 A multicenter and multidisciplinary team that includes McGowan Institute for Regenerative Medicine faculty member Joel S. Schuman, MD, FACS, Eye & Ear Foundation Professor and chair, Department of Ophthalmology, University of Pittsburgh School of Medicine (UPMC), director of the UPMC Eye Center, and interim director of the Louis J. Fox Center for Vision Restoration of UPMC and the University of Pittsburgh, was recently awarded the António Champalimaud Vision Award from the Champalimaud Foundation in Lisbon, Portugal, for its invention and validation of a revolutionary imaging system that reveals vivid details of eye anatomy. The team will share a 1 million Euro prize that will help advance future research and development of the technology.
"The António Champalimaud Vision Award was designed to support those who are contributing to the alleviation of eye diseases and changing science and technology. This year's award recognizes pioneering work that represents a historical breakthrough," said Champalimaud Foundation President, Leonor Beleza. "Their efforts are transforming eye care and medicine."
The technology, called optical coherence tomography (OCT), quickly and noninvasively produces a 3-D map of the eye, particularly the retina. It currently is the most powerful tool available for early detection of diseases such as macular degeneration, diabetic retinopathy, and glaucoma. The team invented the technology 20 years ago, and OCT now is a standard part of eye care for patients throughout the world.
One of the nation's top authorities on glaucoma and diagnostic testing for eye disease, Dr. Schuman worked with engineers and ophthalmology researchers from the Massachusetts Institute of Technology and the Keck School of Medicine of the University of South California (USC) for more than 2 decades to develop and fulfill OCT's clinical potential.
"I'm delighted by the Champalimaud Foundation's recognition of our efforts," he said. "We continue to work on improving OCT and in the next decade, it could be as portable and easy to use as a standard ophthalmoscope."
Dr. Schuman also holds secondary appointments at the Center for the Neural Basis of Cognition jointly run by Pitt and Carnegie Mellon University, and in the Department of Bioengineering at Pitt's Swanson School of Engineering.
A University of Rochester research group also will share in the Vision Award for their application of adaptive optics for cell-scale imaging of the eye.
The Champalimaud Foundation supports individual researchers and research teams working at the cutting edge of biomedical science. One of its primary objectives is to make advances in the field of international vision research.
Dr. Schuman and the team discuss the development of OCT in a video that is available on Keck School of Medicine of USC's YouTube channel here.
---
Brain-Computer Interface Technology Wins Breakthrough Award

McGowan Institute for Regenerative Medicine faculty members Elizabeth Tyler-Kabara, MD, PhD, UPMC neurosurgeon and assistant professor of neurological surgery and bioengineering, University of Pittsburgh Schools of Medicine and Engineering, and Andrew Schwartz, PhD, professor of neurobiology, Pitt School of Medicine, and McGowan Institute for Regenerative Medicine affiliated faculty member Michael Boninger, MD, director, UPMC Rehabilitation Institute, chair, Department of Physical Medicine and Rehabilitation, Pitt School of Medicine, and their team received a Popular Mechanics Breakthrough Award for their brain-computer interface (BCI) technology.
In the award's eighth year, Popular Mechanics continues to recognize the innovators and products that have dramatically advanced the fields of technology, medicine, space exploration, automotive design, environmental engineering, and more. In the team's project, a BCI was placed in a patient with spinal cord injuries to test if it is possible for them to control external devices, such as a computer cursor or a prosthetic limb, with their thoughts. The project builds upon ongoing research conducted in epilepsy patients who had the interfaces temporarily placed on their brains and were able to move cursors and play computer games, as well as in monkeys that through interfaces guided a robotic arm to feed themselves marshmallows and turn a doorknob.
Seven years after a motorcycle accident damaged his spinal cord and left him paralyzed, a BCI based on electrocorticography (ECoG) was placed on the motor cortex surface of 30-year-old Tim Hemmes of Evans City, Pa. Mr. Hemmes was the first to participate in the trial assessing whether the thoughts of a person with spinal cord injury can be used to control the movement of an external device, such as a computer cursor or a sophisticated prosthetic arm. The project used a grid of electrodes placed on the surface of the brain to control the arm.
The team plans to make the technology wireless, and to include sensors in the prosthesis that can send signals back to the brain to simulate sensation. It might be possible to connect BCIs to existing devices that stimulate muscle fibers in the arm and hand, in effect bypassing the spinal cord injury to allow these individuals to use their own limbs again, the researchers said. That approach could be studied in future trials.
---
McGowan Institute for Regenerative Medicine Faculty Member Named the Associate Dean for Research, Swanson School of Engineering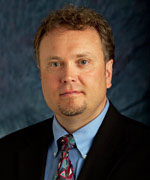 McGowan Institute for Regenerative Medicine faculty member David Vorp, PhD, was named the Associate Dean for Research, Swanson School of Engineering, University of Pittsburgh, effective October 15, 2012. Dr. Vorp is the William Kepler Whiteford Professor of Bioengineering, with secondary appointments in the Departments of Cardiothoracic Surgery and Surgery at the University of Pittsburgh. He received both his BS and PhD degrees in Mechanical Engineering from Pitt's Swanson School of Engineering in 1986 and 1992, respectively.
Dr. Vorp began his academic career in 1992 after joining the faculty of the Department of Surgery, School of Medicine, where he built an internationally-renowned, National Institutes of Health (NIH)-funded research program. He has been an integral part of Pitt's Bioengineering Department since its inception and served as its graduate program chair from 2001-2009, during which the program grew in size and stature. He serves as the founding Director for the Center for Vascular Remodeling and Regeneration and is Co-Director of the Center for Medical Innovation.
Dr. Vorp has worked closely with clinical colleagues to develop a multi-disciplinary, NIH-funded research program focusing on abdominal aortic aneurysm disease, vascular "mechanopathobiology" (the role of biomechanical forces in the development of vascular disease), and tissue engineering and regenerative medicine applications for vascular and urethral systems. Dr. Vorp has published 95 peer-reviewed articles to date, and currently serves on 3 editorial boards. His research has been supported by over $8 million in funding as principal investigator (PI), and an additional $4 million as collaborating investigator from foundations and federal agencies such as The Whitaker Foundation, the American Heart Association (AHA), the NIH, The Pittsburgh Foundation, and others.
In 2009, Dr. Vorp co-founded Neograft Technologies, Inc., which is focusing on the commercialization of vein graft modification technology developed in his laboratory. He holds 4 patents in this and other technologies.
Dr. Vorp was recognized in 2011 for his research achievements with the prestigious Van C. Mow Medal from the American Society of Mechanical Engineers (ASME) and was twice awarded a Pitt Innovator Award. He serves on the Executive Committee of the ASME Bioengineering Division (BED; 2006-present), and is the current ASME BED Secretary/Chair-Elect (2012-2013). Dr. Vorp was elected to the Board of Directors of the Biomedical Engineering Society (BMES) for two terms (2006-2009; 2009-2012), and serves as Chair of the BMES National Meetings Committee (2009-present). He recently became the first non-MD President of the International Society for Applied Cardiovascular Biology.
---
McGowan Institute for Regenerative Medicine Affiliated Faculty Member Receives NIH Director's New Innovator Award
McGowan Institute for Regenerative Medicine affiliated faculty member Adam Feinberg, PhD, is an assistant professor in the Departments of Biomedical Engineering and of Materials Science and Engineering at Carnegie Mellon University and was recently awarded a 5-year, $2.25 million National Institutes of Health (NIH) Director's New Innovator Award to continue developing new biomaterials and cardiac tissue engineering strategies to help repair the human heart following injury and disease.
"I am extremely excited about this award because it will allow me to continue pursuing leading edge research designed to help regenerate and repair heart muscle and improve wound healing in a variety of biomedical arenas," said Dr. Feinberg.
Dr. Feinberg is one of 81 researchers nationwide receiving awards from the NIH to pursue visionary science that exhibits the potential to transform scientific fields and speed the conversion of lab research into improved health, under the High Risk-High Reward program supported through the NIH Common Fund.
"This is recognition of Professor Feinberg's outstanding research vision and we applaud his drive to continue pushing the research envelope when it comes to improving the biomaterials and processes so critical to advancing biomedical engineering at CMU," said Vijaykumar Bhagavatula, PhD, interim dean of CMU's College of Engineering.
Dr. Feinberg's lab is focused on the engineering of protein scaffolds that can dynamically guide tissue repair and regeneration.
"To do this, we are studying multi-cellular tissue assembly in embryonic development and wound healing in order to develop biomimetic engineering design principles," Dr. Feinberg said. "We will be ultimately applying this basic research to model how cells interact with the extracellular matrix in multiple tissue types including cornea and cardiac muscle. Future medical applications include improved drug discovery and screening platforms, novel tools for biological investigation and engineered tissue grafts for disease and trauma repair."
The NIH Director's New Innovator Award program is different from traditional NIH grants in several ways. It is designed specifically to support unusually creative new investigators with highly innovative research ideas at an early stage of their career when they may lack the preliminary data required for an R01 grant. The emphasis is on innovation and creativity; preliminary data are not required, but may be included. No detailed, annual budget is requested in the application. The procedure for evaluating applicants' qualifications is distinct from the traditional NIH peer review "study section" process and will emphasize the individual's creativity, the innovativeness of the research approaches, and the potential of the project, if successful, to have a significant impact on an important biomedical or behavioral research problem.
---
Regenerative Medicine Podcast Update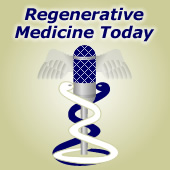 The Regenerative Medicine Podcasts remain a popular web destination. Informative and entertaining, these are the most recent interviews:
#114 –– Dr. John Foster is an associate professor at the University of New South Wales, Australia. Dr. Foster discussed his research to produce an innovative technology for improved nerve repair by using a new surgical bioadhesive that overcomes the disadvantages associated with current surgical procedures.
Visit www.regenerativemedicinetoday.com to keep abreast of the new interviews.
---
Publication of the Month
| | |
| --- | --- |
| Authors: | Kellum JA, Bellomo R, Ronco C. |
| Title: | Kidney attack |
| Summary: | Some forms of acute vital organ injury leading to death or severe disability have appropriately attracted significant attention among clinicians, researchers, and the public. There is almost universal public understanding of the concept of a heart attack. Many members of the public also are now familiar with the concept of a brain attack. Unlike medical expressions such as myocardial infarction or stroke, lay terms including the word attack convey a sense of urgency and importance. Such terms have helped to achieve considerable progress in treatment or outcome by focusing public attention, encouraging early clinician intervention, and establishing a research agenda. |
| Source: | Journal of the American Medical Association. 2012 Jun 6;307(21):2265-6. |
---
Grant of the Month
PI
Rory Cooper
Co-PI
Mary Goldberg
Title
Experiential Learning for Veterans in Assistive Technology and Engineering
Summary:
This engineering education research project will investigate the effectiveness of several different interventions designed to retain disabled veterans in engineering degree programs. A comparative study that looks at a range of characteristics related to retention in engineering will be done, and the results analyzed using the theoretical frameworks of social cognitive career theory and self-efficacy.

The broader significance and importance of this project arise from the project's ability to inform other efforts aimed at engaging disabled veterans in career retraining, or all veterans in obtaining STEM degrees as well as the potential impact on the STEM workforce. This project overlaps with NSF's strategic goals of transforming the frontiers through preparation of an engineering workforce with new capabilities and expertise. Additionally NSF's goal of innovating for society is enabled by creating results and research that are useful for society by informing educational policy and practices.

Source:
National Science Foundation Engineering Education and Centers
Term
11/1/12 – 10/31/15
Amount
$472,794