What's Happening At The McGowan Institute?
Regenerative Medicine's Potential Fountain of Youth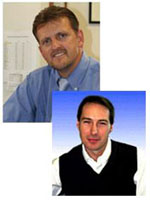 McGowan Institute for Regenerative Medicine faculty member Johnny Huard, PhD, professor in the Departments of Orthopaedic Surgery, Microbiology and Molecular Genetics, Biochemistry, Bioengineering, and Pathology, University of Pittsburgh School of Medicine, and director of the Stem Cell Research Center at Pitt and Children's Hospital of Pittsburgh of UPMC, and affiliated faculty member Paul Robbins, PhD, professor of Molecular Genetics and Biochemistry, University of Pittsburgh School of Medicine, are members of a team that affirmed that mice bred to age quickly seemed to have sipped from the fountain of youth.
This occurred after the team of scientists at Pitt's School of Medicine injected them with stem cell-like progenitor cells derived from the muscle of young, healthy animals. Instead of becoming infirm and dying early as untreated mice did, animals that got the stem/progenitor cells improved their health and lived two to three times longer than expected.
Previous research has revealed stem cell dysfunction, such as poor replication and differentiation, in a variety of tissues in old age, but it's not been clear whether that loss of function contributed to the aging process or was a result of it.
"Our experiments showed that mice that have progeria, a disorder of premature aging, were healthier and lived longer after an injection of stem cells from young, healthy animals," Laura Niedernhofer, MD, PhD, associate professor in Pitt's Department of Microbiology and Molecular Genetics and the University of Pittsburgh Cancer Institute and also a senior investigator on the study, said. "That tells us that stem cell dysfunction is a cause of the changes we see with aging."
The team examined a stem/progenitor cell population derived from the muscle of progeria mice and found that compared to those from normal rodents, the cells were fewer in number, did not replicate as often, didn't differentiate as readily into specialized cells, and were impaired in their ability to regenerate damaged muscle. The same defects were discovered in the stem/progenitor cells isolated from very old mice.
As the progeria mice age, they lose muscle mass in their hind limbs, hunch over, tremble, and move slowly and awkwardly. Affected mice that got a shot of stem cells just before showing the first signs of aging were more like normal mice, and they grew almost as large. Closer examination showed new blood vessel growth in the brain and muscle, even though the stem/progenitor cells weren't detected in those tissues.
In fact, the cells didn't migrate to any particular tissue after injection into the abdomen.
"This leads us to think that healthy cells secrete factors to create an environment that help correct the dysfunction present in the native stem cell population and aged tissue," Dr. Niedernhofer said. "In a culture dish experiment, we put young stem cells close to, but not touching, progeria stem cells, and the unhealthy cells functionally improved."
Animals that age normally were not treated with stem/progenitor cells, but the provocative findings urge further research, she added. They hint that it might be possible one day to forestall the biological declines associated with aging by delivering a shot of youthful vigor, particularly if specific rejuvenating proteins or molecules produced by the stem cells could be identified and isolated.
Co-authors from the University of Pittsburgh include Mitra Lavasani, PhD, Aiping Lu, MD, and Minjung Song, PhD, all of the Stem Cell Research Center and the Department of Orthopaedics; Andria Robinson, of UPCI and Pitt's Graduate School of Public Health; Joseph M. Feduska and Bahar Ahani of the Stem Cell Research Center; Jeremy S. Tilstra, PhD, and Chelsea H. Feldman of Pitt's Department of Microbiology and Molecular Genetics.
---
McGowan Institute Retreat: Registration Ends February 15th!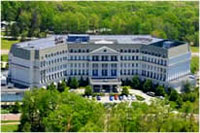 The 11th Annual McGowan Institute for Regenerative Medicine Scientific Retreat is set to take place on March 4-7, 2012 at Nemacolin Woodlands Resort. The poster session will begin on the evening of March 4, 2011, at which time there will be an informal mixer. Click here for registration information. Under the leadership of Dr. William Wagner, the program committee is planning an exciting group of speakers and topics. The program will include:
Distinguished Lecturer: Leonard Zon, MD-Harvard
Working sessions will feature topics in the areas of Cell Therapy, Tissue Engineering, Medical Devices, and Computation and Modeling.
In addition to the outstanding scientific program, once again the Office of Enterprise Development (OED) is hosting the "Innovator Elevator Pitch." This event will consist of a series of scheduled brief presentations from participating faculty on the value of their technology to an audience which will include industry and venture capitalist participants. The audience will select the winner who will receive a $7,500 prize sponsored by OED. This event will be a great opportunity to present the clinical/commercial value of your work to industry participants who may be interested in exploring collaboration or licensing opportunities.
Registration deadline is February 15, 2012, so register now—and reserve your hotel room as they are rapidly filling up!
---
Upcoming Distinguished Lecture: Dr. C. James Kirkpatrick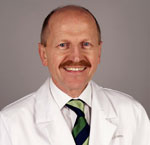 The next McGowan Institute Distinguished Lecture will be held on February 23, 2012.
C. James Kirkpatrick, MD, PhD, DSc, FRCPath, FBSE is the Professor and Director of the Institute of Pathology, University Medical Center at Johannes Gutenberg University in Mainz, Germany.
The lecture will be given in the University Club Ballroom B at 4pm, followed by a Moleculart networking reception. The topic of the lecture is "The application of human co-culture systems to understand regenerative and cancer niches." Simona Nemcova, RDMS, RVT of the Vascular Clinical & Translational Research Center at the University of Pittsburgh, will display her art at the reception.
All are welcome to attend.
---
McGowan Institute Histology Laboratory Services Available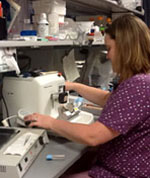 Did you know that the McGowan Institute operates a, state-of-the-art histology laboratory in its Bridgeside Point II facility? The histology lab at the McGowan Institute is under the administrative leadership of Dr. Stephen Badylak. The lab provides customized services to fit the needs of any research program. McGowan-affiliated faculty interested in utilizing this state-of-the-art facility can contact Lab Manager, Deanna L. Rhoads, HT (ASCP).
The Bridgeside Point II is the hub for the Institute's research, and the close proximity of the histology lab to the research laboratories is crucial to the rapid assessment of our emerging technologies.
The services in the histology laboratory can be customized to fit the needs of any research program. For more information, contact Deanna about any special projects, stains or requests from your laboratory. She welcomes any suggestions or comments.
Deanna L. Rhoads, HT (ASCP)
McGowan Institute for Regenerative Medicine Histology
Lab Manager
450 Technology Drive
Suite 348
Pittsburgh, PA 15219
(412) 624-5265
---
SCIENTIFIC ADVANCES
Regenerative Medicine Technique Highlighted on The Dr. Oz Show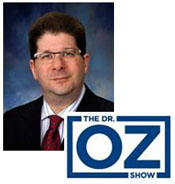 McGowan Institute for Regenerative Medicine faculty member J. Peter Rubin, MD, Chief, Division of Plastic and Reconstructive Surgery University of Pittsburgh School of Medicine, was a guest on The Dr. Oz Show. The show highlighted current clinical trials focused on the use of stem cells and adipose (fat) tissue for breast reconstruction post-breast cancer treatment and facial reconstruction post-combat-related injuries involving facial trauma.
On the show, Dr. Rubin served as a medical expert involved in this type of research and also one involved in current on-going clinical trials currently being coordinated through the UPMC Center for Innovation in Restorative Medicine (CIRM). Dr. Rubin serves as CIRM's director.
Current research studies conducted at CIRM include:
Structural Fat Grafting for Craniofacial Trauma: Effect of Concentrating Endogenous Stromal Cells in the Fat Graft
A Phase I/II Clinical Study of Allogeneic Human Dermal Fibroblasts for Remodeling Scar Contractures
Muscle Tendon Tissue Unit (MTURR) Repair and Reinforcement Reconstructive Surgery Research Study
Structural Fat Grafting for Craniofacial Trauma
Treatment of Benign Breast Deformities and Post-Segmental Mastectomy Breast Deformities with Autologous Fat Grafting (AFT)
Acellular Dermal Matrix in Tissue Expander Breast Reconstruction: A Prospective, Randomized, Clinical Trial Comparing SurgiMend PRS and AlloDerm
---
Pitt-Developed Optimization Method Helps Determine Flu Vaccine Composition/Timing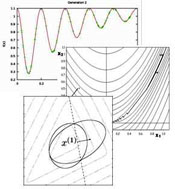 McGowan Institute for Regenerative Medicine affiliated faculty member Mark Roberts, MD, professor and chair in University of Pittsburgh's Department of Health Policy and Management, is co-author of a study of new research that focuses on the composition and timing of the annual flu vaccine design. Pitt's Swanson School of Engineering faculty members Oleg Prokopyev, PhD, an assistant professor, and Andrew Schaefer, PhD, associate professor, both in the Department of Industrial Engineering, and Osman Ozaltin, PhD, assistant professor of engineering at the University of Waterloo in Ontario, were also co-authors on the study.
The Pitt researchers used powerful optimization methods from engineering to examine whether they could improve the yearly decisions made regarding what strains of influenza should be included in the current year's vaccine. The strains of flu that will be most likely to appear in the regular flu season are not known with certainty, but waiting longer to finalize the composition of the vaccine and observing what strains are occurring in other parts of the world improves the accuracy of the selection. However, the longer the FDA waits to make the decision, the more likely it is that there will be insufficient vaccine produced by the start of flu season. The model developed by the Pitt researchers balances these two important characteristics of the flu selection decision and integrates the composition and timing decisions of the flu shot design.
The Pitt study focused solely on the United States, where the FDA makes the final decision about the flu shot composition soon after recommendations from the World Health Organization and the Centers for Disease Control. The current flu shot contains inactivated strains of two influenza A subtypes and one influenza B lineage. The flu shot production is also limited by the scarcest strain, as the three strains are combined together to compose the shot. "The three strains in the current flu shot are grown separately in chicken eggs and combined together to produce a single dose," said Dr. Ozaltin. "Our model considers all three strains simultaneously, because unanticipated difficulties in growing a strain might result in reductions in the overall flu shot supply."
The Pitt researchers note that currently only six manufacturers provide the flu shot for the U.S. market. Once the strains are selected by an FDA advisory committee, manufacturers move forward in making their own plans to maximize profits.For the future, the results suggest a substantial potential benefit from improved manufacturing techniques. With more research in this area, a more appropriate flu shot could be produced annually, saving Americans millions of dollars and preventing substantial influenza complications.
"This is another excellent example of the benefits of collaborative, multidisciplinary research that the University of Pittsburgh is famous for," notes Dr. Roberts. "Our group has been applying methods developed in engineering and designed for industry to very real problems in health and disease, and finding that they can provide insights not previously observed using traditional clinical research methods."
---
Insight into the Pathophysiology of ALS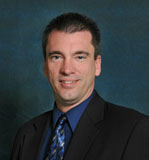 MMcGowan Institute for Regenerative Medicine affiliated faculty member Robert Bowser, PhD, professor of neurology at Barrow Neurological Institute and St. Joseph's Hospital and Medical Center, Phoenix, Arizona, is the co-author of a paper describing the use of global metabolomics to identify biochemical changes underlying ALS. The research was carried out as a collaborative effort by Dr. Bowser along with scientists in the laboratory of Merit Cudkowicz, MD, MSc, Massachusetts General Hospital, and at Metabolon, Inc. Metabolon, Inc. is a diagnostics and services company offering the industry's leading biochemical profiling technology. The Northeastern ALS consortium (NEALS) provided samples for the study.
The objective of the study was to identify metabolic pathways affected by ALS which could become the basis for the identification of diagnostic biomarkers and targets for drug development. Using global metabolic profiling, metabolic signatures of ALS were observed in biochemical pathways previously associated with proposed disease mechanisms in ALS as well as in biochemical pathways suggestive of hepatic involvement. The reported results provide insight into the pathophysiology of ALS and suggest promising areas of focus for future studies.
"The ALS disease mechanisms identified in this work have the potential to lead to novel diagnostic biomarkers as well as for the development of biochemical targets for ALS therapies," stated James Berry, MD, the corresponding author of the report.
---
AWARDS AND RECOGNITIONS
Dr. Steven Little Awarded the 2012 Young Investigator Award from the Society For Biomaterials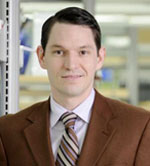 Steven R. Little, PhD, Assistant Professor and Bicentennial Alumni Faculty Fellow, Departments of Chemical and Petroleum Engineering, and Bioengineering-Swanson School of Engineering, Department of Immunology and the McGowan Institute for Regenerative Medicine, has been awarded the 2012 Young Investigator Award from the Society For Biomaterials. The Young Investigator Award annually recognizes an individual who has demonstrated outstanding achievements in the field of biomaterials research within 10 years following his terminal degree or formal training. Dr. Little will receive the award at the Society's 2012 Fall Symposium in New Orleans, October 4-6, 2012.
"I believe I can state with confidence that Steve's work is seminal and extremely valuable in elucidating critical variables associated with sustained drug delivery and is bringing substantive value to the field," said Art Coury, Ph.D., recently retired from Genzyme Corporation, who nominated Dr. Little.
To achieve his objectives, Dr. Little has succeeded in bringing over $4.5 million in grants to the University of Pittsburgh, has mentored approximately 47 individuals, and has run undergraduate research programs averaging 10 students at a time in his lab. "I feel so honored to nominate Steve Little for the next Young Investigator's Award," continued Dr. Coury." I have not observed anyone more deserving currently or in the past."
Researchers in Dr. Little's innovative "Little Lab" focus upon biomimetic therapies that replicate the biological function and interactions of living entities using synthetic systems. More information is available at the Little Lab's website.
In 2006, Dr. Little was given the title "Bicentennial Alumni Faculty Fellow." The following year he received career development awards from both the American Heart Association and the National Institutes of Health. In 2008, Dr. Little was named 1 of only 16 Young Investigators by the Arnold and Mabel Beckman Foundation and is the only professor at the University of Pittsburgh to receive the award. Then in 2009, Dr. Little was recognized as the single most outstanding faculty in the Swanson School of Engineering by the Board of Visitors. Last year, he received the Wallace H. Coulter Translational Research Award.
Dr. Little said the Young Investigator Award, given to only one younger researcher in the world each year, is "an enormous honor for this lab." He hopes it will also be another step toward his goal of making medicine smarter.
"If you take a pill, the signal it gives to the body is kind of everywhere, sort of like a loudspeaker repeating the same word over and over again. What we are trying to do is make the therapy more like having a conversation across the table," said Dr. Little.
Dr. Little received his Ph.D. in chemical engineering in 2005 from Massachusetts Institute of Technology where he held three National Graduate Fellowships and received the American Association for the Advancement of Science Excellence in Research Award for his work on engineered therapies that interface with the human immune system. He received a bachelor of engineering in chemical engineering from Youngstown State University in 2000.
This marks the Swanson School of Engineering's third recognition in as many years from the Society For Biomaterials. William R. Wagner, PhD, interim director of the McGowan Institute for Regenerative Medicine and professor of surgery, bioengineering and chemical engineering at the University of Pittsburgh, won the Clemson Award from the Society For Biomaterials in 2010 and Stephen F. Badylak, DVM, PhD, MD, deputy director of the McGowan Institute for Regenerative Medicine and professor, Department of Surgery, University of Pittsburgh, won in 2009.
Illustration: University of Pittsburgh Swanson School of Engineering
---
Congratulations Drs. Wagner and Marra!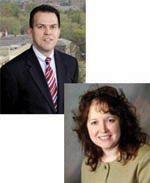 The Tissue Engineering and Regenerative Medicine International Society (TERMIS) recently announced the election results for their governing board. William R. Wagner, PhD has been selected as the chair-elect of the North American chapter of TERMIS. Dr. Wagner is the Interim Director of the McGowan Institute and Professor of Surgery, Bioengineering and Chemical Engineering at the University of Pittsburgh. TERMIS is organized with three continental chapters (Asia-Pacific, Europe, and North America). Congratulations are also extended to Kacey Marra, PhD who was elected to the TERMIS North American Council.
McGowan affiliated faculty have served and continue to provide leadership to TERMIS: Alan J. Russell, PhD was the founding TERMIS president, the global society that serves as the parent organization for the three continental chapters. The current TERMIS president is Stephen Badylak, DVM, PhD, MD. Dr. Badylak is Professor-Department of Surgery, Deputy Director-McGowan Institute, and Director-Preclinical Studies-McGowan Institute. Serving on the TERMIS North American Council is McGowan faculty member Rocky S. Tuan, PhD.
TERMIS brings together the international community of persons engaged or interested in the field of tissue engineering and regenerative medicine and promotes education and research within the field of tissue engineering and regenerative medicine through regular meetings, publications and other forms of communication. The Society also serves as an international forum to promote the informed discussion of challenges and therapeutic benefits of the application of tissue engineering and regenerative medicine technologies. There are currently 4,000 members of TERMIS.
The Society is committed to bringing together key professionals to support a mutual understanding of the field, accelerate research in the field and to contributions to the ultimate care of patients. To affect this interchange of information, the Society has endorsed the journal, Tissue Engineering, as its official publication. The TERMIS World Congress Meeting is held every three years (2012 TERMIS World Congress – Vienna, Austria-September 5-8, 2012). In the interim years the Continental Chapters will host annual meetings to promote tissue engineering and regenerative medicine research regionally.
---
Pitt Graduate Student Wins Inaugural ERC Prize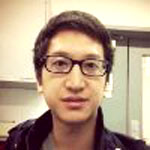 During the Engineering Research Centers (ERC) Annual Meeting, a University of Pittsburgh graduate student won the first-ever presented Lynn Preston Trophy.
Da-Tren Chou, whose efforts are focused on the processing and characterization of porous and non-porous biodegradable metals, was named the inaugural national ERC champion for his "elevator-pitch" presentation. Mr. Chou, of the University of Pittsburgh Swanson School of Bioengineering, represented the Engineering Research Center—Revolutionizing Metallic Biomaterials (ERC-RMB), a collaboration formed from North Carolina A&T State University, with the University of Pittsburgh and the University of Cincinnati as partners. Along with the engraved trophy, which will be circulated each year through the winning ERC, Mr. Chou received a cash prize of $5000.
The award is named after Lynn Preston, deputy director of the Division of Engineering Education and Centers of the Directorate for Engineering at the National Science Foundation (NSF), best known for her pivotal leadership role in designing and developing NSF's ERC program, an innovative partnership of government, industry, and universities. The goal of the ERC program is to advance technology and U.S. industrial competitiveness through interdisciplinary research linked to industry partnership and progressive teaching methods. Ms. Preston was a key initiator of the program in 1985, became its principal manager in 1988, and remains its guiding force.
The ongoing goal of the ERC-RMB university education programs is to prepare a highly diverse and globally experienced and innovative engineering workforce for the U.S. biomedical implant industry and university faculty in engineering and medicine. The ERC-RMB trains future generations of engineers in a unique, multi-disciplinary, innovation-oriented environment. The approach integrates traditional and emerging engineering disciplines with industrial experience, experience with medicine along with exposure to social, regulatory, ethical, and economic issues involved in innovation in a medical context. In collaboration with its innovation partners, the ERC-RMB continues to develop curricular materials to train engineering students in the art and science of fostering research innovation, which will enable them to work alongside teams engaged in medical implant innovation in Europe and India to provide them with globally competitive entrepreneurial skills.
Students from the lead and two partner universities, and three outreach institutions—California State University, Los Angeles; Edmonds Community College, Seattle, WA; and Guilford Technical Community College, Greensboro, NC—benefit from these education programs as well. Undergraduate students from universities outside the ERC-RMB's partners are also involved in the ERC-RMB through a Research Experiences for Undergraduates Program.
---
Dr. Freddie Fu Named the Recipient of the 2012 Sports Leadership Award from the Dapper Dan Charities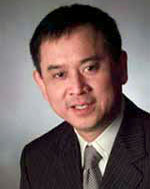 McGowan Institute for Regenerative Medicine faculty member Freddie H. Fu, MD, was named the recipient of the 2012 Sports Leadership Award from the Pittsburgh Post-Gazette Dapper Dan Charities. The award will be presented at the March 12 banquet.
Founded in 1936 by Pittsburgh Post-Gazette sports editor Al Abrams, the organization has evolved from a businessmen's sports club into one of the region's most recognizable pillars of charity with six fundraising events throughout the year. The annual Dapper Dan Sportsman of the Year Dinner has become the preeminent social event on Western Pennsylvania's sports calendar.
Dr. Fu is the David Silver Professor of Orthopaedic Surgery and Chairman of the Department of Orthopaedic Surgery at the University of Pittsburgh School of Medicine and University of Pittsburgh Medical Center. Previously, he was the department's executive vice chairman. Dr. Fu has also been the head team physician for the University of Pittsburgh Department of Athletics since 1986 and holds secondary appointments at the university as professor of physical therapy and health physical and recreational education. Dr. Fu is also Professor of Mechanical Engineering & Materials Science at the Swanson School of Engineering.
---
Regenerative Medicine Podcast Update
The Regenerative Medicine Podcasts remain a popular web destination. Informative and entertaining, these are the most recent interviews:
#104 –– Pratap Khanwilkar, PhD –– Dr. Pratap Khanwilkar is the Coulter Program Director and Visiting Professor in the Department of Bioengineering, and Executive-In-Residence with the Office of Technology Management at the University of Pittsburgh. He is also an adjunct professor at the University of Utah.
Visit www.regenerativemedicinetoday.com to keep abreast of the new interviews.
---
Publication of the Month
| | |
| --- | --- |
| Authors: | Smith EJ, Stroemer RP, Gorenkova N, Nakajima M, Crum WR, Tang E, Stevanato L, Sinden JD, Modo M. |
| Title: | Implantation Site and Lesion Topology Determine Efficacy of a Human Neural Stem Cell Line in a Rat Model of Chronic Stroke. |
| Summary: | Stroke remains one of the most promising targets for cell therapy. Thorough preclinical efficacy testing of human neural stem cell (hNSC) lines in a rat model of stroke (transient middle cerebral artery occlusion) is, however, required for translation into a clinical setting. Magnetic resonance imaging (MRI) here confirmed stroke damage and allowed the targeted injection of 450,000 hNSCs (CTX0E03) into peri-infarct tissue, rather than the lesion cyst. Intraparenchymal cell implants improved sensorimotor dysfunctions (bilateral asymmetry test) and motor deficits (footfault test, rotameter). Importantly, analyses based on lesion topology (striatal versus striatal+cortical damage) revealed a more significant improvement in animals with a stroke confined to the striatum. However, no improvement in learning and memory (water maze) was evident. An intracerebroventricular injection of cells did not result in any improvement. MRI-based lesion, striatal and cortical volumes were unchanged in treated animals compared to those with stroke that received an intraparenchymal injection of suspension vehicle. Grafted cells only survived after intraparenchymal injection with a striatal+cortical topology resulting in better graft survival (16,026 cells) than in animals with smaller striatal lesions (2,374 cells). Almost 20% of cells differentiated into GFAP+ astrocytes, but <2% turned into FOX3+ neurons. These results indicate that CTX0E03 implants robustly recover behavioral dysfunction over a 3 month time frame and that this effect is specific to their site of implantation. Lesion topology is potentially an important factor in the recovery, with a stroke confined to the striatum showing a better outcome compared to a larger area of damage. |
| Source: | King's College London, Institute of Psychiatry, Department of Neuroscience, London SE5 9NU, UK; ReNeuron Ltd., Guildford GU2 7AF, UK. |
---
Grant of the Month
PI
David Hackam, MD, PhD and John March, PhD
Title
Generation of an Artificial Intestine for the Treatment of Short Bowel Syndrome in Children
Description

The clinical condition in which the body is unable to absorb food after significant loss of the intestine is called short bowel syndrome (SBS). While its true incidence is unknown, in the United States the condition affects over 5000 children, with an estimated 15,000 older patients requiring long-term home parenteral nutrition. SBS can be caused by loss of large portions of functioning intestine – such as occurs typically as a consequence of necrotizing enterocolitis (NEC), Crohn's disease, or as a result of a birth defect in which the intestines do not develop normally. Because food cannot be adequately absorbed by the shortened intestine, nutrients must be administered directly into the circulation through a vein. Although this approach can supply adequate calories, children who receive nutrition directly into the circulation commonly suffer from intravenous catheter infections and severe liver toxicity, with mortality around 30%. Only about one third of patients with SBS can expect to be weaned from parenteral nutrition. The majority of children with short bowel syndrome require intestinal transplantation and if toxicity from the administered nutrition is severe enough, liver transplantation, as well. While the outcome after intestinal transplantation is improving, this procedure is limited by a lack of suitable donors and complications from immunosuppressive therapy. To address the difficulty of managing short bowel syndrome in children, Hackam and March propose constructing an artificial intestine using cultured intestinal stem cells from the recipient's intestine that can grow on a synthetic 3-dimensional bioscaffold.

Based upon his discovery that expression and signaling activity of a molecular "switch" called toll-like receptor 4 (TLR4) was elevated in the intestine of human infants with NEC and that mice lacking TLR4 were protected from the development of NEC, Hackam proposed as a 2008 Hartwell Investigator to identify novel chemical compounds for the treatment of the disorder. He deployed a strategy to identify specific inhibitors of TLR4 signaling in the intestine utilizing high throughput computer-aided screening of chemical libraries, combined with whole animal screening. He successfully identified 67 novel TLR4 inhibitors, with one compound particularly effective in reducing the severity of experimentally induced NEC in mice. He is now focused on confirming the mechanism of action of the compound, while performing chemical modification to improve it as a powerful new treatment for the management of NEC in neonates.

Source
The Hartwell Foundation
Term
2012-2015
Amount:
$543,571 in direct costs over three years
---
Newsletter Comments or Questions: McGowan@pitt.edu