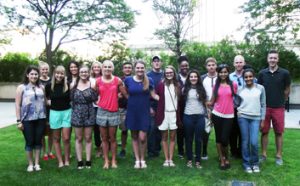 The McGowan Institute for Regenerative Medicine held its third annual Regenerative Medicine Summer School 2016 the week of June 20, 2016.  The Summer School week, endorsed by the Society for Biomaterials and the Tissue Engineering and Regenerative Medicine International Society (TERMIS), was initiated and led by McGowan Institute faculty member Bryan Brown, PhD, Assistant Professor with the Department of Bioengineering at the University of Pittsburgh with a secondary appointment in Pitt's Department of Obstetrics, Gynecology and Reproductive Sciences. Dr. Brown is also the Building Interdisciplinary Research Careers in Women's Health Scholar (NIH K12), Magee Women's Research Institute at the University of Pittsburgh, and an Adjunct Assistant Professor, Department of Clinical Sciences, College of Veterinary Medicine at Cornell University.
The Summer School aimed to provide national and regional students with a week-long didactic and experiential learning experience addressing the science and engineering related to the multidisciplinary field of regenerative medicine.
Many McGowan Institute for Regenerative Medicine affiliated faculty members and students participated in this very successful educational initiative, including (in alphabetical order):
Alex Almarza, PhD: ECM Scaffolds for TMJ Disc
Fabrisia Ambrosio, PhD, MPT: Muscle matters! Regenerative medicine to enhance skeletal muscle regeneration after injury and disease
Stephen Badylak, DVM, PhD, MD:  Clinical Translation of Regenerative Medicine
Bryan Brown, PhD: Immunology at the Intersection of Biomaterials and Regenerative Medicine; and The Role of Interdisciplinary Teams in the Translation of Regenerative Medicine
Xinyan Tracy Cui, PhD: Towards Seamless Neural Electrode-Tissue Interface
Antonio D'Amore, PhD: A brief overview on polymers processing methods for soft tissue engineering
Lance Davidson, PhD: Tissue engineering foundations: lessons from the embryo
Andrew Duncan, PhD:  Chromosome Variations in Liver Regeneration and Disease
William Federspiel, PhD:  Respiratory Dialysis: A New Paradigm for Treating Lung Failure
Paulo Fontes, MD:  Machine Perfusion and the New ex-vivo World
Jörg Gerlach, MD, PhD:  Hurdles, Problems and Solutions During Clinical Translation of Skin Stem Cell Grafting for Burns
Vijay Gorantla, MD, PhD: Reconstructive Transplantation – What Is It?
Kacey Marra, PhD:  Nerve Regeneration in a Non-Human Primate Model
Michel Modo, PhD: Magnetic Resonance Imaging for in situ tissue engineering in the brain
Scott Morley: From Bench to Bedside – The ALung Story
John Murphy:  McGowan Institute Overview
Douglas Noble: Lab Orientation/Chemical Hygiene Training
Peter Rubin, MD, FACS: Clinical Translation of Adipose Tissue and Cell Therapies
Fatima Seyed-Picard, PhD: Scaffold-Free Tissue Engineering
Sanjeev Shroff, PhD: Relaxin: Cardiovascular Actions and Therapeutic Potential
Bryan Tillman, MD, PhD: Novel Vascular Stents for Trauma and Transplant Surgery
Rocky Tuan, PhD: Adult Stem Cells and Biomimetic Scaffolds for Tissue Engineering and Modeling: Repair, Renovate, and Re-create
Yoram Vodovotz, PhD:  Translational Systems Biology of Inflammation at the McGowan Institute for Regenerative Medicine
Justin Weinbaum, PhD: Taking the Red Pill: How I Entered the Matrix
Cecelia Yates, PhD: Scars and Souvenirs: Inflammation and Fibrosis in Skin
Students experienced the laboratories of Drs. William Wagner, Steven Badylak, Bryan Brown, and Thomas Gleason.  In addition, they experienced an introduction to the Artificial Heart Program and the Center for Biological Imaging (Donna Stolz, PhD, host).  The students also enjoyed an evening at Kennywood Park and an afternoon at the Carnegie Museum of Art and History.
Read more…
McGowan Institute for Regenerative Medicine Summer School
McGowan Institute for Regenerative Medicine Facebook Page