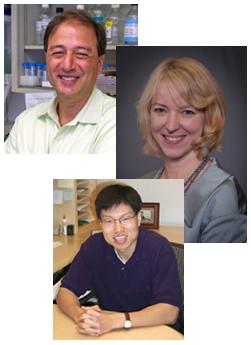 The University of Pittsburgh's Center for Medical Innovation (CMI) awarded a total of $82,000 to six research groups through its 2013 Round-2 Pilot Funding Program for Early Stage Medical Technology Research and Development.  McGowan Institute for Regenerative Medicine affiliated faculty members—Alan Wells, MD, Anne Robertson, PhD, and Yadong Wang, PhD—were among three of the research groups receiving these awards.
CMI, a University Center housed in Pitt's Swanson School of Engineering, funds applied technology projects that are in the early stages of development, with the goal of ultimately transitioning the work to clinical adoption. Proposals were evaluated on the basis of scientific merit, technical and clinical relevance, potential health care impact and significance, experience of the investigators, and potential in obtaining further financial investment to translate the particular solution to healthcare. Funding ranges from $10,000-$25,000 each.
"CMI serves as a critical "kickstart" for biomedical devices that are ready to move to the next level of R&D, and so we're excited for the potential of these six projects," said Alan D. Hirschman, PhD, CMI Executive Director. "The CMI leadership team was impressed by the quality of these proposals, which represent some of the most intriguing early-stage interdisciplinary research at Pitt and UPMC."
The projects associated with research of the McGowan Institute for Regenerative Medicine affiliated faculty members include:
CUROSTEM: Cellular Bio-Bandage
Award to develop Curostem™, a 'smart' topical wound gel, which incorporates biological and pharmacological materials into a bioengineered polymer gel topically applied to non-healing wounds in all clinical care settings.
Research Team:
Donald P. Taylor, PhD, MBA, Department of Bioengineering, Swanson School of Engineering (SSOE)
Austin Nuschke (Student co-PI), Department of Pathology, UPMC
Alan Wells, MD, Professor and Vice-Chair, Department of Pathology, UPMC Professor, Department of Bioengineering, SSOE
Eric Beckman, PhD, George M. Bevier Professor, Department of Chemical Engineering, SSOE
Dilatable Ports for Deep Brain Access
Award to design, build, and test a prototype device for minimally invasive brain surgery, which can mitigate most of the tissue trauma generated by surgical devices.
Research Team:
Johnathan A. Engh, MD, Assistant Professor, Department of Neurological Surgery, UPMC
Anne Robertson, PhD, Professor of Mechanical Engineering, SSOE
Degradable Reverse Thermal Gel as a Controlled Release Platform for Intraocular Therapeutic Delivery
Award to continue development of an advanced gel for treatment of macular degeneration and other diseases of the eye.
Research Team:
Yadong Wang, PhD, Professor, Department Bioengineering, SSOE
Thomas Friberg, MD, Department of Ophthalmology, UPMC
About the Center for Medical Innovation
The Center for Medical Innovation at the Swanson School of Engineering is a collaboration among the University of Pittsburgh's Clinical and Translational Science Institute (CTSI), the Office of Technology Management (OTM), and the Coulter Translational Research Partnership II (CTRP). CMI was established in 2011 to promote the application and development of innovative biomedical technologies to clinical problems; to educate the next generation of innovators in cooperation with the schools of Engineering, Health Sciences, Business, and Law; and to facilitate the translation of innovative biomedical technologies into marketable products and services in cooperation with OTM and in partnership with CTRP.