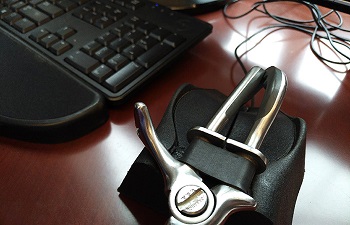 In recent decades, computer mice have become just as ubiquitous as computers. Now, thanks to Human Engineering Research Laboratories (HERL) and VA researchers, there's even a prosthetic hook mouse for people with upper-limb amputations.
It's yet another example of ingenuity on the part of HERL, a collaborative effort between the VA Pittsburgh Healthcare System and the University of Pittsburgh. HERL researches, develops, and tests a variety of technologies, including wheelchairs, and uses 3D printers with advanced manufacturing to design and create prostheses and other assistive devices.
The idea for the mouse dawned on McGowan Institute for Regenerative Medicine affiliated faculty member Rory Cooper, PhD—FISA & Paralyzed Veterans of America Professor and Distinguished Professor of the Department of Rehabilitation Science & Technology, professor of Bioengineering, Physical Medicine & Rehabilitation, and Orthopedic Surgery at the University of Pittsburgh, Founding Director and VA Senior Research Career Scientist of HERL, and an adjunct professor in the Robotics Institute of Carnegie Mellon University—at the 2018 National Disabled Veterans Winter Sports Clinic in Snowmass, Colorado. There, he met with Army and Coast Guard Veteran Dave Riley, a past national commander of the Veterans service organization Disabled American Veterans. Mr. Riley, a quadruple amputee, was involved in a HERL research study at the time and suggested something to Dr. Cooper:
"He said, 'I'm a computer scientist. It would be really helpful if I could use a mouse that's compatible with my prosthetic hook,'" Dr. Cooper remembered. "After returning to Pittsburgh, I met with a few colleagues. Knowing that upper-limb amputees can face challenges using a standard mouse, we set out to work on this problem for Dave.
"I had a prosthetic hook in my office, so I started playing with it to figure out how this would work," Dr. Cooper adds. "I talked to a prosthetist. He made a socket for the hook, so you didn't have to be a person with an amputation to try it. Then, we drew up some shapes on the computer and 3D-printed them. One of the shapes worked reasonably well."
HERL has printed more than 100 of the prosthetic mice
Dr. Cooper and his team unveiled their new invention at the 2019 National Disabled Veterans Winter Sports Clinic in Colorado. Shaped like a pyramid and elevated a few inches in the back, it provides a space where one can rest the wrist area of the prosthetic. In the front, the hook can drag a cursor and click right and left. Mr. Riley was one of several Veterans who tested the new mouse at the clinic. He found it to be very mobile, just like a conventional mouse, and gave feedback to HERL on improving the device, such as tightening up an area that would give the hook more control while moving the cursor.
"The other thing we learned that was obvious, but we didn't think about, was that some people use their left hand, some people use their right hand, and prosthetic hooks come in three sizes," Dr. Cooper says. "That's why we have three patents on this mouse. One's for right-handed people, one's for left-handed people, and one's for a mouse that's compatible with different size hooks."
To date, Dr. Cooper says, HERL has 3D-printed more than 100 of the prosthetic mice and has sent them to the James A. Haley Veterans' Hospital in Tampa, Florida; to the Center for the Intrepid, a rehabilitation facility that treats amputees and burn victims at Brooke Army Medical Center in Texas; and to Walter Reed National Military Medical Center in Maryland. Some Veterans have also used them at HERL, he says.
At the same time, HERL is working with VA's Technology Transfer Program (TTP) to license the mouse. TTP assists researchers and other VA employees by licensing protected VA technologies to companies able to make and sell the inventions to the public.
David Marks, a technology transfer specialist with TTP, has received feedback from people who've used the prosthetic hook mouse. "The users stated that the mouse gives them more control on the computer," he says. "They were happy to use it."
Several things allow the mouse to operate efficiently, Dr. Cooper explains: A comfortable area where the wrist of the hook can rest; a small "wall" that prevents the prosthetic from sliding forward and off the mouse; and a resting place with two large buttons that are contoured so it's easy for the tip of the hook to drag and click. "It gives intuitive and precise control, without the need for specialized software that may be incompatible with programs people wish to use," he says.
Another interesting fact about the mouse, Dr. Cooper notes, is that people who aren't fitted with a prosthetic hook for a disability can use it without needing to replace any software. Dave Riley asked HERL if he could receive one mouse for his computer at work and another one that he and his wife, who has no disability, can use with their computer at home, Dr. Cooper says.
The mouse may also benefit people with a partial hand amputation or with limited hand function because of neurological damage. But HERL is yet to test the technology's ability to work in that capacity.
An 'intuitive low-cost solution'
Is the prosthetic hook mouse a feasible product?
Dr. Cooper calls it an "intuitive low-cost solution" that would cost about $25, compared with $5,000 for a head-tracking or an eye-tracking system. But it would need to be marketable to people other than Veterans with upper-limb amputations, he emphasizes.
In the Veteran population, upper-limb amputation is much less common compared with lower-limb loss, although the percentage has risen in recent years due to the many soldiers who have lost hands and arms in roadside blasts in Iraq and Afghanistan. In 2016, 22 percent (20,158) of the Veterans who received amputation care at VA facilities had an upper-limb amputation, the most common of which is loss below the elbow, typically suffered in combat.
"The civilian population, which is larger than the Veteran population for upper-extremity amputations and all amputations for that matter, could benefit as well," Dr. Cooper says. "That means Americans with disabilities would also benefit. The tricky part about it is that the market is small, so you need to find someone who's not looking to make a lot of money necessarily because mice are not expensive."
Dr. Cooper says 3D printing is the most cost-effective way to create the mouse. A facility could also make them with a mold.
"But you'd probably never recover the costs of the mold," he says. "It wouldn't be a good business model because of the number of units you might sell. The interesting thing is if it turns out that the mouse works pretty well for people with impaired hand function, or for that matter people without any impairment use it, that would change the whole business model. Stay tuned."
Illustration:  Thus far, the Human Engineering Research Laboratories has 3D-printed more than 100 of the prosthetic mice for use by Veterans with upper-limb amputations. (Photo by Dr. Rory Cooper.)
Read more…
U.S. Department of Veterans Affairs Office of Research & Development News Release