Pioneering Initiative = Improved Standard of Care + Educational Success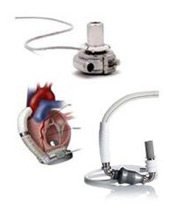 On January 15, 2014, the UPMC Artificial Heart/Ventricular Assist Device (VAD) Program achieved a remarkable milestone: 100,000 cumulative days of circulatory support in 830 heart failure patients beginning in October 1985 through January 2014.
This is a noteworthy milestone that is the product of the contributions of many clinical specialists, coupled with the contributions of a cadre of bioengineers. For those who may be interested, the Regenerative Medicine Podcast by McGowan Institute for Regenerative Medicine faculty member Harvey Borovetz, PhD, a Distinguished University Professor and former chair of Bioengineering, gives some insight into the formative days of the program. Also, the podcast by Bryan Williams who was supported by a VAD and received a heart transplant at UPMC may be of interest.
This milestone is particularly exciting for the University of Pittsburgh's Swanson School of Engineering and the Department of Bioengineering. The Department has been a true partner in the UPMC Artificial Heart/VAD Program these many years. For the past 20 years, the clinical artificial heart/VAD bioengineering program has excelled under this partnership. The current collaborators include McGowan Institute for Regenerative Medicine faculty member Robert Kormos, MD, Director of the UPMC Artificial Heart Program, Co-Director of the UPMC Heart Transplantation Program, and Medical Director of Vital Engineering, the Department of Bioengineering management team and graduates, and McGowan Institute for Regenerative Medicine affiliated faculty members Steve Winowich, Senior Biomedical Engineer and Director of Operations at Vital Engineering, and Richard Schaub, PhD, an Adjunct Assistant Professor of Bioengineering at the University of Pittsburgh, the Senior Director of Vital Engineering (Biotronics), and Clinical Director of Bioengineering of the UPMC Artificial Heart Program. Vital Engineering is a UPMC program that offers around-the-world medical consultation, physician training, and patient support regarding the implementation of various VADs.
Today, Mr. Winowich and Dr. Schaub are sought out by members of heart failure programs nationally and internationally regarding establishing their own circulatory support programs and/or providing consultations for use of a particular circulatory support technology. As well, within the VAD industry, these experts provide patient support worldwide.
In addition to the UPMC Artificial Heart/VAD Program's pioneering initiative in saving lives, the program offers a unique training opportunity: bioengineering students, both undergraduate and graduate, have had the distinctive opportunity over the years to participate as part-time clinical artificial heart/VAD bioengineers. Many of these students have used this clinical experience as a stepping-stone to professional careers as clinical total heart/VAD bioengineers in heart failure programs across the U.S, as leaders in this specialization at the FDA, or as bioengineers in medical device companies. All of these students say that the opportunity to participate as part-time clinical artificial heart/VAD bioengineers was the highlight of their bioengineering education at Pitt. It is certainly fair to say that no other academic bioengineering department/program has a comparable program.
Congratulations to all who have contributed to the advancement of these technologies and providing unique training opportunities to many bioengineering students!
---
RESOURCES AT THE MCGOWAN INSTITUTE
February Special at the Histology Lab
Don't let the Winter Blues get you down! Get down with the winter Blues!!
Visit the McGowan Institute Histology Lab and make the most of Blue moods.
Stay warm and toasty with positive iron staining results from a Prussian Blue.


Enjoy a day at the microscope evaluating mucin results with the paradise blue sky shades of anAlcian Blue stain.


Mast Cells will stand out with a Toluidine Blue stain.


Shake off the winter blues and get down with 20% off these Special Stain Blues.
Contact Lori, in Histology with any questions regarding our February Blue Specials or any of your histology needs. Most projects can be completed and returned to you in one week. The McGowan Histology Lab offers free pick-up and delivery to Oakland.
Lori A Walton, HT(ASCP)
perezl@upmc.edu
412-624-5265
---
UPCOMING EVENTS
Registration Ends February 15th: 2014 McGowan Institute Retreat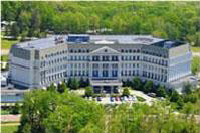 The 13th Annual McGowan Institute for Regenerative Medicine Scientific Retreat is set to take place on March 9-11, 2014, at Nemacolin Woodlands Resort.
The poster session will begin on the evening of March 9, 2014, at which time there will be an informal mixer.
Under the leadership of McGowan Institute for Regenerative Medicine faculty member Kacey Marra, PhD, associate professor, Department of Surgery, University of Pittsburgh, director of the Plastic Surgery Laboratory, and co-director of the Adipose Stem Cell Center, the program committee is planning an exciting group of speakers and topics.
Highlights from the 2013 Retreat are in the Archive in the article entitled "McGowan Institute for Regenerative Medicine Holds Its Annual Scientific Retreat."
You may view the most recent program for the Retreat here.
---
Third Annual Regenerative Rehabilitation Symposium
The annual Regenerative Rehabilitation Symposia series is a unique opportunity for students, researchers, and clinicians working in the interrelated fields of regenerative medicine and rehabilitation to meet, exchange ideas, and generate new collaborations and clinical research questions. Jointly organized by the University of Pittsburgh Rehabilitation Institute, the School of Health and Rehabilitation Sciences at the University of Pittsburgh, the McGowan Institute for Regenerative Medicine and the Rehabilitation Research and Development Center of Excellence at the Veterans Affairs Palo Alto Health Care System, the Third Annual Symposium on Regenerative Rehabilitation will be held on April 10-11, 2014 in San Francisco, CA at the Mission Bay Conference Bay at the University of California, San Francisco (UCSF).
The objectives of this event are:
To promote the clinical translation of regenerative medicine scientific discoveries by communicating and disseminating research findings that demonstrate the synergistic relationship between regenerative medicine and rehabilitation;
To provide a forum by which scientists and rehabilitation clinicians may interact, exchange ideas, and identify novel research directions relating to the field of regenerative rehabilitation; and
To introduce the concept of regenerative rehabilitation to graduate students, medical students and medical residents in the rehabilitation field.
For more information on this event, please contact Katy Wharton at: rehabmtg@pitt.edu or whartonkm@upmc.edu or 412-624-5293.
---
SCIENTIFIC ADVANCES
Improving the Therapeutic Relevance of Muscle Stem Cells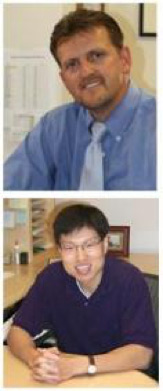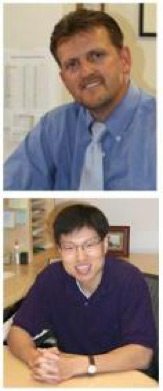 As reported by the Stem Cell correspondent Stuart P. Atkinson, the research group of McGowan Institute for Regenerative Medicine faculty member Johnny Huard, PhD (pictured top), professor in the Departments of Orthopaedic Surgery, Molecular Genetics, Biochemistry, Bioengineering, and Pathology, the Henry J. Mankin endowed chair in orthopaedic surgery research, and the director of the Stem Cell Research Center, has previously isolated and characterized muscle-derived stem cells (MDSCs) which have been shown by various groups by being able to undergo osteogenic differentiation given the correct stimuli. They are therefore a potential alternative to bone marrow-derived mesenchymal stem cells for bone tissue engineering. One of these stimuli is continued exposure to bone morphogenetic proteins (BMP), hindered by the short half-lives in vivo and the requirement of maintaining a localized concentration. The team, including McGowan Institute for Regenerative Medicine faculty member Yadong Wang, PhD (pictured bottom), the William Kepler Whiteford professor in bioengineering with adjunct positions in chemical engineering and surgery at the University of Pittsburgh, has also devised a delivery strategy; a poly(ethylene argininylaspartate diglyceride)(PEAD)-heparin complex loaded with BMP2 which forms an emulsion-like aggregation of organic molecules separated from the aqueous phase, or a coacervate, previously used to effectively deliver fibroblast growth factor-2 (FGF2) for therapeutic angiogenesis. Now, in a report in Stem Cells Translational Medicine, they report on the use of this system with BMP2 to stimulate osteogenesis in MDSCs in vitro and in vivo.
Loading of BMP2 into the coacervate was 98.2% efficient, and after 28 days incubation 25% of the BMP2 had been released indicating that the coacervate can efficiently control the release of incorporated BMP2. Using the stimulation of alkaline phosphatase (ALP) expression in the myogenic cell line, C2C12, a common method of determining the activity of BMPs, it was demonstrated that coacervate-BMP2 induced more ALP than control (coacervate alone) and a similar concentration of free BMP2. ALP is also a marker for osteogenic differentiation of MDSCs in response to BMP2, and this system was next used to assess the effectiveness of coacervate-BMP2 on a cell monolayer and cells in a 3D fibrin gel, representing a potential scaffold for cell delivery to a bone defect. In the monolayer system, 100ng of coacervate-BMP2, but not 100ng of free BMP2 stimulated ALP expression at 5 days, while multi-dose treatment of free BMP2 (300ng in total) to stimulate sustained release did allow for ALP expression, which was not significantly different to coacervate-BMP2. mRNA levels of Runx2 and collagen type I were also increased in coacervate-BMP2 and multi-dose free BMP2 treatment to a similar level suggesting that the coacervate system can mediate osteogenic differentiation at lower doses of BMP2. Analysis in the 3D fibrin gel culture system found that while free BMP2 (100ng) this time did allow for ALP expression, perhaps due to reduced growth factor degradation, coacervate-BMP2 stimulated expression significantly more. Furthermore, due to the controlled release, BMP2 levels released from the coacervate, and therefore active, were estimated to be 90% less than free BMP2 at day 5.
Finally, in vivo analysis using a mouse ectopic bone formation model found that MDSCs stimulated with coacervate-BMP2 displayed extensive bone formation at 2 and 4 weeks after implantation, while those treated with free BMP2 had minimal bone formation at 2 weeks but which did increase by week 4. Calcified osteoid matrix was obvious throughout the wound for the coacervate-BMP2 treated cells but was only found in the periphery of the wound for free BMP2 treated cells. Furthermore, within the coacervate-treated wound, the interface between muscle and newly formed bone was detectable, with adjacent myofibers morphologically normal.
Overall, this study demonstrates the effectiveness of the polycation-heparin coacervate delivery system for the binding, protection, and sustained release of BMP2, an important factor in many differentiation studies. While this study does underline the excellent therapeutic potential of this system in bone repair and highlights the potential of MDSCs, this strategy can surely be adapted for uses in many different differentiation strategies, and in the maintenance and production of pluripotent cell types. Furthermore, this could lead to an increased cost effectiveness of many protocols utilizing expensive factors, as lower concentrations of coacervate-BMP2 were seen to function as well as concentrations of free BMP2 at 3 times the level.
---
Proposed: New Composites That Can Regenerate When Damaged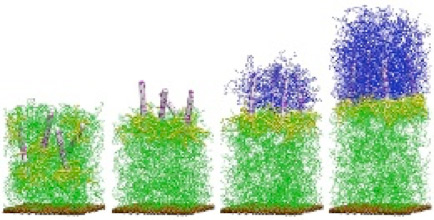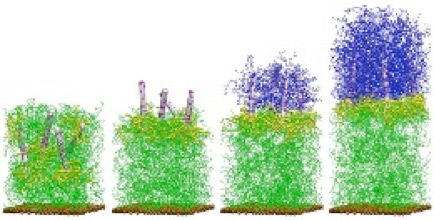 When a chair leg breaks or a cell phone shatters, either must be repaired or replaced. But what if these materials could be programmed to regenerate themselves, replenishing the damaged or missing components, and thereby extend their lifetime and reduce the need for costly repairs?
That potential is now possible according to researchers at the University of Pittsburgh Swanson School of Engineering, who have developed computational models to design a new polymer gel that would enable complex materials to regenerate themselves.
The principal investigator of the study, which was recently published online in Nano Letters, is McGowan Institute for Regenerative Medicine affiliated faculty member Anna Balazs, PhD, the Swanson School's distinguished Robert v. d. Luft professor of chemical and petroleum engineering. Co-authors are Xin Yong, PhD, postdoctoral associate, who is the article's lead author; Olga Kuksenok, PhD, research associate professor; and McGowan Institute for Regenerative Medicine affiliated faculty member Krzysztof Matyjaszewski, PhD, J.C. Warner university professor of natural sciences, Department of Chemistry at Carnegie Mellon University.
The research team was inspired by biological processes in species such as amphibians, which can regenerate severed limbs. This type of tissue regeneration is guided by three critical instruction sets – initiation, propagation, and termination – which Dr. Balazs describes as a "beautiful dynamic cascade" of biological events.
"When we looked at the biological processes behind tissue regeneration in amphibians, we considered how we would replicate that dynamic cascade within a synthetic material," Dr. Balazs said. "We needed to develop a system that first would sense the removal of material and initiate regrowth, then propagate that growth until the material reached the desired size and then, self-terminate the process."
"Our biggest challenge was to address the transport issue within a synthetic material," Dr. Balazs said. "Biological organisms have circulatory systems to achieve mass transport of materials like blood cells, nutrients, and genetic material. Synthetic materials don't inherently possess such a system, so we needed something that acted like a sensor to initiate and control the process."
The team developed a hybrid material of nanorods embedded in a polymer gel, which is surrounded by a solution containing monomers and cross-linkers (molecules that link one polymer chain to another) in order to replicate the dynamic cascade. When part of the gel is severed, the nanorods near the cut act as sensors and migrate to the new interface. The functionalized chains or "skirts" on one end of these nanorods keeps them localized at the interface and the sites (or "initiators") along the rod's surface trigger a polymerization reaction with the monomer and cross-linkers in the outer solution. Drs. Yong and Kuksenok developed the computational models, and thereby established guidelines to control the process so that the new gel behaves and appears like the gel it replaced, and to terminate the reaction so that the material would not grow out of control.
Drs. Balazs, Kuksenok, and Yong also credit Dr. Matyjaszewski, who contributed toward the understanding of the chemistry behind the polymerization process. "Our collaboration with Prof. Matyjaszewski was exceptionally valuable in allowing us to accurately account for all the complex chemical reactions involved in the regeneration processes," said Dr. Kuksenok.
"The most beautiful yet challenging part was designing the nanorods to serve multiple roles," Dr. Yong said. "In effect, they provide the perfect vehicle to trigger a synthetic dynamic cascade." The nanorods are approximately 10 nanometers in thickness, about 10,000 times smaller than the diameter of a human hair.
In the future, the researchers plan to improve the process and strengthen the bonds between the old and newly formed gels, and for this they were inspired by another nature metaphor, the giant sequoia tree. "One sequoia tree will have a shallow root system, but when they grow in numbers, the root systems intertwine to provide support and contribute to their tremendous growth," Dr. Balazs explains. Similarly, the skirts on the nanorods can provide additional strength to the regenerated material.
The next generation of research would further optimize the process to grow multiple layers, creating more complex materials with multiple functions.
Illustration: Self-regenerating composites–In the computer simulation, the composite is cut (far left) and the nanorods begin migration to the cut interface. In the third image, the polymerization from the rods surface and cross-linking initiates, culminating in the newly regrown gel (final image). –University of Pittsburgh.
---
Personalized Medicine for Pancreatic Diseases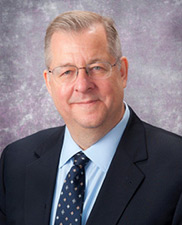 McGowan Institute for Regenerative Medicine affiliated faculty member David Whitcomb, MD, PhD, the Giant Eagle foundation professor of cancer genetics, chief of gastroenterology, hepatology and nutrition, professor of medicine, cell biology and physiology, and founder and director of the Center for Genomic Sciences, was an invited lecturer hosted by the University of Auckland Department of Surgery in New Zealand. As an internationally respected expert in personalized medicine, Dr. Whitcomb spoke of personalized medicine for pancreatic diseases and how that can be applied as a model for other diseases.
Dr. Whitcomb also participated in a research symposium and established collaborative research links with the Pancreas Research Group led by Professor John Windsor at the University of Auckland.
Dr. Whitcomb specializes in the clinical care and research related to pancreatic diseases, including acute pancreatitis, chronic pancreatitis, pancreatic effects of cystic fibrosis, and pancreatic cancer. He is a pioneer in the integrated use of mathematics, genetics, neurosciences, immunology, epidemiology and clinical sciences to study complex inflammation disorders and cancer risks of the digestive system. His ground-breaking work in developing an effective program for delivering the specific individualized information, especially from genetic profiling, needed for personalized medicine is being studied and emulated by other leading programs throughout the world.
Dr. Whitcomb's lecture was entitled "Personalized medicine for pancreatic diseases: a breakthrough model for other diseases?"
---
Strategic Partnership in Regenerative Medicine Formed With Instron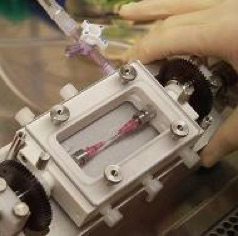 As reported by Azom.com, Instron, a leading provider of testing equipment designed to evaluate mechanical properties of materials and components, is collaborating with McGowan Institute for Regenerative Medicine affiliated faculty members Julie Phillippi, PhD, research assistant professor in the Department of Cardiothoracic Surgery, University of Pittsburgh School of Medicine, and Thomas Gleason, MD, associate professor of surgery, Division of Cardiothoracic Surgery, University of Pittsburgh School of Medicine, director of the Center for Thoracic Aortic Disease, and co-director of the Center for Heart Valve Disease at the Heart, Lung and Esophageal Surgery Institute, both at the University of Pittsburgh Medical Center.
Instron's DynaGen® Series bioreactors provide mechanical stimulation to three dimensional tissue-engineered constructs to create physiological conditions in vitro. The LumeGen system imparts pulsatile flow and pressure to a vascular conduit. Applications include the investigation of cell function and differentiation, pharmaceutical benchtop testing, and the seeding and growth of engineered tissues and medical devices.
With Drs. Phillippi and Gleason's research focused on understanding the cellular and molecular mechanisms of ascending aortic aneurysms in patients with bicuspid aortic valve and other heritable disorders, Instron tissue growth technologies (TGT) will be providing the instrumentation and mechanical environment to develop a model and evaluate the diseased state in vitro.
The patented LumeGen bioreactor system provides controlled pressure and flow to 3-dimensional vessels and real time monitoring and data collection. These features allow researchers to design the environment of interest in a reliable and repeatable manner to systematically unlock the secrets of disease.
Illustration: An Instron TGT custom-built rotational vacuum device is being employed to seed small-diameter polymer grafts with primary human aortic smooth muscle cells in the lab of Drs. Thomas Gleason and Julie Phillippi. The tissue-engineered model will lead to an increased understanding of the molecular mechanisms governing the aortopathy associated with bicuspid aortic valve.
---
AWARDS AND RECOGNITION
McGowan Institute Affiliated Faculty Receive Awards for Excellence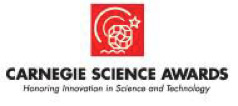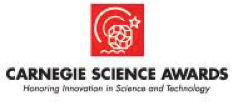 The Pittsburgh Carnegie Science Center established the Awards for Excellence program in 1997 to recognize and promote outstanding science and technology achievements in Western Pennsylvania. The Carnegie Science Awards have honored the accomplishments of more than 400 committed individuals and organizations that have improved lives through their contributions in science and technology. Award winners were announced on January 30, 2014. On May 9, 2014, at the Carnegie Music Hall the following award recipients will be honored for their tremendous work and its impact on the vitality in the region:
Center for Innovation in Restorative Medicine
The Corporate Innovation Award is given to an organization or representative of an organization that develops and encourages an environment that promotes innovation in science or technology.
The Center for Innovation in Restorative Medicine (CIRM) is a nationally recognized center for excellence in regenerative medicine therapies. Through a comprehensive system of referral, evaluation, treatment, and long-term care, the Center offers access to the most promising potential treatments for life-altering injuries — especially for those patients who have exhausted conventional treatment options. CIRM is recognized nation-wide for the multitude of pioneering studies in translational medicine. Teams of clinicians and scientists are advancing the clinical assessment and clinical implementation of new regenerative technologies and treatments for people suffering from severe or complex traumatic injuries or disease. The focus has been on head and facial injuries, scarring from burns, pain from amputation, and limb or muscle loss.
The Center is leading the way in shaping the future of regenerative medicine technologies, devices, and reconstructive strategies by collaborating with organizations throughout the United States and the world to develop clinical trials that will help change the face of patient care. Typically, the pathway from the lab bench to the bedside is long and convoluted. Through the Center's unique approach to translational medicine, emerging technologies are being assessed, refined, and made available to those in need. What is novel and significant are the strategies used to organize and implement clinical studies, and the amazing positive outcomes. While the fact that 100+ patients–suffering from otherwise untreatable afflictions—who have "recovered" as a result of these therapies is significant, what is even more significant is the emerging wide-spread availability of these therapies to others in need.
The director of CIRM is J. Peter Rubin, MD. Dr. Rubin is a noted expert on adult stem cells derived from fat tissue and body contouring surgery. His work focuses on devising innovative strategies for the use of adipose (fat)-derived stem cells to not only address problems of tissue regeneration but also other diseases that benefit from stem cell-based therapies. His laboratory research focuses on applications of adult adipose-derived stem cells for restoring damaged tissues after trauma and cancer therapy.
Leadership in STEM Education
The Leadership in STEM Education Award recognizes an individual, team, or organization that demonstrates leadership in building literacy in science, technology, engineering, and math.
Dr. Michael Lotze is a pioneering educator with the University of Pittsburgh Cancer Institute (UPCI) who created the UPCI Summer Academy, now entering its 6th year. Designed to support highly motivated students to be mentored in UPCI laboratories, supplemented by formal didactic training in cancer biology and introduction to career pathways, this novel Academy has taken on a leadership role for providing STEM education of the highest order, the largest experiential program at the University. Moving from 5 students in its initial year, to now an expected 60 'scholars' this next summer, the Academy is located at one of five innovative program sites tailored to provide access to 'performance science,' culminating in an oral and poster presentation at the conclusion of an 8-week intensive experience.
This unique Program supports under-represented minorities and disadvantaged students, now termed UB's (under-represented in the biomedical sciences) with funding developed by Dr. Lotze for the next 3 years from the National Cancer Institute and from the Doris Duke Charitable Foundation. Half of the positions available within the program are filled by UB's. Dr. Lotze has reached out and partnered with both local and distant organizations to fulfill this promise including FAME, the Foundation for Advancement of Minority Education, the Pittsburgh Public Schools Science and Technology Magnet School, the Jack Kent Cooke Foundation, and the Kamehameha and Punahou Schools in Hawaii. Almost 20% of the positions are filled from scholars from around the country including Michigan, Texas, New Jersey, New York, Virginia, California, and Hawaii, adding luster and scope. This last year, three scholars from Kazakhstan and one from Germany were admitted, reflecting the strategic partnerships of the UPCI, allowing local and regional scholars the opportunity to learn side by side with those from different cultures.
Start-Up Entrepreneur
The Start-Up Entrepreneur Award recognizes leadership in developing a promising innovation in an early-stage company.
Respiratory failure affects and the need for invasive mechanical support affects over 1 million people annually. Dr. William Federspiel is the inventor of an artificial lung now being commercialized and assisting patients all over the world to recover from respiratory failure. He was the co-founder of ALung Technologies and has been instrumental in the continued development of the "Hemolung" technology and ALung as company.
The Hemolung can be used to prevent the need for mechanical ventilator support or protect the lungs from damage during mechanical ventilation. Patients requiring lung transplant often deteriorate before a donor lung is available. The Hemolung can bridge the gap until a lung is available. The Hemolung can assist the patient's native lungs and provide support while they wait. During this support the patient is not sedated and can therefore eat, speak, and move around to maintain their strength.
Dr. Federspiel's creativity has resulted in an artificial lung that is effective, safe, and simple to use. As a result of his efforts hundreds of thousands of patients will avoid more invasive and damaging forms of therapy annually.
We would also like to extend our congratulations to the other University of Pittsburgh awardees:
Peijun Zhang,PhD, Associate Professor, Department of Structural Biology: Emerging Female Scientist Award
Xu Liang, PhD, Professor, Department of Civil and Environmental Engineering: Environmental Award
Angela Gronenborn, PhD, Department of Structural Biology: Life Sciences Award
---
Dr. Savio Woo Presents Keynote Lecture at the Taiwan Orthopaedic Research Society Annual Meeting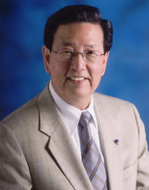 On October 26, 2013, McGowan Institute for Regenerative Medicine faculty member Savio L-Y. Woo, PhD, DSc, DEng, distinguished university professor and director of the Musculoskeletal Research Center in the Department of Bioengineering at the University of Pittsburgh, presented the Keynote Lecture at the Taiwan Orthopaedic Research Society (TORS) Annual Meeting held in Taipei, Taiwan. The lecture was titled, "Recent Contribution of Biomechanics on ACL Injury and Reconstruction," and focused on a combined experimental and computation approach to determine ligament function and joint motion accurately, specifically the anterior cruciate ligament (ACL). With such information, it will then be possible to evaluate surgical procedures and their outcome, to improve rehabilitation protocols, to determine the mechanisms of ACL injury, and to develop sound training procedures for injury prevention that are scientifically based.
TORS was founded in 1992 by a small group of leading orthopaedic surgeons and professors. The purpose of the society is to promote physician and researcher participation in basic science and clinical orthopaedic musculoskeletal research. The mission of TORS is to further the advancement of orthopaedic surgery in Taiwan by stimulation of the continued growth of orthopaedic research, provide an annual platform for the exchange of technical, scientific, and practical information relating to research in orthopaedic surgery, and provide for the presentation of recent advances in orthopaedic research to the practicing orthopaedic surgeon and basic scientist.
---
McGowan Institute Affiliated Faculty Member Wins Prestigious Medal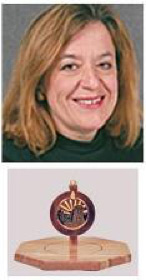 McGowan Institute for Regenerative Medicine affiliated faculty member Anna Balazs, PhD, distinguished professor of Chemical and Petroleum Engineering at the University of Pittsburgh and also the current Robert Von der Luft professor in that department, has been selected as the 5th recipient of the South Dakota School of Mines and Technology "Mines Medal." This award recognizes the overall contributions of Dr. Balazs' career, her influence in engineering or science, and the significance of extraordinary, meritorious, or prestigious contributions toward resolution or understanding of the technological challenges that impact society. Candidates for the Mines Medal:
show evidence of being transformational individuals, often as rising or confirmed leaders in their fields;
are scientific or technical leaders who motivate and inspire;
have specific accomplishments in an appropriate field; and
further the frontiers and expand the boundaries of engineering or science.
"Dr. Balazs inspired our faculty and students to ask themselves what are the most important scientific problems the world faces and work on them. For her, it is the line between living and non-living. If a finger can regenerate itself like a salamander can regrow a limb, if we can develop new sensors for prosthetics that translate pressure into neural impulses that allow someone to feel again, then we will have understood more about the science of living. She inspired us, by her words and her example, to force our minds outward. We are grateful for her work, and happy to honor her with the Mines Medal," said South Dakota School of Mines & Technology President Heather Wilson, D.Phil.
Dr. Balazs is widely recognized as a trend-setting researcher who developed powerful, comprehensive computer models to predict the behavior of nanocomposites. These studies provided critically needed guidelines for creating high performance materials formed from polymers and nanoparticles.
Her group developed the first computational model to describe large scale deformations and shape changes in chemo-responsive polymer gels. She has also made significant contributions to the area of self-healing materials and has collaborated with experimentalists at the McGowan Institute for Regenerative Medicine at the University of Pittsburgh.
The materials and modeling methods being produced as a result of her work are far-reaching, with her research focusing on a diverse spectrum of systems, including nanocomposites, self-oscillating gels, self-healing materials, and polymeric microcapsules.
Dr. Balazs focuses on developing models to capture the behavior of polymer blends, nanocomposites, complex fluids, and colloidal systems, work that is "crucial" for designing advanced materials, according to one of her nominators McGowan Institute for Regenerative Medicine faculty member Steven Little, PhD, chair of the Department of Chemical and Petroleum Engineering at the University of Pittsburgh.
"It is in this area that Dr. Balazs and her research group have made fundamentally important and unique contributions, which are allowing scientists to understand how choices made at the molecular level affect the macroscopic performance of the system." Dr. Little described her work as both "theoretically elegant and applicable to real materials of industrial relevance."
Illustration: South Dakota School of Mines and Technology (medal image).
---
Ballet and Sports Medicine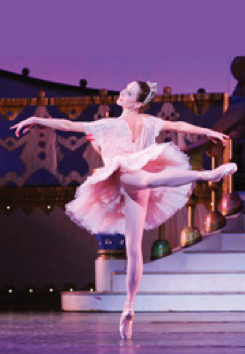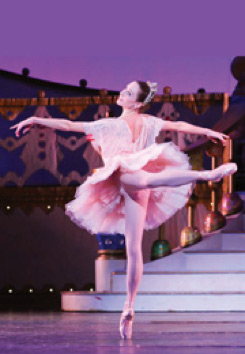 Led by McGowan Institute for Regenerative Medicine faculty member Freddie Fu, MD, today the UPMC Sports Medicine's staff of experts is skilled in the assessment, treatment, and rehabilitation of dance-related injuries and dance-specific training programs. As reported by Jane Vranish of the Pittsburgh Post-Gazette, Dr. Fu has been attending to Pittsburgh Ballet Theatre dancers since 1983 when he quickly embraced the connection and singular importance of dance. Dr. Fu has been attending to the dancers ever since, physically, mentally, and emotionally. He realized that it was an art form that didn't have the financial wherewithal to care for artists who often just had to dance "hurt," grinning and bearing it for the audience, or simply quit.
"It's artistic, it's athletic, and I really enjoy the performances," Dr. Fu says. "Dancers are so proficient — you need to be aware of your surroundings."
Today, the Pittsburgh Ballet dancers and the health staff explore the delicate balance between art and the singular physicality inherent in ballet: coordination, balance, and technical hurdles among them. From backstage at Pittsburgh's Benedum Center, therapists watch from the wings, trying to become more familiar with ballet technique. It's here that they occasionally offer suggestions on injury prevention.
UPMC Sports Medicine physical therapists and athletic trainers are members of the Performing Arts Special Interest Group of the American Physical Therapy Association (APTA) and the National Athletic Trainers Association (NATA). They are also active and contributing members of the Dance/USA medical taskforce committee.
UPMC Sports Medicine experts help improve and prolong a dancer's career through a dance-specific assessment, focused on flexibility, strength, balance, core stabilization, and functional movement. UPMC's dance experts develop dance-specific functional training programs that will enable dancers to return from injury to a high level of performance, in a meaningful and safe progression.
Dr. Fu is the David Silver professor of orthopaedic surgery and chairman of the Department of Orthopaedic Surgery at the University of Pittsburgh School of Medicine and University of Pittsburgh Medical Center. Dr. Fu has also been the head team physician for the University of Pittsburgh Department of Athletics since 1986 and holds secondary appointments at the University as professor of physical therapy and health physical and recreational education.
Illustration: Pittsburgh Ballet Theatre.
---
Regenerative Medicine Podcast Update
The Regenerative Medicine Podcasts remain a popular web destination. Informative and entertaining, these are the most recent interviews:
#131 – Dr. Bryan Brown is a Visiting Assistant Professor with the Department of Bioengineering at the University of Pittsburgh. Dr. Brown discusses the upcoming first annual Regenerative Medicine Summer School.
Visit www.regenerativemedicinetoday.com to keep abreast of the new interviews.
---
PICTURE OF THE MONTH
We are introducing a new monthly feature: Picture of the Month, as a compliment to the longstanding features Grant of the Month and Publication of the Month. Each of these features highlights the achievements of McGowan affiliated faculty and their trainees. As we have always welcomed suggestions for grants and publications, please also consider submitting images that can highlight your pioneering work.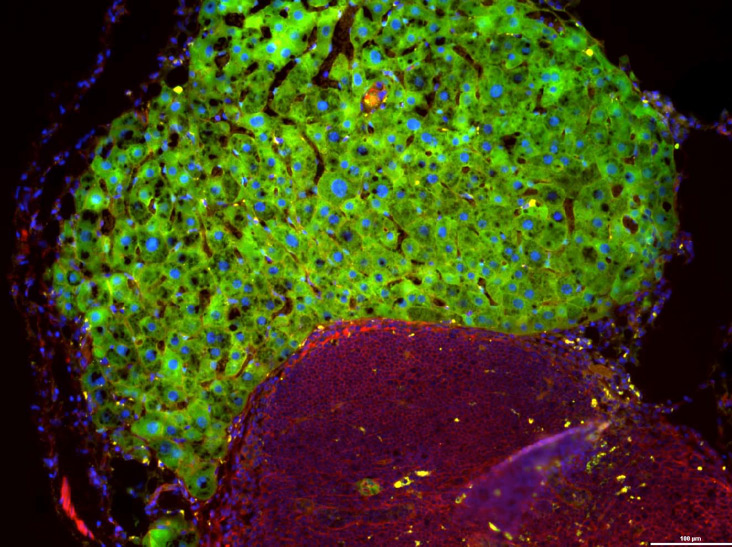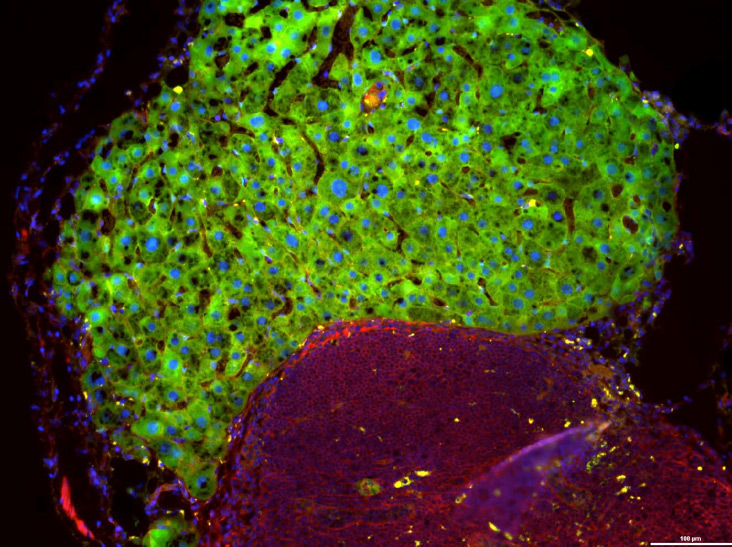 Cryosection of a mesenteric lymph node from an Fah-/- mouse transplanted with hepatocytes from an C57Bl/6-GFP mouse. Blue is Hoechst 3342 staining (nuclei), red is AlexaFluor 594 phalloidin (f-actin), and the green is GFP. The top mass of cells are donor hepatocytes, and the bottom mass of cells are cells in the host lymph node. 100x.
Image from Alicia Watson, 2nd year Cellular and Molecular Pathology graduate student in the laboratory of Dr. Andrew Duncan of the McGowan Institute for Regenerative Medicine.