Progress Reported in Organ Preservation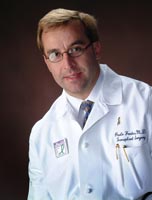 In a paper presented at the American Transplant Congress, Seattle, WA (May 20, 2013), McGowan Institute for Regenerative Medicine affiliated faculty member Paulo Fontes, MD, associate professor of surgery at the University of Pittsburgh School of Medicine, described the ground breaking results from a study conducted by a multidisciplinary team who designed and assessed the effectiveness of a system to oxygenate harvested livers with a perfusion system so that the condition of the liver can be maintained for an extended period before implantation.
The team of investigators included participants from the Starzl Transplantation Institute, Department of Surgery, and the McGowan Institute for Regenerative Medicine-University of Pittsburgh—including McGowan affiliated faculty member Anthony Demetris, MD, professor of pathology and director, Division of Transplantation Pathology at the Starzl Transplantation Institute—and the University of Pittsburgh Medical Center.
The team has successfully developed a new modality for organ preservation in a series of pre-clinical studies using a porcine model. The team has pioneered the use of a newly developed hemoglobin-based-oxygen-carrier (HBOC) solution in combination with machine perfusion (MP) at subnormothermic conditions (21°C) for liver preservation prior to transplantation (Provisional Patent Application No. 61/713,284). These experiments compared MP with the current standard of care for organ preservation which is currently based on cold storage (CS), where the organs stay immersed in preservation solutions under hypothermic conditions (4°C) without oxygenation or flow of the preservation fluid through the organ.
In the preclinical study, the team was able to obtain 100% survival with excellent clinical outcomes in a series of liver transplants (n=6) performed after 9 hours of preservation of the harvested liver. This challenging liver transplant porcine model was previously shown as having 70-100% mortality after preservation with the CS method. Statistical analysis has shown a significant benefit (p<0.004) for the MP approach when more than 16 variables were analyzed. These encouraging results were based on extensive analyses of tissue and perfusate samples, which include histology, immunohistochemistry, electron microscopy, tissue oxygenation, in addition to mitochondrial function and micro-array for genetic analysis.
This has been an investigator-initiated initiative from the team which will be followed by a pre-IDE (investigational device exemption) submission to the FDA in the next few months. The group intends to pursue subsequent clinical trials with this newly developed technology as a way to enhance organ utilization and transplant outcomes. The current discard rate for livers is around 20% overall and 50% for donors after cardiac death in some regions. The team believes that the utilization of donated livers can be enhanced through the utilization of these technologies.
These experiments have been performed in collaboration with OPK Biotech, Cambridge, MA (HBOC solution) and Organ Assist, Groningen Netherlands (MP device). This project has been fully sponsored by a charitable grant from the VGS Foundation.
---
SCIENTIFIC ADVANCES
Research from the Steven Little Lab Highlighted by ARVO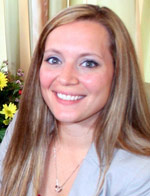 Morgan Fedorchak, PhD (pictured), research assistant professor of chemical engineering and ophthalmology, and researcher in the laboratory of McGowan Institute for Regenerative Medicine faculty member Steven Little, PhD, chair of the Department of Chemical and Petroleum Engineering, associate professor, and Bicentennial Alumni Faculty Fellow of the University of Pittsburgh Swanson School of Engineering, recently participated in the Association for Research in Vision and Ophthalmology (ARVO) annual meeting. Following the meeting, ARVO highlighted Dr. Fedorchak's work on its website in the area of new treatment approaches for glaucoma.
In an effort to surmount glaucoma medication patient compliance issues, Dr. Fedorchak explained how she and researchers at the University of Pittsburgh, McGowan Institute for Regenerative Medicine, and the UPMC Eye Center developed a new way to deliver brimonidine tartrate to the eye for about 1 month noninvasively, without the need for daily eye drops or periodic implants or injections. The new method consists of a patient-administered drop made of hydrogel and microparticles that provides sustained release of the drug. The amount of drug released is within the calculated therapeutic range of topical brimonidine drops.
To test the formulation in vivo, a single drop was administered to the inferior fornix of New Zealand white rabbits. Intraocular pressure (IOP) was measured periodically and histology was used to assess the biocompatibility of the system. Testing showed that the gel/microparticle drop could be easily administered, and that it formed a stable, opaque gel. The gel eye drop was easily removed, leaving no evidence of gel or microparticles. Cytotoxicity testing demonstrated no significant effect on conjunctival cell viability.
The authors believe this new system will provide a simple way for patients to achieve adequate IOP reduction without the issues surrounding injections or compliance with daily eye drop instillation.
This work was conducted with the OTERO program, which is a postdoctoral research program where each fellow studies under co-investigators, one of whom is a clinician who specializes in ophthalmology, and the other investigator is a scientist that is a leader in regenerative medicine technologies such as tissue engineering or cellular therapy.
---
Adding Breast Milk Ingredient to Formula Could Prevent Deadly Intestinal Problem in Premature Babies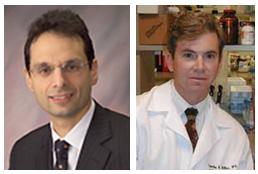 An ingredient that naturally occurs in breast milk might be used to prevent premature babies from developing a deadly intestinal condition that currently is largely incurable, according to McGowan Institute for Regenerative Medicine affiliated faculty members David Hackam, MD, PhD, Watson Family Professor of Surgery, University of Pittsburgh School of Medicine, and co-director of the Fetal Diagnosis and Treatment Center at Children's Hospital of Pittsburgh of UPMC, and Timothy Billiar, MD, George Vance Foster Professor and Chair in the Department of Surgery, and a deputy director in the Molecular Medicine Institute, and researchers at Pitt's School of Medicine and Children's Hospital in the Proceedings of the National Academy of Sciences.
The story begins with a baby who is born too early, meaning before 36 weeks gestation, said senior author Dr. Hackam. Once stable, typically the baby is fed with formula because often breast milk is not readily available to premature infants.
"Within about 10 days of birth, the baby starts to vomit and a few hours later, the belly becomes distended and discolored," Dr. Hackam said. "It becomes clear that the child has developed a major problem in his or her tummy, and an X-ray will usually confirm the diagnosis of necrotizing enterocolitis, or NEC, in which the intestinal tissue is dying. We have no choice but to remove the dead parts of the intestine, but despite surgery, half of these preemie babies still die from the condition."
Dr. Hackam and his team noted NEC occurs when the intestines start getting colonized with bacteria, a process that occurs normally after birth. They focused on toll-like receptor 4 (TLR4), an immune protein that is involved in recognizing microbes and which they recently discovered plays a role in gut development. In the current work, Dr. Hackam and colleagues found that TLR4 is present in higher amounts in the blood vessel lining in preemies than in full-term babies.
The study shows that unlike normal mice, those bred to lack TLR4 in their blood vessels did not develop NEC in a model designed to induce the condition. The findings indicate that bacteria in the blood activate TLR4 leading to a reduction in nitric oxide, which in turn narrows blood vessels and decreases blood flow, Dr. Hackam said.
"This pathway can be dangerous when the preemie's immature gut becomes inflamed from exposure to the bacteria normally present in the intestine," he said. "Abundant TLR4 triggers a shutdown of the blood supply to the intestine, leading to tissue death or necrosis."
Premature babies who are nursed rather than formula-fed are more likely to survive NEC, so co-author and nitric oxide expert Mark Gladwin, MD, chief, Division of Pulmonary Allergy and Critical Care Medicine, Pitt School of Medicine, and director of Pitt's Vascular Medicine Institute, and the team took a closer look at the components of breast milk.
They found that breast milk contains high levels of sodium nitrate, which is converted to nitrite by gut bacteria. Nitrite can be directly converted to the vasodilator nitric oxide, which can both protect the intestinal lining and improve blood flow.
"The additional nitrite appears to overcome the effects of TLR4 activation and corrects the blood flow problem," Dr. Gladwin said. "When we gave formula supplemented with a sodium nitrate and nitrite analog to the premature mice, we saw improved blood flow in the intestine, and NEC did not develop."
Drs. Hackam and Gladwin are testing the compound, which is FDA approved for other uses, in other models of NEC with the hope that it could be routinely added to formula fed to premature infants to prevent NEC.
"This condition is frightening for parents and frustrating for doctors because currently there is little we can do to treat it," said Dr. Hackam, a pediatric surgeon. "I look forward to one day putting myself out of business and having a therapy that truly saves these children."
---
Study Finds Late-Life Depression Associated with Increased Risk for Dementia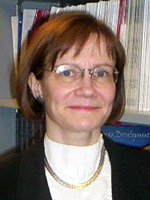 McGowan Institute for Regenerative Medicine affiliated faculty member Mary Amanda Dew, PhD, professor of psychiatry, psychology, epidemiology, and biostatistics at the University of Pittsburgh and the director of Clinical Epidemiology Program at the Western Psychiatric Institute and Clinic, is the co-author of a new meta-analysis published recently in the British Journal of Psychiatry which concludes that late-life depression is associated with an increased risk for all-cause dementia, Alzheimer's disease, and, most predominantly, vascular dementia.
Previous studies have shown an association between depression and Alzheimer's disease, but this is the first meta-analysis that specifically addresses the risk of Alzheimer's disease and vascular dementia in older adults with late-life depression. The study, conducted by researchers at the University of Pittsburgh School of Medicine and the Federal University of Minas Gerais School of Medicine, is also the first to show that late-life depression increases the risk of vascular dementia and that the risk of vascular dementia is greater than the risk of Alzheimer's disease for older adults with depression.
"All-cause dementia" refers to all dementia syndromes, the most common of which is Alzheimer's disease, accounting for 60 to 80 percent of all dementia cases. Alzheimer's disease is associated with memory problems and apathy in early stages, and impaired judgment, confusion, disorientation, behavior changes, and difficulty speaking in later stages. Vascular dementia is the second most common cause of dementia, and is associated with impaired judgment or ability to plan and complete tasks, as opposed to memory loss that is common in early stages of Alzheimer's.
"An understanding of how late-life depression increases the risk of dementia could lead to better prediction and prevention mechanisms," said Meryl Butters, Ph.D., associate professor of Psychiatry at the University of Pittsburgh School of Medicine, and corresponding author of the study. "Early diagnosis and prevention of depression could have a major dual public health impact as they could also potentially prevent or delay cognitive decline and dementia in older adults."
The authors note that preventing depression and improving general health including cardiovascular health should be considered in public health policies associated with preventing and/or delaying the onset of dementia.
"Fortunately, we already know that depression can be prevented and treated," added Dr. Butters. "Now that we know the risks of dementia, we need to conduct clinical trials to investigate the impact of preventing depression on risk of cognitive decline and dementia in older adults."
---
AWARDS AND RECOGNITIONS
McGowan Institute Affiliated Faculty Member Receives the 2013 Bernard Sanberg Memorial Award for Brain Repair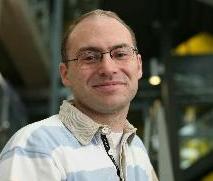 At the 20th Annual Conference of the American Society of Neural Therapy and Repair (ASNTR), held recently in Clearwater Beach, Florida, the ASNTR awarded The 2013 Bernard Sanberg Memorial Award for Brain Repair to McGowan Institute for Regenerative Medicine affiliated faculty member Michel M. Modo, PhD, associate professor in the Department of Radiology at the University of Pittsburgh.
The 2013 Bernard Sanberg Memorial Award for Brain Repair award was presented to Dr. Modo in recognition of his extensive research in neurorestorative biology for patients who have suffered brain injury. Of particular focus for him are cerebral ischemia, diseases of neurodegeneration, and exploring the consequences of brain damage. His most recent research efforts are aimed at using non-invasive neuroimaging methods – such as MRI and PET scan – to both image brain damage and to help develop restorative strategies, such as stem cell transplantation, migration, and integration for brain repair. The goal of his approach is to stimulate and/or supplement natural brain repair mechanisms.
For Dr. Modo, the imaging methods provide a window into the anatomical, metabolic, immunological, and functional changes in damaged brains.
"This is a well-deserved recognition of Dr. Modo's pioneering work in the area of cell tracking and regenerative medicine," said Dr. Jeff Bulte, director of the cellular imaging section, Institute for Cell Engineering, Johns Hopkins Medicine, Johns Hopkins University. "His contributions to the field have emphasized the need for non-invasive imaging techniques that are clinically translatable in order to ensure the efficacy and safety of stem cell-based therapies. Once more, the progress he has made over the last decade is enormous, in particular with his ability to combine multiple imaging modalities, such as proton MRI, fluorine MRI, and PET, to provide different angles in viewing live cells moving throughout the body."
The award Dr. Modo received is named for Bernard Sanberg, father of Dr. Paul Sanberg (University of South Florida), a co-founder of the ASNTR. After Bernard Sanberg died of a stroke in 1999, the award bearing his name was established and is presented by the ASNTR annually to an individual who has made outstanding research contributions in the field of neural therapy and repair. The award, first presented in 2000, is presented every year at ASNTR's Annual Meeting.
---
Dr. Alan Wells Receives Provost's Award for Excellence in Mentoring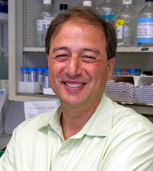 McGowan Institute for Regenerative Medicine faculty member Alan Wells, PhD, received the 2013 Provost's Award for Mentoring for his efforts in providing outstanding mentorship to his doctoral students. Dr. Wells was one of four University of Pittsburgh recipients.
Dr. Wells serves on thesis committees for Pitt students in addition to students attending other institutions in India, Germany, Australia, and throughout the United States. Dr. Wells is the Thomas J Gill III Professor of Pathology, vice chair of the Department of Pathology, and professor of computational and systems biology in Pitt's School of Medicine. He also is a bioengineering professor in Pitt's Swanson School of Engineering. Dr. Wells' former students have gone on to successful careers in academia at Pitt and the University of Rochester, as well as in clinical and industry-related fields.
"The individuals recognized by this award have given their time, energy, and wisdom to help shape the next generation of researchers and scholars," said Provost and Senior Vice Chancellor Patricia E. Beeson. "In so doing, they have not only helped shape the intellectual and personal lives of the members of this generation, but also inspired them to continue advancing in the pursuit of knowledge."
This award, which carries with it a $2,500 cash prize, honors professors who have nurtured the personal and professional development of students and provided a foundation for students' careers long after their degrees have been granted. This is the eighth year of the award.
---
Dr. Lance Davidson Awarded a 2013 Innovation in Education Excellence Award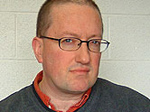 McGowan Institute for Regenerative Medicine affiliated faculty member Lance Davidson, PhD, assistant professor in the Department of Bioengineering, has been awarded a 2013 Innovation in Education Excellence Award from the University of Pittsburgh Office of the Provost for the project entitled, "Assessing the Flip: Reengineering a Large Lecture Course in Bioengineering."
Co-director on the award is Carsten Stuckenholz, PhD, of the Bioengineering Department. Drs. Davidson and Stuckenholz will be working with both Pitt's Center for Instructional Development and Distance Education (CIDDE) and the Engineering Education Research Center (EERC) in developing and assessing new approaches to education in bioengineering, within the Swanson School of Engineering, and across the University.
In support of its ongoing mission to further strengthen the role of teaching at the University of Pittsburgh, the Provost's Advisory Council on Instructional Excellence annually invites proposals from University faculty for projects that enhance teaching at the University of Pittsburgh and foster new instructional approaches that represent advances over existing approaches. Additionally, proposals may meet some or all of the following:
Adaptable in other instructional settings
Foster collaboration among faculty from different departments, units, and campuses on the development of innovative approaches to teaching
Develop new course materials
Create significant curricular improvements
---
Students from Yadong Wang Biomaterial Foundry Lab Receive Whitaker Awards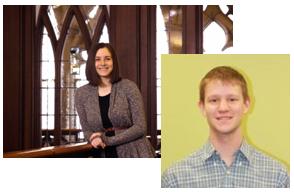 University of Pittsburgh graduating senior Lisa Volpatti and doctoral candidate Noah Johnson—both student researchers affiliated with the lab of McGowan Institute for Regenerative Medicine faculty member Yadong Wang, PhD, professor of bioengineering in Pitt's Swanson School of Engineering—have received awards from the Whitaker International Program, which sends emerging U.S. leaders in bioengineering overseas to undertake self-designed projects that will enhance their careers and develop their international ties. This is the fourth consecutive year that Pitt students have received Whitaker awards.
Ms. Volpatti—who received a Bachelor of Science in Chemical Engineering degree from Pitt's Swanson School of Engineering at the University's Commencement—has been named a 2013 recipient of the Whitaker International Fellows and Scholars Program award. She will use the award to attend Churchill College at the University of Cambridge in England, where she will pursue a 1-year research degree, the Master of Philosophy in Chemistry. She will focus her research on examining the chemical properties of amyloid fibrils to determine whether they have the potential to deliver pharmaceuticals to parts of the human body.
Ms. Volpatti applied for the Whitaker award because, she explained, "I want to learn how research is different—and similar—around the world." She served as president of Pitt's section of the Society of Women Engineers this academic.
Mr. Johnson, a PhD candidate in bioengineering in Pitt's Swanson School of Engineering, has won a 2013 Whitaker International Summer Grant award. This summer, he will travel to the University of Cape Town in South Africa, where he will collaborate with researchers to test the effectiveness of injecting growth factors into the walls of heart chambers to repair hearts damaged by heart attacks. In 2012, he was named a co-winner of Pitt's Randall Family Big Idea Competition for the same project.
"Our growth factor therapy could essentially be extended to any disease or condition—wound healing, bone regeneration. It's just a matter of fine-tuning. We're really only limited by the amount of time we have to research," Mr. Johnson said of the research he's conducting under Dr. Wang's guidance. "I'm really excited to focus on cardiac repair because heart disease is one of most pressing health care issues of today."
About the Whitaker International Program
Beginning in 1975, The Whitaker Foundation supported the development and enhancement of biomedical engineering in the United States, contributing nearly $700 million to universities. When the foundation closed in 2006, it committed its remaining funds to the Institute of International Education to create what is now the Whitaker International Program, whose goal is "to assist the development of professional leaders who are not only superb scientists, but who also will advance the profession through an international outlook."
---
Regenerative Medicine Podcast Update
The Regenerative Medicine Podcasts remain a popular web destination. Informative and entertaining, these are the most recent interviews:
#122 –– Dr. Cedric Blanpain is full professor of Stem Cell and Development Biology and investigator of the WELBIO (Walloon Excellence in Life Science and Biotechnology) at the IRIBHM, Université Libre de Bruxelles (ULB.) Dr. Blanpain discusses his research in regulating stem cell fate decision during tissue homeostasis and repair as well as the implication of stem cells during cancer initiation and growth.
#123 –– Dr. Andrew Duncan is an assistant professor in the Department of Pathology, Division of Experimental Pathology. Dr. Duncan discusses his research in liver development, homeostasis, and regeneration.z
Visit www.regenerativemedicinetoday.com to keep abreast of the new interviews.