Dr. William Wagner to Receive 2013 Senior Scientist Award from TERMIS-AM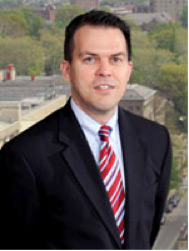 McGowan Institute for Regenerative Medicine director William Wagner, PhD is the recipient of the 2013 Senior Scientist Award presented by the Tissue Engineering Regenerative Medicine International Society (TERMIS-AM).
Dr. Wagner is professor of surgery, bioengineering, and chemical engineering at the University of Pittsburgh. He is the founding editor and editor-in-chief of one of the field's leading journals, Acta Biomaterialia. The TERMIS-Americas Senior Scientist Award is based on an individual's significant contributions to the tissue engineering and regenerative medicine field. Individuals nominated for the Senior Scientist Award must have received their terminal degree 10 years or greater from the time of the award, be actively contributing to the tissue engineering and regenerative medicine field, and their contributions as a body of work should be well recognized within the community. The award will be presented the TERMIS-AM annul conference in November 2013 at Atlanta.
Congratulations, Dr. Wagner!
---
SCIENTIFIC ADVANCES
Flow Cytometry at the McGowan Institute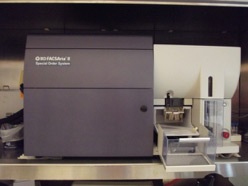 Flow Cytometry is a valuable technology that enables the researcher to investigate and/or characterize cells based on surface or intracellular expression of antigens, proteins, DNA, or enzyme function. Using fluorescent dyes and antibodies conjugated to fluorescent stains, the technology is able to rapidly interrogate and analyze thousands of cells per second and provide comprehensive data for each individual cell. In this manner, it is possible to track sample response to various culture conditions or BRMP's, identify novel cellular subsets in primary tissues, and/or purify various subpopulations of cells, as well as many other uses.
Available Services Include:
Sample Analysis with up to 15colors
Sorts of 4pops simultaneously into tubes
Sorts into plates or slides
Free Consultation for experimental design
Please visit our website or contact Lynda for more information.
---
Placental Cells May Prevent Viruses from Passing from Mother to Baby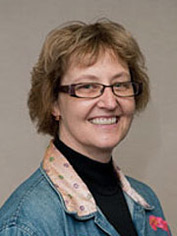 Cells of the placenta may have a unique ability to prevent viruses from crossing from an expectant mother to her growing baby and can transfer that trait to other kinds of cells, according to McGowan Institute for Regenerative Medicine faculty member Donna Stolz, PhD, associate director of the Center for Biologic Imaging and associate professor in the Department of Cell Biology and Physiology at the University of Pittsburgh, and researchers at Magee-Womens Research Institute (MWRI) and the University of Pittsburgh School of Medicine. Their findings, published in the early online version of the Proceedings of the National Academy of Sciences, shed new light on the workings of the placenta and could point to new approaches to combat viral infections during pregnancy.
It is imperative that the fetus be protected from infections of its mother in order to develop properly, said co-senior investigator Yoel Sadovsky, MD, Elsie Hilliard Hillman Chair of Women's Health Research, professor of obstetrics, gynecology and reproductive medicine, Pitt School of Medicine, and MWRI director. But how the placenta, long thought to be just a passive barrier between mother and child, accomplishes this feat has not been clear.
"Our findings reveal some of the complex and elegant mechanisms human placental cells, called trophoblasts, have evolved to keep viruses from infecting cells," Dr. Sadovsky said. "We hope that we can learn from this to devise new therapies against viral infections."
Led by Dr. Sadovsky and co-senior investigator Carolyn Coyne, PhD, associate professor, Department of Microbiology and Molecular Genetics at Pitt and MWRI member, the research team studied human trophoblast cells in the lab, exposing them to a panel of viruses. Unlike non-placental cells, trophoblasts were resistant to viral infection, but that trait was not a result of an inability of viruses to bind or enter the cells.
The team noted that when the medium was exposed to sonication, which involves exposure to sound waves, viral resistance was no longer transferred to non-placental cells. This finding led them to take a closer look at exosomes, which are tiny spheres called nanovesicles that are secreted by trophoblasts and are sensitive to sonication. They found that fragments of genetic material called microRNAs contained within the exosomes, as well as lab-synthesized mimics of them, were able to induce autophagy, a mechanism of prolonged cellular recycling and survival. Blocking autophagy at least partially restored the cells' vulnerability to viral infections.
"Our results suggest this pathway could be a powerful evolutionary adaptation to protect the fetus and mother from viral invaders," Dr. Coyne said. "We might be able to use these microRNAs to reduce the risk of viral infection in other cells outside of pregnancy, or perhaps to treat diseases where enhancing autophagy would be beneficial."
---
McGowan Affiliated Faculty Utilizes Mathematical Mystery in New Research Approach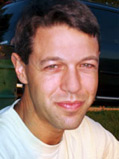 In 1665, Dutch mathematician, astronomer, and physicist Christiaan Huygens, who invented the pendulum clock, observed that two pendulum clocks mounted together could swing in opposite directions. This is due to tiny vibrations in the beam caused by both clocks, which affects their motions. This became known as "indirect coupling." Today, Pitt professors apply this principle to measure the interaction of units that turn "off" and "on" repeatedly.
"We have developed a mathematical approach to better understanding the 'ingredients' in a system that affect synchrony in a number of medical and ecological conditions," said Jonathan E. Rubin, PhD, coauthor of the study and professor in Pitt's Department of Mathematics within the Kenneth P. Dietrich School of Arts and Sciences. "Researchers can use our ideas to generate predictions that can be tested through experiments."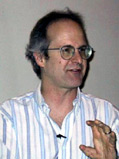 Dr. Rubin believes that the formula could lead toward a better understanding of conditions like epilepsy, in which neurons become overly active and fail to turn off, ultimately leading to seizures. Likewise, it could have applications in other areas of biology, such as understanding how bacteria use external cues to synchronize growth.
Together with G. Bard Ermentrout, PhD, University Professor of Computational Biology and professor in Pitt's Department of Mathematics, and Jonathan J. Rubin, an undergraduate mathematics major, Dr. Rubin examined these forms of indirect communication that are not typically included in most mathematical studies owing to their complicated elements. In addition to studying neurons, the researchers applied their methods to a model of artificial gene networks in bacteria, which are used by experimentalists to better understand how genes function.
The paper, "Analysis of synchronization in a slowly changing environment: how slow coupling becomes fast weak coupling," was first published online May 13 in Physical Review Letters, and was partially supported by a National Science Foundation grant.
---
McGowan Institute Affiliated Faculty Contributes to Pitt's Redesign in Rehabilitation Technology Master's Program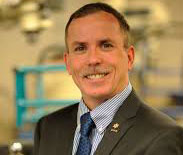 To meet the increasing demand for professionals competent in providing direct, consumer-related services in assistive technology, officials in the Department of Rehabilitation Science and Technology (RST), School of Health and Rehabilitation Sciences (SHRS) at the University of Pittsburgh, have modified their master's program in Rehabilitation Technology.
The program now allows students to complete their degree work within one year and quickly delve into a professional career in assistive technology for people with disabilities.
"The complexity of matching the needs of people with disabilities and older adults to appropriate assistive technology requires specialized knowledge and clinical experience," said Rory Cooper, PhD, FISA/Paralyzed Veterans of America Endowed Chair and Distinguished Professor within Pitt's School of Health and Rehabilitation Sciences. "Our degree program is tailored toward people seeking a career as an assistive technology professional, and it is structured so they can achieve their goals in an efficient manner."
The program requires 44 academic credits and encompasses a minimum of a one-year course of study: two 15-week semesters and a six-week summer clinical internship.
Interested applicants should visit the Department of Rehabilitation Science and Technology website at https://www.shrs.pitt.edu/RST/ and contact Dan Ding at dad5@pitt.edu or 412-822-3684 for more information. Admissions are on a rolling basis.
---
Dr. David Perlmutter leads Pediatric Research Programs at Children's Hospital of Pittsburgh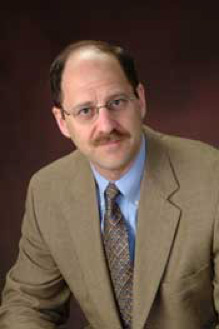 UPMC is investing $30 million to support existing and new research programs at Children's Hospital of Pittsburgh of UPMC, including the establishment of an endowment fund to honor McGowan Institute for Regenerative Medicine affiliated faculty member David H. Perlmutter, MD, Children's Hospital's scientific director, the Vira I. Heinz Chairman of Pediatrics at the University of Pittsburgh School of Medicine, and physician-in-chief at Children's.
The $10 million David H. Perlmutter Research Endowment will allow Children's to continue to recruit and retain national leaders in pediatric research.
Under Dr. Perlmutter's leadership, sponsored pediatric research at Children's Hospital has increased four-fold, making Children's one of the fastest-growing pediatric research programs and among the top 10 in the nation, as measured by National Institutes of Health funding.
"UPMC's substantial commitment will ensure that Children's remains a world leader in pediatric research, education, and clinical care. This is an extraordinary contribution, dedicated to existing and future research programs, and will be an engine for continued discovery long into the future," said Christopher Gessner, Children's president. "It also is a wonderful and well-deserved tribute to Dr. Perlmutter, who has been a transformational leader at Children's."
In addition to the David H. Perlmutter Research Endowment, UPMC has committed $20 million to existing and future research programs at Children's.
The focal point for pediatric basic laboratory research at Children's is the John G. Rangos Sr. Research Center, where nearly 390 active protocols are being pursued by more than 125 principal investigators in 63 separate laboratories. Significant current programs include:
Stem cell biology/regenerative medicine
Developmental biology
Infection and immunity research
Inflammatory and autoimmune diseases
Novel strategies for treating pediatric cancer
Inherited metabolic and other rare diseases of children
Drug discovery for childhood diseases
Genomics of childhood diseases
"UPMC has been delighted with Dr. Perlmutter's leadership and the progress of our scientists. UPMC is committed to the ongoing support of Children's Hospital's pediatric health care and research, and we are honored to make this investment to their programs," said Steven Shapiro, MD, chief medical and scientific officer, UPMC. "We recognize the brilliant work done by the many researchers, physicians, and other caregivers who make Children's Hospital the world leader that it is today."
---
AWARDS AND RECOGNITION
Dr. Anne Robertson Named Fellow at ELATE at Drexel®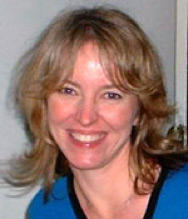 McGowan Institute for Regenerative Medicine affiliated faculty member Anne M. Robertson, PhD, Professor of Mechanical Engineering at the University of Pittsburgh Swanson School of Engineering, was 1 of 19 women faculty selected to participate in ELATE at Drexel®, a collaborative project of Drexel University and Drexel University College of Medicine. Now in its second year, ELATE at Drexel is a national leadership development program designed to advance senior women faculty in academic engineering, computer science, and related fields into effective institutional leadership roles within their schools and universities.
Dr. Robertson was nominated by Pitt Provost Patricia E. Beeson, PhD, and recommended by US Steel Dean of Engineering Gerald D. Holder, PhD, and Minking Chyu, PhD, Leighton and Mary Orr Professor and Chair of Mechanical Engineering and Materials Science. Fellows begin the first of three week-long, in-residence sessions when they meet for the first time at the ACE Conference Center in Lafayette Hill, PA, on July 31, 2013, and conclude with a symposium in March 2014.
"Dr. Robertson has a proven track record of leadership at the University of Pittsburgh. The ELATE program will further enhance and expand her leadership skills to build a h3 foundation for her future at Pitt," Dr. Beeson said. "She is highly regarded among the engineering faculty, her students, and her research colleagues, and I am very pleased to support her in this important endeavor."
"I am excited to join this talented group of engineering faculty in a highly respected program tailored to address the underutilization of women engineers in academic leadership positions," Dr. Robertson said. "I greatly appreciate the support of Provost Beeson, Dean Holder, and Dr. Chyu for my candidacy in this program."
Dr. Robertson was the first woman hired into a tenure-track position in the Swanson School's Department of Mechanical Engineering and served as Director of the Graduate Program in Mechanical Engineering from 2004-2008. Dr. Robertson leads a research team that investigates cerebral aneurysms, which are pathological outcroppings of brain arteries that can lead to fatal brain hemorrhages. Earlier this year, her team was awarded a coveted National Institutes of Health R21 grant to study the link between hemodynamics and wall structure in cerebral aneurysms. The team's long-term objectives are to establish new pharmacological-based treatment methods for cerebral aneurysms and improve clinical treatments that function by altering flow in the aneurysm dome.
---
Regenerative Medicine Podcast Update
The Regenerative Medicine Podcasts remain a popular web destination. Informative and entertaining, these are the most recent interviews:
#125 –– Dr. Amy Nau is the Director of Optometric and Low Vision Services, UPMC Eye Center, Department of Ophthalmology, University of Pittsburgh, and an Assistant Professor in the Department of Ophthalmology. Dr. Nau discusses her vision-related research.
Visit www.regenerativemedicinetoday.com to keep abreast of the new interviews.