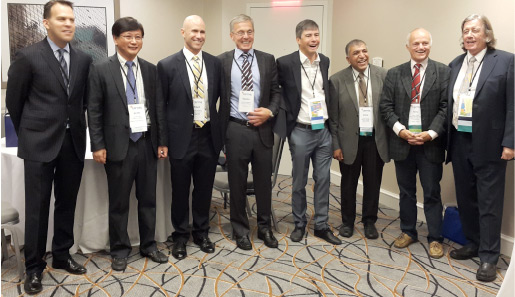 McGowan Institute for Regenerative Medicine Director William Wagner, PhD, Professor of Surgery, Bioengineering, and Chemical Engineering at the University of Pittsburgh, has been named a Fellow of the Tissue Engineering and Regenerative Medicine International Society (TERMIS). Dr. Wagner received this honor, presented by McGowan Institute Deputy Director Stephen Badylak, DVM, PhD, MD, during the 2015 4th TERMIS World Congress recently held in Boston, Massachusetts.
Dr. Wagner's research interests are generally in the area of cardiovascular engineering with projects that address medical device biocompatibility and design, tissue engineering, and targeted imaging. His research group is comprised of graduate students in Bioengineering and Chemical Engineering as well as post-doctoral fellows with backgrounds in surgery, polymer chemistry, or engineering. Dr. Wagner and his group enjoy working across the spectrum from in vitro to clinical studies. The McGowan Institute and the University of Pittsburgh Medical Center are uniquely positioned to allow such broad-based projects to flourish and complement one another. Researchers within Dr. Wagner's group are afforded the opportunity to observe first-hand the clinical successes and failures of currently employed cardiovascular devices while concurrently working on projects that attempt to describe the current modes of failure, test solutions for the current device shortcomings, or develop technologies that may find application as future cardiovascular therapies. The front-line experience afforded by the clinical environment has proven invaluable in the learning experience of group members, not to mention the input such experience has on the creative environment.
Dr. Wagner also serves as the Deputy Director of the NSF Engineering Research Center on "Revolutionizing Metallic Biomaterials." He holds a BS (Johns Hopkins Univ.) and PhD (Univ. of Texas) in Chemical Engineering. Dr. Wagner is the Coordinator for the Cellular and Organ Engineering track for Bioengineering graduate students, and currently teaches in the areas of biomaterials and tissue engineering.
Dr. Wagner is the Founding Editor and Editor-in-Chief of one of the leading biomaterials journals, Acta Biomaterialia, and currently serves on the editorial boards of the Journal of Biomedical Materials Research Part A, Biotechnology and Bioengineering, and the Journal of Tissue Engineering and Regenerative Medicine. Dr. Wagner is also a past president of the American Society for Artificial Internal Organs (ASAIO; 2010-2011) and serves on the Executive Board of the International Federation of Artificial Organs (IFAO). He is a fellow and former vice president of the American Institute for Medical and Biological Engineering (AIMBE; 2000) and has also been elected a fellow of the Biomedical Engineering Society (2007), the International Union of Societies for Biomaterials Science and Engineering (2008), and the American Heart Association (2001). He has served as Chairman for the Gordon Research Conference on Biomaterials: Biocompatibility & Tissue Engineering, as well as for the First World Congress of TERMIS. In 2006 he was selected to the "Scientific American 50," the magazine's annual list recognizing leaders in science and technology from the research, business, and policy fields. In 2011 he was awarded the Society for Biomaterials Clemson Award for Applied Research. He has served on numerous NIH and NSF study sections, is a member of the NIH College of Reviewers, and has been a member of external review committees for national and international organizations focused on bioengineering and regenerative medicine. His research has generated numerous patents and patent filings that have resulted in licensing activity, the formation of a company, and University of Pittsburgh Innovator Awards in 2007, 2008, 2009, and 2010.
To accomplish its mission, TERMIS brings together the international community of persons engaged or interested in the field of tissue engineering and regenerative medicine and promotes education and research within the field of tissue engineering and regenerative medicine through regular meetings, publications, and other forms of communication. The Society also serves as an international forum to promote the informed discussion of challenges and therapeutic benefits of the application of tissue engineering and regenerative medicine technologies.
Congratulations, Dr. Wagner!