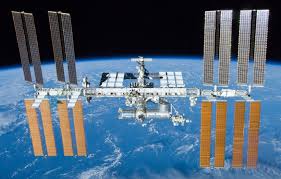 The McGowan Institute has formed an alliance with the International Space Station (ISS) U.S. National Laboratory to develop and demonstrate how microgravity can improve regenerative medicine-based therapies. The ISS provides a unique platform to conduct studies in a microgravity environment.
This alliance — a core element of the ISS National Laboratory Industrial Biomedicine Program — was unveiled at the 8th annual ISS Research and Development Conference held in Atlanta earlier this month. This new partnership will serve as a benchmark for how the ISS National Laboratory develops similar programs in the future involving research and development activities aboard the space station.
The ISS National Laboratory and McGowan Institute will collaborate with partners from industry, other academic research centers, and government agencies to drive the progress of regenerative medicine research onboard the ISS.  As part of this alliance, Pitt will develop Earth-based facilities on campus to advance research and meet with potential partners, while working in coordination with the ISS National Laboratory on flight opportunities to the orbiting laboratory. The program will focus on microgravity life sciences research and development, with a line of sight toward products and services for clinical application on Earth.
"As the premier partner for the Industrial Biomedicine Alliance with the ISS National Laboratory, we look forward to using the space station as a testbed for regenerative medicine advances and product development in Low Earth Orbit," said McGowan Institute Director William R. Wagner, PhD.
The products of the ISS Industrial Biomedicine Program and this research partnership will help build the fundamental business case for the industrialization of crewed platforms in low Earth orbit. In future alliances, the ISS National Laboratory will work with companies and research partners who seek to better understand and find solutions to common problems on Earth through space-based experimentation on the ISS National Laboratory.
Illustration: Wikipedia
Read more…
International Space Station U.S. National Laboratory Press Release
University of Pittsburgh Swanson School of Engineering
Pittsburgh Business Times (pdf)