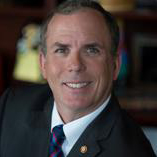 The Disabled Veterans National Foundation (DVNF), a nonprofit veterans service organization that provides critically needed support to disabled and at-risk veterans who leave the military wounded—physically or psychologically—after defending our safety and our freedom, presented a grant of $50,000 to the Human Engineering Research Laboratories (HERL).
HERL is an organization at the forefront of groundbreaking technologies and adaptive devices that assist people with disabilities. HERL is directed by McGowan Institute for Regenerative Medicine affiliated faculty member Rory Cooper, PhD, FISA & Paralyzed Veterans of America (PVA) Professor and Distinguished Professor of the Department of Rehabilitation Science & Technology, and professor of Bioengineering, Physical Med & Rehab, and Orthopedic Surgery at the University of Pittsburgh. DVNF's grant is intended to assist our veterans in obtaining services and programs that aid them in achieving their goals.  HERL was presented with a check on the occasion of HERL's 25th anniversary on July 25, 2019.
"I worked with Dr. Cooper during my time as the Wounded Warrior Regiment Sergeant Major, and I'm pleased to now continue to be a part of his work as DVNF's CEO," said Joseph VanFonda (USMC SgtMaj Ret.). "HERL has made such an impact on the lives of wounded and injured veterans, and DVNF is honored to be able to contribute to their life changing efforts."
USMC SgtMaj VanFonda also expressed his appreciation to DVNF's generous donors who helped make this grant possible. HERL is a joint collaboration between the University of Pittsburgh and the Department of Veterans Affairs, and often depends on outside organizations for support.
Read more…