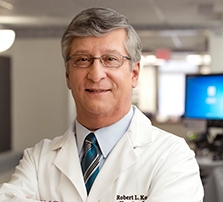 Abbott Laboratories, the Abbott Park, Illinois-based health care giant, has won approval from the U.S. Food and Drug Administration (FDA) for a less invasive surgical procedure that allows surgeons to implant the company's heart pump without a patient undergoing open heart surgery.
The newly approved alternative allows Abbott's HeartMate 3 left ventricular assist device, or LVAD, heart pump to be implanted through an incision made between the patient's ribs, giving access to the heart. Historically, heart pumps are implanted through open heart surgery, but this method can result in less bleeding during surgery and shorter recovery time for patients, according to Abbott, which ran two trial studies on the alternative procedure.
The FDA approved Abbott's HeartMate 3 in 2017. It was designed for patients with advanced heart failure who are awaiting transplantation or are not candidates for heart transplantation. The medical device pumps blood through the body in people whose heart is too weak to do so on its own.
"We continue to focus on advancing our heart failure devices and techniques to make life better for the patients we serve," McGowan Institute for Regenerative Medicine affiliated faculty member Robert Kormos, MD, FAHA, FRCS(C), FACS, currently the Division Vice President Global Medical Affairs Heart Failure at Abbott Laboratories, said in a statement. "The first approved LVAD – HeartMate I – was approved more than 25 years ago. Since that time, the technology has evolved immensely. Today's HeartMate 3 device, including its design and size, allows physicians to successfully implant it without having to perform open heart surgery and offers survival rates, as demonstrated in the MOMENTUM 3 clinical trial, at two-years that are comparable to heart transplants."
In 2018, HeartMate 3 was approved as a destination therapy for those individuals who need a new heart but are not eligible for a transplant.
In 2019, Abbott (NYSE: ABT) was ranked No. 103 on the Fortune 500 list, with revenue of more than $30 billion, up more than 11% from a year earlier.
Dr. Kormos is a former McGowan Institute for Regenerative Medicine deputy director and the past director of UPMC's Artificial Heart Program. He has been part of the education of over 100 residents and 60 Cardiothoracic Transplant Fellows.
Read more…