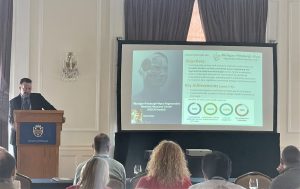 With over 200 in attendance, the McGowan Institute for Regenerative Medicine held its 2023 Scientific Retreat on March 6-7, 2023.
The participation and contributions of the guests and external collaborators – along with McGowan Institute for Regenerative Medicine affiliated faculty and trainees – provided for insightful topics for discussion.  The program chair was Bryan Brown, PhD, associate professor Department of Bioengineering with secondary appointments in the Department of Obstetrics, Gynecology, and Reproductive Sciences and the Clinical and Translational Science Institute.
Program Highlights
The Director's State of the Institute Address/Retreat Kickoff was presented by McGowan Institute Director William Wagner, PhD, Distinguished Professor of Surgery, Bioengineering, and Chemical Engineering at the University of Pittsburgh.
The sessions addressed:
Computational Biology in Regenerative Medicine
Multi-scale Analysis of Inflammatory Microenvironments
Bioelectronics: Materials and Interfaces
Organ-on-a-Chip Models and Organoids for Disease Modeling and Drug Development
Regenerating Diversity, Equity, Inclusion and Accessibility (DEIA) in Regenerative Medicine
Advances in Organ Transplantation Strategies
Pediatric Device Innovators Forum: Patient Matched Devices for Pediatrics: A Case Study
In addition to the sessions, a Lunch Session was held on both days. On Monday, Keynote Speaker Marc Giulianotti, Senior Manager of Space Biomanufacturing at Sierra Space, gave a lunchtime presentation on "Exploring Beyond our Planet: Leveraging Platforms in LEO for the Development of Biomedical Technologies."
On Tuesday, several faculty members presented updates and opportunities at the McGowan Institute. These updates addressed:
PITT Nanofabrication and Characterization Facility – Medical Applications
New Imaging Technologies at the Center for Biologic Imaging
Overview of the Center for Military Medicine Research and the Federal Omnibus-IV Program
Immunologic Monitoring and Cellular Products Laboratory (IMCPL): A New Bridge for Cellular Medicine at University of Pittsburgh
How to Commercialize Your Discoveries: Introduction to the Office of Innovation and Entrepreneurship
Poster Session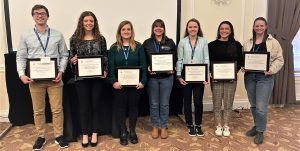 The poster session was effective in introducing the focus of the Retreat and interests of the faculty and the guests.  McGowan Institute faculty member Andrew Duncan, PhD, Associate Professor in the Department of Pathology, Division of Experimental Pathology, University of Pittsburgh, and his committee organized the session and judged the posters. The winners of the poster session were:
Outstanding Poster Awards:
Meagan J. Makarczyk
An Innervated Synovium-Cartilage Chip for Modeling Joint Inflammation and Associated Pain
Mentor: Hang Lin, PhD
Department of Orthopaedic Surgery
University of Pittsburgh
Alexis Nolfi
Therapeutic Use of an Interleukin-4 Eye Drop in a Rabbit Model of Dry Eye Disease: A Pilot Study
Mentor: Bryan Brown, PhD
Dept. of Bioengineering
University of Pittsburgh
Matthew Poskus
Mathematical Modeling of Fibroblast-Mediated Drug Resistance in HER2+ Breast Cancer
Mentor: Ioannis Zervantonakis, PhD
Dept. of Bioengineering
University of Pittsburgh
Sierra R. Wilson
Diploid hepatocytes resist acetaminophen-induced acute liver injury and drive compensatory regeneration
Mentor: Andrew Duncan, PhD
Department of Pathology
University of Pittsburgh
Merit Poster Awards:
Isabelle Chickanosky
Modeling Endometriosis Angiogenesis in Endometriotic Conditions
Mentor: David Vorp, PhD
Dept. of Engineering
University of Pittsburgh
Bryant Fisher
Inhibition of Vasa Vasorum Angiogenesis Induces Thoracic Aortic Aneurysm
Mentor: Julie Phillippi, PhD
Dept. of Cardiothoracic Surgery and Bioengineering
University of Pittsburgh
Mohamed S. Ibrahim
Advancements in Cardiovascular Stent Technology: Introducing a Nanostructured Electronic Stent for Continuous Monitoring of Restenosis
Mentor: Youngjae Chun, PhD
Department of Industrial Engineering
University of Pittsburgh
Dorota Jazwinska
Modulating mesothelial cell motility and contractility alters ovarian cancer metastatic potential
Mentor: Ioannis Zervantonakis, PhD
Dept. of Bioengineering
University of Pittsburgh
Brandon M. Lehrich
β-Catenin Activation Promotes B-cell Exclusion in the Hepatocellular Carcinoma Microenvironment
Mentor: Satdarshan (Paul) Singh Monga, MD
Department of Pathology
University of Pittsburgh
Lauren L. Luciani
Mathematical Model of Influenza Infection in Juvenile Mice Suggests Increased Production of Type 1 Interferon by Infected Cells is Associated with Severe Infection
Mentor: Jason Shoemaker, PhD
Department of Chemical and Petroleum Engineering
University of Pittsburgh
Miranda Poklar
3D Bioprinting of Functional iPSC Derived Islet Organoids and Human Islets in Hydrogel Constructs
Mentor: Ipsita Banerjee, PhD
Department of Chemical and Petroleum Engineering
University of Pittsburgh
Hannah Yankello
Exploring monocyte and trophoblastic signaling and their role in pre-eclampsia
Mentor: Elizabeth Wayne, PhD
Department of Biomedical Engineering and Chemical Engineering
Carnegie Mellon University
Outstanding Poster Award ($200) and Merit Poster Awards ($150). Congratulations to all!
See the full Retreat Program here.
A special thank you is extended to the retreat committee (Bryan Brown-Chair, Patrick Cantini, Andy Duncan, Rebecca Bauroth, Lainey Becker, Katy Wharton, Jamelle Price, and John Murphy) and to all who made this year's Retreat a success!
Photo Credit:  Jamelle Price.