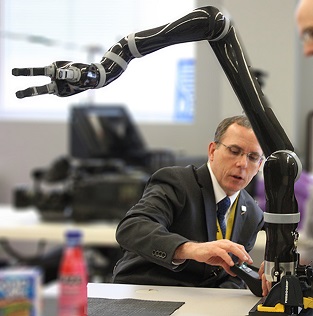 During a press briefing during the recent 2020 AAAS Annual Meeting, McGowan Institute for Regenerative Medicine affiliated faculty member Rory Cooper, PhD, the FISA & Paralyzed Veterans of America (PVA) Professor and Distinguished Professor of the Department of Rehabilitation Science & Technology, and professor of Bioengineering, Physical Medicine & Rehabilitation, and Orthopedic Surgery at the University of Pittsburgh, discussed how people with disabilities are shut off from STEM (science, technology, engineering and mathematics) careers and why inclusivity matters.
A recent report and widely shared editorial show that the number of patents a person holds as an adult is better predicted by zip code, wealth, gender and ethnicity than by childhood aptitude or interests.
These articles argue that more equitable early STEM education and a more inclusive culture in higher education and industry could help realize the potential of innovative individuals who weren't born into privilege, whom the authors refer to as "lost Einsteins," and boost the U.S. economy, which thrives on innovation.
People with disabilities — about 90 million Americans — were left out of the patent disparity analysis, but in general, their unemployment rate is more than twice that of the general population across all education levels. Those who do have jobs are also twice as likely to work part time.
Dr. Cooper, who also is the Founding Director and VA Senior Research Career Scientist of the Human Engineering Research Laboratories (HERL) a VA Rehabilitation R&D Center of Excellence in partnership with Pitt, sees the same trends in his profession, and he says the divide starts early.
"Kids with disabilities are shunted away from science," Dr. Cooper said before the briefing. "They're stuck observing other kids rather than doing the science themselves."
Teachers and administrators, from elementary school all the way through college, need to think harder about engaging students with disabilities in the experiments the rest of the class is doing, Dr. Cooper said. Observing isn't the same as being included.
Dr. Cooper, himself a disabled veteran, has spent 30 years recruiting students with disabilities to HERL so that they can contribute to society as scientists and engineers.
Besides bringing unique perspectives that can inform research — for instance, wheelchair users designing better wheelchairs — these students often arrive with a lifetime of experience interacting with technology, which could be a real asset to the team.
"Children with disabilities are exposed to technology at a very young age," Dr. Cooper said. "A child with impaired mobility might be driving a robot at 2- or 3-years-old. There are 3-year-olds using speech-to-text or gesture-to-speech technology. Most people don't learn that until college."
Dr. Cooper hopes a model like HERL's that intentionally hires people with disabilities will help level the playing field so these young inventors can launch their careers and then go on to start their own companies, labs and centers to give others the same opportunity.
"I tell students, 'I know how hard the job market is,'" Dr. Cooper said. "You may just have to go out and create one."
Illustration:  Rory Cooper, PhD, director of the Human Engineering Research Laboratories, and distinguished professor of rehabilitation science and technology works on a robotic arm.  Credit: Michael Lain, University of Pittsburgh.
Read more…
UPMC/PittHealthSciences News Release
Executive Summary (Who becomes an inventor in America?  The importance of exposure to innovation.  Alex Bell, Raj Chetty, Xavier Jaravel, Neviana Petkova, and John Van Reenen.  The Equality of Opportunity Project.)
Editorial (Lost Einsteins: The innovations we're missing.  David Leonhardt.  The New York Times, December 3, 2017.)