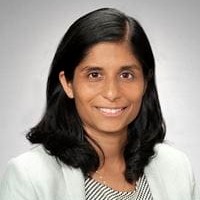 The McGowan Institute for Regenerative Medicine welcomes new affiliated faculty member Anita Saraf, MD, PhD.
Dr. Saraf is an Assistant Professor in the Heart Institute at UPMC Children's Hospital of Pittsburgh. Dr. Saraf is fellowship-trained in adult congenital heart disease (ACHD). She holds dual academic appointments in the Department of Pediatrics and the Division of Cardiology in the Department of Internal Medicine at the University of Pittsburgh School of Medicine. In addition to her position in the Heart Institute at UPMC Children's, she also is a member of the UPMC Heart and Vascular Institute.
Dr. Saraf earned her doctorate in bioengineering from William Marsh Rice University in Houston, Texas, and her medical degree from Baylor College of Medicine. Dr. Saraf then completed both her internal medicine residency and ACHD fellowship at Emory University School of Medicine in Atlanta, Georgia.
Dr. Saraf's clinical practice encompasses the full spectrum of ACHD, with a special focus on Fontan patients and women with adult congenital heart disease.
As a physician-scientist, Dr. Saraf became interested in studying biomarkers in adult congenital heart disease during her medical training at Texas Children's Hospital and continued that line of research at Emory University during residency and fellowship. While at Emory University, Dr. Saraf and colleagues established a biorepository for Fontan patients to study biomarkers and biomarker expression in this complex single ventricle congenital heart disease.
Dr. Saraf's research using data collected in the Fontan biorepository led to a paper published in the International Journal of Cardiology which, among other findings, is the first to uncover that Fontan patients exhibit a chronically elevated inflammatory profile, together with a number of other cytokines as clinical markers of systemic dysfunction. These biomarkers, if monitored over time, can help clinicians predict which patients are about to get sick, long before they show any clinical signs. Biomarkers research in ACHD will continue to be a focus of Dr. Saraf's research at UPMC Children's.
Additionally, Dr. Saraf also is interested in determining how these biomarkers affect heart function. She currently is developing translational models that may help discover new therapies to help ACHD patients live longer and healthier lives.
In addition to her work on biomarkers in ACHD, Dr. Saraf also has investigated and published findings related to neurocognitive function in ACHD, and outcomes in pregnancy for ACHD patients.
Welcome!