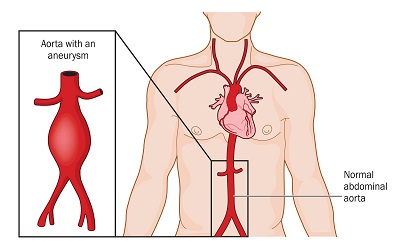 The Vascular Bioengineering Lab (VBL) at the University of Pittsburgh's Swanson School of Engineering—led by McGowan Institute for Regenerative Medicine affiliated faculty member David Vorp, PhD, Associate Dean for Research, Swanson School of Engineering, and the John A. Swanson Professor of Bioengineering—seeks to understand and develop solutions to the causes and effects of disease in tubular tissue and organs. Part of this research includes a closer look at abdominal aortic aneurysms (AAA)—the 15th leading cause of death in the United States.
An AAA occurs when the aorta weakens and begins to irreversibly dilate, like a slowly inflating balloon. If left untreated, the risk of rupture increases and has a 90 percent rate of mortality.
The VBL team is working to develop a new model to better predict at-risk patients and are using tools from the lab to perform shape analysis and biomechanical simulations. They will use these data to train a machine learning algorithm to classify different types of aneurysm outcomes. This classifier will be used to develop a predictive model that can help guide clinicians and determine the need for surgical intervention.
"Most medical treatments are based on how they will affect the average patient, but in fact, each of us is very different from one another. Being able to understand and predict how a specific person's aneurysm will grow based on their own unique characteristics is a big leap forward," said Nathan Liang, MD, MS, assistant professor of surgery in Pitt's School of Medicine, vascular surgeon at UPMC, and co-investigator on the project.
"This wasn't possible in the past, but now with better machine learning algorithms and increasingly powerful computers, we are close to making this a reality. Our classifier will allow clinicians and patients to work together, create individualized management plans, and improve the care for those with abdominal aortic aneurysms."
The team received a $100,000 award from Precision Medicine Initiative for Commercialization (PreMIC), a collaboration between Pitt's Institute for Precision Medicine, sciVelo, and the Innovation Institute. Funding for PreMIC comes from a RK Mellon Foundation grant to the Institute for Precision Medicine that in part provides critical funding to early-stage translational science projects.
"Our initial pilot study to develop the aneurysm prognosis classifier revealed the importance of additional interrogation of medical images using biomechanical and morphological analyses," said Timothy Chung, PhD, a postdoctoral associate in the Vascular Bioengineering Lab who will help lead the project. "Utilizing a strong research team and collaborations offered at Pitt, we aim to improve and personalize AAA patient healthcare."
Illustration:  Location and comparison of a normal aorta and abdominal aortic aneurysm. If left untreated the aneurysm will irreversibly grow increasing risk of rupture for a patient. Credit: Shutterstock.
Read more…
University of Pittsburgh Swanson School of Engineering News Release