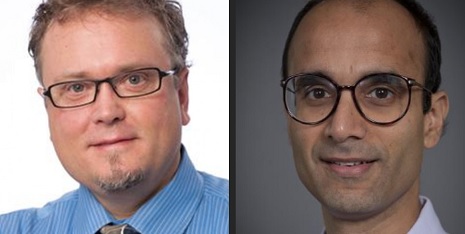 Students from the University of Pittsburgh's Swanson School of Engineering and the School of Pharmacy designed and prepared experiments that will be conducted aboard the International Space Station (ISS).
The two projects study the effects of microgravity on their subject: One looks at silver nanoparticles' effect on the immune response of the water flea Daphnia Magna, and the other examines corrosion on aerospace aluminum. The projects were made possible through Pitt's participation in the Student Spaceflight Experiments Program (SSEP), funded by a Pitt SEED Grant.
The experiments, housed in 10-inch silicone tubes, launched on Dec. 6, 2020, with the Mission 14 "Apollo" Payload. The payload will be sent to the ISS on a SpaceX CRS-21 rocket from the Cape Canaveral Air Force Station in Florida.
"These students have competed and worked so hard for the past year getting their multidisciplinary teams built, proposals selected, and experiments designed, miniaturized, and ready for spaceflight. The entire Pitt community should celebrate since having this opportunity is a testament to the University's commitment to immersive STEM experiences," said McGowan Institute for Regenerative Medicine affiliated faculty member David Vorp, PhD, co-PI of the Pitt SEED grant and co-coordinator of the initiative. "These are the kind of experiences that define a student's academic career and inspire them to reach higher than ever before. I know they'll carry the excitement and pride they feel on launch day with them into their careers, if not their entire lifetimes."
Dr. Vorp, who is associate dean for research and John A. Swanson Professor of Bioengineering at the Swanson School, is joined on the project by Ravi Patel, PharmD, and Kerry Empey, PharmD, PhD, from the School of Pharmacy. John Donehoo, RPh, clinical pharmacist at UPMC, joins the project, as well.
The SSEP student teams segmented their silicone tubes with clamps to keep elements of the experiment separate until they reach the ISS. Scientists aboard the ISS could only be given simple instructions, like removing the clamps and shaking the tube, conversely making the experiment design more complicated.
The experiments will spend 4-6 weeks aboard the ISS before returning to Earth for examination. These experiments will help answer important questions about microgravity, the condition where people or objects appear weightless, and its effect on both spacecraft materials and human health.
The Experiments
Aerospace Aluminum
Marissa Defallo, a junior studying mechanical engineering, and Nikolas Vostal, a junior studying materials science, make up the second group of student researchers. They will send a sample of 3D-printed aluminum with unique topography, combined with an oxidizer like a saltwater solution, to the ISS to study corrosion in microgravity. Aluminum is frequently used in the aerospace industry, including on the ISS, and the experiment will provide insights into how the material corrodes in space, information that could inform future corrosion-resistant materials. They are advised by McGowan Institute affiliated faculty member Sachin Velankar, PhD, associate professor of chemical and petroleum engineering.
"At my co-op with American Airlines, we had to do corrosion training, and that evolved into the idea for this project. When satellites are in orbit, they are still in Earth's atmosphere, and there's oxygen present to cause corrosion," says Ms. Defallo.  "I've always had a passion for space and want to work for a company like SpaceX someday, so this kind of experience is an invaluable opportunity to have."
Finding a Silver Lining
One interdisciplinary group of students is studying how silver nanoparticles affect the immune response of Daphnia Magna, a species of water flea that can show an immune response. Researchers Samantha Bailey, PharmD candidate; Jordan Butko, sophomore studying mechanical engineering; Amanda Carbone, junior studying chemical engineering; and Prerna Dodeja, MS student in the School of Pharmacy, will look at genetic markers in the organism that indicate its immune response once it returns to earth. They are advised by Sravan Patel, PhD, assistant professor of pharmaceutical sciences.
"Researchers have previously tested immune response in Daphnia Magna, but no one has looked at it with regard to nanoparticles yet," says Ms. Carbone. "We're excited that we get to build on the work that others have done and explore new territory."
Silver nanoparticles are also sometimes found in antibacterial products and have been associated with significant toxicity in the liver and brain. While these nanoparticles aren't so problematic on Earth, where gravity keeps them down, they could be more harmful in microgravity, where they can be accidentally inhaled or ingested. The study will investigate the effect of these silver nanoparticles on Daphnia Magna's immune system in microgravity, comparing it to Daphnia Magna's response on Earth, to shed light on if and how astronauts' immune systems function differently in space.
Read more…
University of Pittsburgh Swanson School of Engineering News Release