By Cristina D'Imperio
"You only get out of it what you put into it."
In a 2015 interview with the Oral History Center at the University of California, Berkeley, Professor John N. Murphy spoke on topics related to his career, including his tenure at the U.S. Bureau of Mines, the University of Pittsburgh, and the McGowan Institute for Regenerative Medicine.
On local, national, and international levels, Professor Murphy's career exemplifies the hard work, knowledge, and dedication those words imply.
Fresh out of the University of Pittsburgh in 1961 after earning a Bachelor of Science in Engineering, Prof. Murphy became employed as an Electrical Research Engineer at the U.S. Bureau of Mines, working primarily to ensure greater mine safety. By 1978, he was the Director of the Pittsburgh Research Center of the Bureau, and, with a team of 350 people, he collaborated with mining bodies around the world to promote and enhance the health and safety of miners globally. Many of his projects included ways to prevent and minimize the consequences of fires and explosions in underground and surface mines. Prof. Murphy further worked to develop micro-ventilation circuits. These helped to suppress dust generation and exposure to dust, allowing miners to breathe more safely… and are still in use today.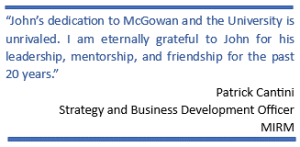 While at the Bureau, Prof. Murphy also completed work for every federal agency, including the Department of Defense, the Department of Transportation, and the National Aeronautics and Space Administration (NASA).
Collaborating with NASA during an era when space exploration captivated the world, Prof. Murphy was part of a team that evaluated the destruct system for the new rocket, Titan II. Titan II was used as the propulsion system for NASA's Gemini program of both uncrewed launches and two-person crewed space capsules. Every launch was successful.
In the late 1990s, when the Bureau of Mines was absorbed into various other governmental organizations, such as the Department of Energy and the National Institute for Occupational Safety & Health (NIOSH), Prof. Murphy became Senior Scientist at the Pittsburgh lab for NIOSH. It was then that he also began his career at the University of Pittsburgh in the Department of Chemical and Petroleum Engineering.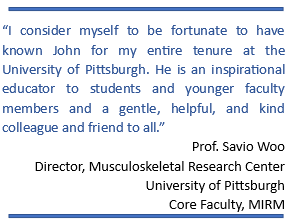 Within his first few years at the University of Pittsburgh, Prof. Murphy was integral in the design of a new interactive classroom. At the time, it was the first of its kind in Pittsburgh and much of the nation. The classroom emphasized the necessity of teamwork in engineering and had computer-facilitated stations that gave groups of students the ability to present work to the entire class. It's a design that has now been replicated dozens of times across the country and for which Prof. Murphy has won awards.
It is difficult, however, to convince Prof. Murphy to speak of his awards and accolades. In conversation, he'll frequently deflect to other topics, including the accomplishments of students and colleagues. William Wagner, PhD, Director of the McGowan Institute, has worked with Prof. Murphy for over 20 years and notes, "John is passionate about seeing his colleagues recognized for their work. He was behind so many nominations of McGowan faculty for international awards and recognitions and delighted in seeing others receive accolades."
Prof. Murphy's own awards include the Department of Interior Distinguished Service Award, the Presidential Rank Award for Meritorious Executive, and the Presidential Award for Distinguished Executive, among many others. He also holds two patents, has authored more than 90 technical publications, and has served as president and member of various professional and non-profit organizations, including the SME Foundation, the National Mine Rescue Association, and the Institute of Electrical and Electronics Engineers.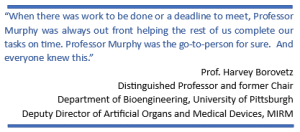 In 2001, Prof. Murphy was invited to be the first Executive Director of the McGowan Institute for Regenerative Medicine. What started out as a small group of 25 scientists, who were primarily interested in artificial organ technology, has now grown to a group of more than 250 affiliated faculty members across 36 disciplines.
Prof. Murphy holds an MBA from Duquesne University and is as renowned for his management capabilities as he is for his engineering and technological awards and achievements. When asked about his management style, Prof. Murphy explains, "I typically tried to manage by exception. It's important to delegate and to empower people to do what they think is relevant and important." Harvey Borovetz, PhD, Deputy Director of Artificial Organs and Medical Devices at the McGowan Institute, has worked with Prof. Murphy for over 20 years. He states, "Professor Murphy's management style is one I always tried to emulate. He knew what needed to be done and who was responsible for doing it, but he was always kind and helpful even under the tightest deadlines. The heartfelt outpouring from everyone associated with McGowan regarding his retirement is the best evidence I can provide about how deeply appreciated and highly regarded John Murphy is by all of us."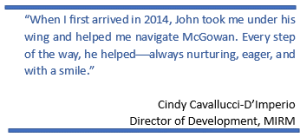 It is difficult to capture in words the magnitude of what Prof. Murphy has accomplished in his career, not just in terms of his contributions to science and technology, but in terms of the people he's positively impacted. More than one McGowan associate has described Prof. Murphy as the "heart and soul" of the institute, and Dr. Wagner has called his dedication "legendary."
When looking back over Prof. Murphy's tenure as Executive Director, perhaps his own words summarize it best: "It has been an exciting ride."
Thank you, Prof. Murphy, for your legacy of innovation, leadership, mentorship, and dedication. You put your all into it. And our minds – and hearts – are better for it.
Note: Quotations from Prof. Murphy are sourced from: "Global Mining and Materials Research Oral History Project." Interview conducted by Paul Burnett. Oral History Center, The Bancroft Library, University of California, Berkeley. 23 July 2015.