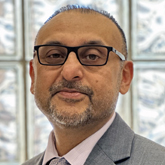 Satdarshan (Paul) Monga, MD, Director of McGowan's Cellular Approaches to Tissue Engineering and Regeneration (CATER) Training Program and Endowed Chair for Experimental Pathology at the University of Pittsburgh, has been appointed director of the new Pittsburgh Liver Institute (PLI).
Dr. Monga has served as founding director of the Pittsburgh Liver Research Center (PLCR) since 2016. "The PLRC bridges the intellectual exchange between clinicians and researchers in the hope of improving the clinical care of liver patients," states Dr. Monga. "Specifically, the PLRC supplies research funding, scientific core facilities, unique scientific and clinical resources, networking and collaborations, mentoring, and enrichment programs in the areas of liver regenerative medicine, liver diseases, and liver tumors."
The PLI will house the PLRC and will be a broader, financially independent institute geared toward developing additional liver-focused initiatives and programs, training grants and public outreach activities. As part of its key objectives, the PLI will form multidisciplinary and interdisciplinary research teams, international collaborations and industry partnerships, and also serve as a specialized liver-medicine training hub.
Through research, training, and translation, the PLI aims to transform Pittsburgh into the "liver corridor" of the world.