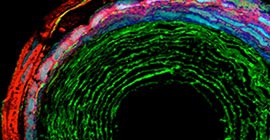 In her article, Elaine Vitone, a writer for PittMed, recently laid out the extraordinary activity arising in Pittsburgh in UPMC's planned vision and rehabilitation hospital in Uptown, near the UPMC Mercy hospital. The nine-story, 410,000 square-foot facility, which was painstakingly designed to spec with both patients and scientists in mind, will be ready for the entire Ophthalmology Department in 2022.
The effort is led by José-Alain Sahel, MD, The Eye and Ear Foundation Endowed Chair, Department of Ophthalmology, University of Pittsburgh School of Medicine, and the Director, UPMC Eye Center.  Dr. Sahel is also an affiliated faculty member of the McGowan Institute for Regenerative Medicine.
In 2008, Dr. Sahel, one of the world's top experts in retinal diseases and vision restoration research, founded Institut de la Vision in Paris. That colossal venture is in the same vein as what UPMC and the University of Pittsburgh are planning. In its first 10 years, the Paris institute launched several companies and created 1,000 jobs.
Dr. Sahel continues to advise his colleagues in Paris and has established a robust collaboration between the institute and its academic partner—the Sorbonne's scientific and medical school known as Université Pierre et Marie Curie—and Pitt/UPMC. This new intercontinental partnership is likely the largest biomedical research undertaking of ophthalmology in the world.
Before Pitt/UPMC joined forces with Paris, they had strengths in corneal biology, infectious disease research, immunology, drug delivery, neuroscience, information technology, engineering, and ocular biomechanics. Pitt is home to the Louis J. Fox Center for Vision Restoration, perhaps the first multidisciplinary research program dedicated to optic nerve regeneration in the nation, which is directed by McGowan Institute affiliated faculty member Jeffrey Gross, PhD, the E. Ronald Salvitti Chair in Ophthalmology Research in the Department of Ophthalmology, University of Pittsburgh School of Medicine.
Ms. Vitone shares in her article some of the current research efforts of Drs. Sahel and Gross and others, such as McGowan Institute for Regenerative Medicine affiliated faculty member Ryad Benosman, PhD, professor of ophthalmology at Pitt, as well as an adjunct faculty member in the Robotics Institute of Carnegie Mellon University.
Today, many diseases of the retina and optic nerve remain untreatable. Changing that, experts say, will require an all-hands-on-deck approach: developmental biologists, stem cell biologists, physiologists, neuroscientists, mathematicians, engineers, pharmacologists, and surgeons all charging full force—and most importantly, doing it together.  The new UPMC facility will help make that happen.
Illustration:  Lens for A of V.  Jeffrey Gross, PhD.