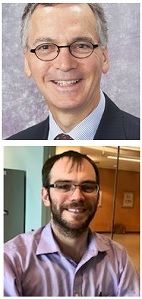 The University of Pittsburgh's Center for Medical Innovation (CMI) awarded grants totaling $70,000 to three research groups through its 2019 Round-1 Pilot Funding Program for Early Stage Medical Technology Research and Development. McGowan Institute for Regenerative Medicine affiliated faculty member Carl Snyderman, MD, MBA, is a co-investigator on one of the selected projects, along with Garrett Coyan, MD, a surgery resident in the lab of William Wagner, PhD:
"ET3: an endotracheal tube that prevents and monitors migration"
For the development of a novel endotracheal tube that reduces risk from associated clinical complications.
Garrett Coyan, MD, MS: Resident, Department of Cardiothoracic Surgery, UPMC (Wagner Lab)
Carl Snyderman, MD, MBA: Professor of Otolaryngology and Neurological Surgery at the University of Pittsburgh School of Medicine and Otolaryngology Director of the Center for Cranial Base Surgery at UPMC
Jeffrey Vipperman, PhD: Professor, Department of Mechanical Engineering & Material Science
The overall aim of the ET3 project is to develop a novel endotracheal (ET) tube design that reduces luminal migration, monitors for unsafe movement, and limits aspiration/ventilator associated pneumonia (VAP). An aim of the project is to conduct a prospective clinical study to document migration rates and complications of ICU intubation at UPMC.
CMI, a University Center housed in Pitt's Swanson School of Engineering, supports applied technology projects in the early stages of development with "kickstart" funding toward the goal of transitioning the research to clinical adoption. Proposals are evaluated based on scientific merit, technical and clinical relevance, potential health care impact and significance, experience of the investigators, and potential in obtaining further financial investment to translate the particular solution to healthcare.
"This is our eighth year of pilot funding, and our leadership team could not be more excited with the breadth and depth of this round's awardees," said McGowan Institute affiliated faculty member Alan D. Hirschman, PhD, CMI Executive Director. "This early-stage interdisciplinary research helps to develop highly specific biomedical technologies through a proven strategy of linking UPMC's clinicians and surgeons with the Swanson School's engineering faculty."
Read more…
University of Pittsburgh Swanson School of Engineering News Release