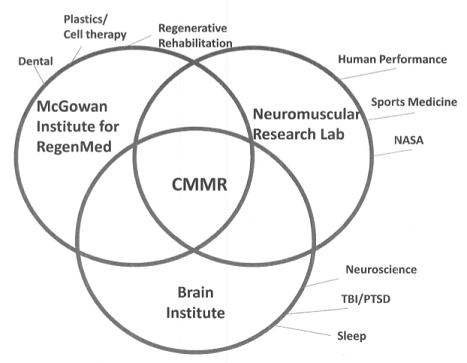 At the University of Pittsburgh, the Center for Military Medicine Research (CMMR) recognizes the urgency for innovating to meet the demands of an increasingly complex security environment. Researchers have focused current and future efforts in the areas of trauma, emergency, and critical care. In doing so, the multi-disciplinary and multi-organizational-led team aims to significantly enhance the trauma care of the warfighter with direct relevance to civilian trauma care while also spurring the economic growth in the Pittsburgh region.
At the CMMR, research initiatives are planned in advance of award announcements to enhance the Center's readiness to compete.  Research team members develop relationships with key military medical partners to ensure that the University of Pittsburgh is constantly interpreting, communicating, and acting on the medical needs of the Department of Defense. They also proactively manage competencies in science and medicine for "Big Problems" (traumatic brain injury, directed energy, prehospital care, and trauma and emergency care, etc.).
McGowan Institute for Regenerative Medicine affiliated faculty member Ron Poropatich, MD, Director of the CMMR, Health Sciences and Professor of Medicine in the Division of Pulmonary, Allergy, and Critical Care Medicine at the University of Pittsburgh, and Senior Advisor for Telemedicine, University of Pittsburgh Medical Center, recently spoke with Regenerative Medicine Today host John Murphy, McGowan Institute Executive Director, about
Autonomous robotic trauma care system: "TRAuma Care In a Rucksack: TRACIR"
Assessment tools for traumatic brain injuries
Human performance improvement
Listen to their conversation here.
Illustration:  Key Center for Military Medicine Research Partnerships with the University of Pittsburgh Health Sciences.  CMMR.