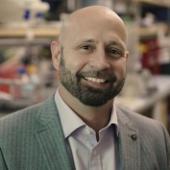 The Turnquist Lab works to decipher how immune cells interact with damaged tissue after injury caused by trauma and organ transplantation.  Researchers there are particularly focused on gaining a better understanding of how "alarmins", or typically sequestered self-derived immunomodulatory molecules, regulate the immune system to orchestrate specific outcomes.  The majority of the lab's efforts are focused on pre-clinical models of solid organ and bone marrow transplantation, as well as tissue injury and systemic trauma. In collaborative efforts, researchers work to translate basic discoveries into novel biologics and cell therapies designed to resolve immune mediated pathology, as well as identify effective biomarkers of disease states in transplantation.
McGowan Institute for Regenerative Medicine affiliated faculty member Hēth Turnquist, PhD, Associate Professor in the University of Pittsburgh School of Medicine, Department of Surgery, T.E. Starzl Transplantation Institute, with a secondary appointment in the Department of Immunology, recently spoke with Regenerative Medicine Today host John Murphy, McGowan Institute Executive Director, about
Inflammation and wound healing in heart transplantation
Pro-inflammatory vs reparative responses in tissue repair
Regulatory cell networks in transplantation
Listen to their conversation here.