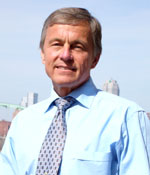 Led by the McGowan Institute for Regenerative Medicine Deputy Director Stephen Badylak, DVM, PhD, MD, a multi-institution research team secured a $22 million grant from the Defense Advanced Research Projects Agency (DARPA) in 2020 to develop a device combining artificial intelligence, bioelectronics, and regenerative medicine to regrow muscle tissue, especially after combat injuries. This 4-year DARPA opportunity, a "mini-Manhattan Project" for wound healing, is a cross-disciplinary project including researchers at Carnegie Mellon University, Northwestern University, Rice University, University of Vermont, University of Wisconsin, and Walter Reed National Military Medical Center in addition to the University of Pittsburgh.
Dr. Badylak, Professor in Pitt's Department of Surgery and Director of the Center for Pre-Clinical Tissue Engineering within the McGowan Institute, recently spoke with Regenerative Medicine Today host John Murphy, McGowan Institute Executive Director, about the project. Dr. Badylak explained:
The three requirements of the project
What limits today's wound healing in volumetric muscle loss injuries
Where the project is today
Listen to their conversation here.
Read more…
McGowan Institute for Regenerative Medicine In the News: DARPA Awards $22M for 'Smart' Device that Regenerates Muscle