Pitt Health Academy: Research in Orbit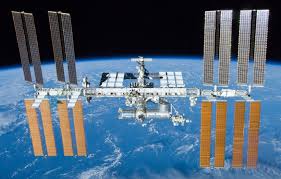 In 2019, the International Space Station (ISS) U.S. National Laboratory formed a research partnership with the University of Pittsburgh's McGowan Institute for Regenerative Medicine.
Through a recent session of the virtual Pitt Health Academy: Research in Orbit updates were provided on  biomanufacturing research on the ISS that is leading the way to medical therapies for patients on Earth. As our researchers find success, it may open the door for future alliances to explore other solutions to common problems through space-based experimentation.
The event was produced as a partnership between the McGowan Institute for Regenerative Medicine, Pitt Health Sciences Alumni and the ISS National Laboratory. The event featured William Wagner, PhD, Director of the McGowan Institute for Regenerative Medicine, and Christine M. Kretz, Vice President of Programs and Partnerships of the ISS National Laboratory, and was moderated by Patrick Cantini, Strategy and Business Development Officer,nMcGowan Institute.
The program highlighted the progress that has been made in scientific studies on-board the ISS, the advantages of bio-manufacturing in zero gravity, and the necessary steps to have commercial bio-medical ventures become a reality.
View the  program here.
Illustration:  International Space Station U.S. National Laboratory.
---
RESOURCES AT THE MCGOWAN INSTITUTE
April Histology Special – Toluidine Blue
Mast cells play a key role in the inflammatory process.
A mast cell is a myeloid derived cell and is part of the immune system.  Mast cells contain distinctive granules rich in histamine and heparin. Although best known for their role in allergy and anaphylaxis, mast cells play an important protective role as well, being intimately involved in angiogenesis, defense against pathogens, and wound healing.
Toluidine blue is one of the most common stains for acid mucopolysaccharides and glycoaminoglycans, both of which are components of mast cells granules.

You will receive 25% off Toluidine blue Staining for the entire month of April when you mention this ad.
Contact Julia at the McGowan Core Histology Lab by email: Hartj5@upmc.edu or call 412-624-5265.
New Sample Submission Procedures: In response to COVID-19, we ask that you contact us to schedule a drop off time. When you arrive at the building you can call our laboratory at (412)624-5365. Someone will meet you in the lobby to collect your samples. When your samples are completed, you will receive an email to schedule a pickup time.
---
SCIENTIFIC ADVANCES
20th McGowan Institute for Regenerative Medicine Scientific Retreat

The McGowan Institute for Regenerative Medicine held its 2021 Scientific Retreat March 9, 10, and 11, 2021.  Due to restrictions during the COVID-19 pandemic, this year's Retreat was virtual with all programs presented via Zoom.
The participation and contributions of the guests and external collaborators – along with McGowan Institute for Regenerative Medicine affiliated faculty and trainees – provided for insightful topics for discussion.  This year's program committee, chaired by Bryan Brown, PhD, Associate Professor in the Department of Bioengineering with secondary appointments in the Department of Obstetrics, Gynecology, and Reproductive Sciences and the Clinical and Translational Science Institute at the University of Pittsburgh, designed an exciting program.
Program Highlights
The Director's State of the Institute Address/Retreat Kickoff was presented by McGowan Institute Director William Wagner, PhD, Distinguished Professor of Surgery, Bioengineering, and Chemical Engineering at the University of Pittsburgh.  Dr. Wagner's presentation was followed by Keynote Speaker David Brindley, PhD.  Dr. Brindley is the Managing Partner, Biolacuna; Chief Operating Officer, Rational Vaccines, Inc.; Principal, Thiel Capital LLC; and Senior Research Fellow, Healthcare Translation, University of Oxford.  Dr. Brindley's presentation was entitled "A Decade of Regenerative Medicine: Never Look Backwards or You'll Fall Down the Stairs."
The Retreat included numerous general presentations and trainee events/networking sessions throughout the 3-day event focused on these program areas:  Cell and Gene Therapy; Tissue Engineering and Biomaterials; Medical Devices and Computational Modeling.  The Retreat program also included 15 presentations addressing a great cross-section of scientific topics given by McGowan Institute affiliated faculty and 23 invited researchers from other institutions and agencies who are not formally affiliated with the McGowan Institute (in alphabetical order):
Howard Aizenstein, MD, PhD, Professor, Departments of Geriatric Psychiatry, Bioengineering— Panel Discussion Member, Training Grants and Trainee Success: Bioengineering in Psychiatry T32.
Gary An, MD, FACS, Professor, Larner College of Medicine, University of Vermont—Managing Biological Heterogeneity: Integrating Mechanistic Simulation and Machine Learning for Therapeutic Control Discovery.
Jonathan Chen, MD, Chief, Cardiothoracic Surgery, Children's Hospital of Philadelphia— Companion Session: FDA Pediatric Device Consortium Innovation Forum—Pediatric Heart Valve Prostheses: Addressing Unmet Needs.
Martijn Cox, PhD, Chief Technology Officer, Xeltis— Companion Session: FDA Pediatric Device Consortium Innovation Forum—Pediatric Prosthetic Heart Valve Trials in the US.
Diann DeCenzo, Grant Administrator, Department of Bioengineering—Panel Discussion Member, Training Grants and Trainee Success: Biomechanics in Regenerative Medicine T32.
April Dukes, PhD, Faculty and Future Faculty Program Director, Engineering Education Resource Center, Swanson School of Engineering—Workshop—Communicating with Your Mentor: How to Articulate What You Need.
Marc Giulianotti, PhD, Program Director, International Space Station Laboratory—ISSNL's Vision for Accelerating Life Science Research in Microgravity.
Ana Gorelova, PhD, Science Writer and Media Relations Manager, UPMC—Health Science Communications: Communicating Medical Research to the Media and Public.
Anjali Gupta, PhD, MBA, Business Development Life Science Lead In-Space Research & Manufacturing, Axiom Space, Inc.—Humanity's Next Chapter: Axiom Station as a Platform for Discovery and Innovation.
Michael Hufford, PhD, Co-Founder and Chief Executive Officer of LyGenesis, Inc.—LyGenesis: Crossing the Chasm between Academic Discovery and Clinical Stage Biotech Company.
Tamer Ibrahim, PhD, Professor, Department of Bioengineering— Panel Discussion Member, Training Grants and Trainee Success: Bioengineering in Psychiatry T32.
Jeremy Kimmel, PhD, Vice President, New Technology, ALung Technologies, Inc.—ALung Technologies: Challenges and Opportunities for Medical Device Commercialization.
Katrina Knight, PhD, Magee-Womens Research Institute Postdoctoral Fellow, Department of Obstetrics Gynecology and Reproductive Sciences, University of Pittsburgh—Pore Collapse and Mesh Wrinkling: A Pathway to Mesh Complications In Vivo.
Scott McNamee, PhD, Special Assistant, Material Engineering, FDA— Companion Session: FDA Pediatric Device Consortium Innovation Forum—Materials Regulations for Pediatric Heart Valves.
Julie Myers-Irvin, PhD, Grants Developer, Swanson School of Engineering—Introduction to Grant Writing—the Basic Dos and Don'ts of Proposal Preparation.
Ryan Orizondo, PhD, Assistant Professor, Department of Bioengineering, University of Pittsburgh—Design and Hemocompatibility Optimization of a Long-Term Artificial Lung.
Arun Sharma, PhD, Senior Research Fellow, Cedar-Sinai Medical Center—The Use of Human Induced Pluripotent Stem Cells for Enabling Therapeutic Applications.
Cherie Stabler, PhD, Associate Professor, Department of Biomedical Engineering, University of Florida; Chair-Elect, TERMIS—Engineering Bioactive Materials for Enhancing Cell-Based Treatments for Type 1 Diabetes.
Narendra Vyavahare, PhD, Professor, Department of Bioengineering, Clemson University— Companion Session: FDA Pediatric Device Consortium Innovation Forum—Preclinical Development of a Novel Heart Valve Prosthesis for Pediatrics.
Nicole Wagner, PhD, Chief Executive Officer LAMDA Vision—Protein Based Artificial Retina for Restoring Vision
Savio Woo, PhD, Distinguished Professor, Department of Bioengineering—Panel Discussion Member, Training Grants and Trainee Success: Biomechanics in Regenerative Medicine T32.
Seth Young, PhD, Psychological Services Clinician, University of Pittsburgh Wellness Center—Roundtable Discussion: Persevering Through a Pandemic.
Poster Session
The poster session was effective in introducing the focus of the Retreat and interests of the faculty and the guests.  McGowan Institute faculty member Andrew Duncan, PhD, Associate Professor in the Department of Pathology, Division of Experimental Pathology, University of Pittsburgh, and his committee organized the session and judged the posters. The winners of the poster session were:
Cellular and Genetic Therapy:
1st – Yingqiao Wang, Raghav Garg, Jane E. Hartung, Adam Z. Goad, Dipna Patel, Kyoungin Kang, Flavia Vitale, Michael S. Gold, Yury Gogotsi, and Tzahi Cohen-Karni. Remote nongenetic optical modulation of cellular electrical activity using two-dimensional Ti3C2 MXene.
2nd – Meghan Mooring, K Yao, S Liu, Y Liu, and D Yimlamai. Cyr61 coordinates liver fibrosis through monocyte and macrophage recruitment and polarization.
3rd – Hannah Fox and Elizabeth Wayne. Developing methods to assess the exosome crosstalk between maternal and fetal cells in normal pregnancy and preeclampsia.
Tissue Engineering and Biomaterials:
1st – Kelsey Hall, Arthi Shridhar, Alvin Liu, and Stephen Badylak. Effects of anti-bacterial coated extracellular matrix bioscaffolds on immunomodulation and mobilization of progenitor cells for volumetric muscle loss treatment.
2nd – Dorota Jazwinska and Ioannis Zervantonakis. Tumor-mesothelial assay to study ovarian cancer clearance dynamics.
3rd – Piyumi Wijesekara, Ying Liu, Weitao Wang, Elizabeth K. Johnston, Rebecca E. Taylor, and Xi Ren. Accessing and assessing the cell-surface glycocalyx using DNA origami.
Computational Modeling and Medical Devices:
1st – Constance M. Robbins, Kuanren Qian, Yongjie Jessica Zhang, and Jana M. Kainerstorfer. Combined mechanical and optical simulation of the effect of compression on breast-tumor mimicking software phantoms.
2nd – Daniel San Roman, Yingqiao Wang, Raghav Garg, Marissa Behun, Bryan Brown, Stephen Badylak, and Tzahi Cohen-Karni. Three-dimensional graphene microelectrode arrays for detection of wound healing biomarkers.
3rd – Ronald Fortunato, Juan Cebral, Anne Robertson, and Spandan Maiti. Using in-vivo morphological measurements of cerebral aneurysm blebs to predict aneurysm rupture risk.

The poster session prizes for each category were sponsored by sciVelo:
First place: $200
Second place: $125
Third place: $75
The winner of the early registration drawing was Maddie Cramer, Badylak Lab ($50).
See the full Retreat Program here.
A special thank you is extended to all who made this year's Retreat a success!
---
A Joint Effort to Improve Shoulder Surgery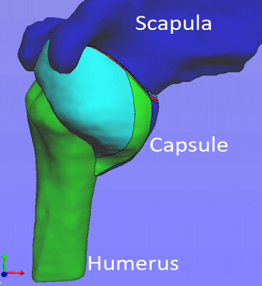 A dislocated shoulder is a common sports injury that can occur with a single swing of the tennis racket or an awkward fall on the field. Though popping the bone back into the socket may seem like a simple solution, the reality is more complex.
The injury can sometimes require an operation, and improper surgical technique and healing can further exacerbate the injury. This puts individuals at increased risk for future dislocation or joint disease later in life.
To tackle this issue, multidisciplinary researchers from the University of Pittsburgh will use an award from the National Institutes of Health to study an individualized approach that may improve surgical outcomes and help athletes avoid lasting repercussions.
McGowan Institute for Regenerative Medicine affiliated faculty member Richard Debski, PhD, professor of bioengineering, and Albert Lin, MD, associate professor of orthopaedic surgery, will lead a study to improve injury assessment and repair using quantitative techniques to measure the magnitude and location of injury.
"Repair surgery has up to a 15 percent rate of failure, and these cases lead to instability and additional dislocations which limit the patient's ability to return to an active life," said Dr. Debski, who runs the Orthopaedic Robotics Laboratory at Pitt's Swanson School of Engineering.
"Our research reveals this injury affects a larger region than previously thought and indicates that the location and magnitude vary from person to person," he explained. "This suggests that an individualized approach may be more effective in treating dislocation injuries and improving surgical outcomes."
Dislocation injuries involve a sheet of soft tissue — called a capsule — that surrounds and stabilizes the joint. The high recurrence rate in capsular injuries can enlarge the damaged area, making a successful recovery even more difficult.
In this study, Drs. Debski and Lin will use a custom robotic system to dislocate a cadaveric shoulder and simulate clinical exams to assess joint stability. They will use an optical tracking system to measure the amount of permanent deformation or injury after each dislocation.
A surgeon will then perform a more precise repair procedure with the given location and magnitude of injury, and the results will be evaluated and compared to current methods.
"Despite significant advancement in surgical technique to address shoulder instability over the past 20 years, the rate of failure remains unacceptably high with real socioeconomic impact, particularly in a young patient population," said Dr. Lin. "Dr. Debski and I have found that injury patterns vary significantly between patients; therefore, the key to improving recurrence rates may be individualized, anatomic surgeries specifically tailored to address the unique pattern injury rather than the current one-size-fits-all approach."
Since the current optical tracking system cannot be used in a clinical setting, the team will also develop a new strategy to collect patient-specific measurements.
"We will use an MRI technique to characterize the injury and compare it to the quantitative patterns from our cadaveric model to see if there is a correlation between the data before and after surgical repair," said Dr. Debski.
The findings of this study could validate the need for an individualized approach to capsular injury repair and potentially lead to a clinical trial.
"With this personalized approach, we hope to reduce the amount of failed capsular surgeries," Dr. Debski said. "In the long run, we also hope to reduce the development of osteoarthritis in young adults, and ultimately, help these athletes make a healthy return to the sport that they love."
Illustration:  3D model of MR arthrogram with division of the capsule into eight sub-regions. University of Pittsburgh Swanson School of Engineering.
---
Commonalities Found Between Viral Infections and Ovarian Cancer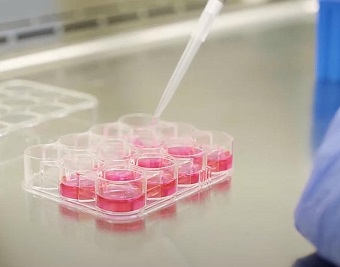 DNA viruses, such as herpesviruses and poxviruses, are among the most prolific and deadly viruses on Earth. Their ability to proliferate widely is due in large part to the way these viruses incubate in the body. Many DNA viral infections can enter what's known as a latent state, in which the person does not experience symptoms of illness, though the virus is still present and able to reactivate to a proliferative state later. Latent viral infections also express different markers than the proliferative phenotypes, rendering them invisible to current treatments and screening.
It was this latent property of DNA viruses that got Sarah Hargett, Carnegie Mellon University (CMU) undergraduate student, thinking about another deadly disease: ovarian cancer. Like DNA viruses, cancer cells can also enter a latent form known as quiescent cancer, in which the cells are not dividing, but lay dormant in the body. These cancer cells are usually present either in the early stages of tumor progression or left behind after treatment. This latter form is especially dangerous, as it can lead doctors to believe that certain treatments were successful and a patient is cancer-free, only to have the cancer return later, at a time when the patient may no longer be seeking treatment.
"These quiescent cancer cells, also called cancer stem cells, are often chemotherapy resistant after reactivation," writes Ms. Hargett, a chemical engineering and biomedical engineering (ChemE/BME) student, who is advised by Kris Dahl, PhD, CMU Professor of Chemical Engineering and an affiliated faculty member of the University of Pittsburgh's McGowan Institute for Regenerative Medicine. "The ability of these cells to enter a silent or 'dormant' phase before reactivation is like DNA viral infections such as Epstein Barr Virus, Herpes Simplex Virus and Kaposi's Sarcoma-associated Herpesvirus, which infect cells and then enter a latent phase."
The apparent similarities between latent DNA viral infections and quiescent cancer sparked a new project: to do a deep dive into the current research on both phenomena to identify commonalities in hopes of finding new potential treatment options for sufferers of ovarian cancer from different areas of medicine.
"Quiescent cancer cells haven't been studied much yet, and the published information on this disease state is somewhat limited," says Ms. Hargett. "By comparing the two, we hope to identify similarities that could then be targeted by therapeutics that are novel to both diseases, or that are currently used on one but not the other."
In particular, Ms. Hargett's review examined five of the genes expressed in both disease states, and the effects of inhibiting each of these genes on disease expression. Of these five, one gene in particular (DAXX/ATRX) was the only one to show the same result for both cancer quiescence and viral latency, suggesting that targeting this gene could one day prove a viable treatment option.
"Knockdown or inhibition of these genes induces a change to promote the proliferative or lytic infection phenotype, which can be targeted by conventional cancer therapies or antiviral treatments," Ms. Hargett writes. "These genes in particular suggest viable therapeutic targets due to their roles as epigenetic regulators."
In October of 2020, Ms. Hargett presented her research at the Biomedical Engineering Society Annual Meeting (BMES), which was held virtually due to the ongoing COVID-19 pandemic.
This research is currently based largely on review and comparison of existing literature, but Ms. Hargett's next steps will be to quantitatively assess cells through benchtop experiments and epigenetic sequencing for quiescent cancer cells, as well as a more robust assessment of latent DNA viral infections. Some of this work has been done already by Dr. Dahl's collaborators at Magee Women's Hospital of UPMC, and additional experiments will help to support these findings.
Illustration:  Carnegie Mellon University.
---
ALung Announces a Key Milestone Achievement in Its VENT-AVOID Pivotal Trial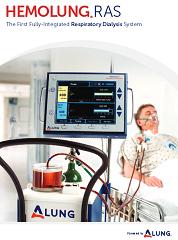 ALung Technologies, Inc., the leading provider of low-flow extracorporeal carbon dioxide removal (ECCO2R) technologies for treating patients with acute respiratory failure, announced the recent achievement of a significant milestone – enrollment of 100 patients in its U.S. based VENT-AVOID pivotal trial.
VENT-AVOID is a randomized, controlled pivotal trial (RCT) studying the avoidance or minimization of mechanical ventilation for the treatment of acute exacerbations of chronic obstructive pulmonary disease (AE-COPD). The results of the study are expected to validate the safety and efficacy of the Hemolung Respiratory Assist System (RAS) for COPD patients experiencing acute exacerbations requiring ventilatory support.  ALung's Hemolung RAS was created from technologies developed by McGowan Institute for Regenerative Medicine faculty member William Federspiel, PhD, John A. Swanson Professor in the Department of Bioengineering with secondary appointments in Chemical Engineering, Critical Care Medicine, and the Clinical Translation Institute, and the Director of the Medical Devices Laboratory at the McGowan Institute, and his team. Dr. Federspiel is ALung's Head of the Scientific Advisory Board and the company's co-founder.
COPD affects 30 million Americans and is the third leading cause of death in the United States behind cancer and heart disease. Acute exacerbations, defined as a sudden worsening of COPD symptoms, are a major cause of morbidity and mortality in COPD patients.
"The VENT-AVOID pivotal trial is currently the world's largest trial ever conducted on the utilization of ECCO2R in AE-COPD with 100 patients now enrolled. Pivotal trials of this magnitude have become increasingly difficult to conduct during the COVID-19 pandemic. However, the dedication and interest of our clinical trial sites has continued to grow as they have experienced the positive clinical impact of the Hemolung RAS and ECCO2R therapy. Based on recent declines in COVID-19 hospital admissions, we have experienced increases in screening and enrollment in the VENT-AVOID trial," stated Tracey Dill, Vice President of Clinical Operations at ALung.
Peter DeComo, Chairman and CEO of ALung stated, "We are encouraged by the progress we have made with the VENT-AVOID trial during the past 12-months, especially during the most challenging times of the COVID-19 pandemic. Subsequent to receiving Emergency Use Authorization (EUA) from the FDA, ALung has provided ECCO2R therapy to 93 COVID-19 patients worldwide. Clinical experience utilizing the Hemolung RAS in treating the first 31 patients has recently been published in the journal Critical Care Explorations… The unique safety and simplicity features of the Hemolung RAS enable use with a broader base of clinicians as compared to existing conventional extracorporeal respiratory support systems. We expect that the VENT-AVOID trial, as well as other clinical data, will validate the safety and efficacy of the Hemolung RAS for the administration of ECCO2R therapy so that it will soon be available for use by clinicians worldwide when treating acute respiratory failure including AE-COPD."
Illustration:  ALung Technologies, Inc.
---
Pitt and RevBio to Conduct an In Vivo Bone Experiment on the International Space Station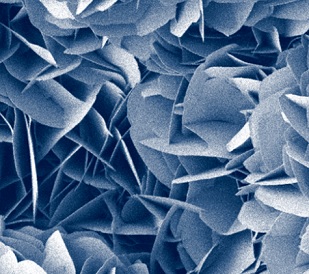 The University of Pittsburgh is teaming up with medical device company RevBio, Inc. to study the effects of an adhesive biomaterial on bone health in space.
An experiment will take place onboard the International Space Station later this year, where the material Tetranite's effectiveness on the bone healing process will be examined. A side-by-side experiment will be conducted on Earth to examine the differences between healing under both normal and osteoporotic conditions induced by the micro-gravity environment of outer space.
"Tetranite is a uniquely osteoconductive biomaterial that is also adhesive and injectable," said Giuseppe Intini, DDS, PhD, associate professor of periodontics and preventive dentistry at Pitt, and an affiliated faculty member at the McGowan Institute for Regenerative Medicine, who will serve as the principal investigator for this study. "If we are able to show that this novel scaffold can facilitate bone repair in space, new methods may be developed to treat or prevent bone fractures in osteoporotic patients on Earth as well."
Illustration:  Tetranite.  RevBio, Inc.
---
Advancements in Vision Care Lead the Way in Hillman Foundation $25 Million Gift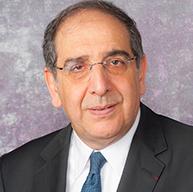 The Henry L. Hillman Foundation recently announced a $25 million gift to the University of Pittsburgh.  In all, $20 million of the gift will fund vision care research and development through The Eye & Ear Foundation, which supports Pitt's Departments of Ophthalmology and Otolaryngology by advancing leading-edge academics and research to enhance patient care. As a result of the gift, The Eye & Ear Foundation has passed the halfway point in its campaign to support vision restoration breakthroughs, advance technologies and therapies addressing vision loss, lower barriers to healthcare for all Pittsburghers, and fuel the growth of the city's burgeoning biotech sector.  The gift will, among other efforts, improve access to vision care for underserved communities through outreach and direct care; help build and staff a vision "street lab" to test new treatments and therapies in safe, controlled, virtual and real-life environments; and support research into breakthrough programs such as biomedical solutions to corneal blindness. The gift will also fund commercialization efforts and will, in turn, create job and training opportunities for adjacent neighborhoods and the city with an emphasis on promoting equitable access to services and employment.
McGowan Institute for Regenerative Medicine affiliated faculty member José‐Alain Sahel, MD, who came to Pitt in 2016 from Paris' Institut de la Vision at Sorbonne University to direct Pitt's Department of Ophthalmology, will lead the vision work made possible by the Henry L. Hillman Foundation gift.  Dr. Sahel is the Chair and Distinguished Professor of the Department of Ophthalmology at the University of Pittsburgh School of Medicine, director of the UPMC Eye Center, and the Eye and Ear Foundation Endowed Chair of Ophthalmology.
"We are driven by helping patients," Dr. Sahel said. "It starts with identifying conditions among patients, which flows into using research to find solutions, creating new therapies and devices, commercializing those advancements and ultimately bringing them back to the patient by enabling access to everyone."
"No one person can do this," he added. "It takes teams of clinicians, scientists, educators, rehabilitation experts and patients themselves all looking at questions that have not been solved. Only then can you develop answers."
Vision degeneration affects nearly everyone in one form or another as they age, and the number of individuals with visual impairments is expected to triple by 2050. Pittsburgh, with its aging population, will be highly affected by this epidemic of vision loss. Finding cures for the most common eye ailments and solutions to rare diseases and impairment due to injury are equally important, Dr. Sahel said. His teams are working on nearly every aspect of blindness, from common conditions such as glaucoma and macular degeneration to regenerative therapies and engineering artificial retinas and the hardware and software that feeds them information.
Further supporting an equitable regional economy, the Hillman gift includes funding for vision-related workforce development—training local residents to fill jobs created by the overall project. It also provides seed funding for breakthrough research with high potential for commercialization and emerging startups working in the sector.
Along with the vision-focused work, $1 million of the gift will support further life sciences planning under the direction of Anantha Shekhar, MD, PhD, senior vice chancellor for the health sciences and John and Gertrude Petersen Dean of the School of Medicine at the University of Pittsburgh. Another $3 million is allocated to supporting the LifeX startup accelerator, and $1 million will go to vaccine research.
---
Hypertensive Pregnancy Linked with Risks of Heart Disease
Compared with women whose blood pressure during pregnancy was normal, women with a history of hypertensive disorders of pregnancy, such as preeclampsia and gestational hypertension, have major differences in the structure and function of the heart a decade after childbirth, University of Pittsburgh School of Medicine researchers report in the Journal of the American College of Cardiology. McGowan Institute for Regenerative Medicine affiliated faculty member Flordeliza Villanueva, MD, Professor of Medicine in the Division of Cardiology and Vice Chair for Pre-Clinical Research of the Department of Medicine, and Director of Non-Invasive Cardiac Imaging at the UPMC Heart and Vascular Institute, is a co-author on the publication.
The changes, which mainly affect the left ventricle of the heart, may predispose some women to ischemic heart disease and heart failure later in life without them knowing it. The findings may help clinicians identify those at high risk of long-term cardiac complications and enable early therapeutic interventions to prevent heart disease from developing.
"Hypertension is a silent killer," said lead author Malamo Countouris, MD, a clinical instructor in cardiology at Pitt's Department of Medicine and a Co-Director of the UPMC Magee-Womens Hospital Postpartum Hypertension Clinic. "None of the women in our study had clinical symptoms of heart disease—they are young and probably feel well and healthy and may not be seeing a health care provider regularly—but it's important to start screening them for high blood pressure early."
The researchers also found that while hypertensive disorders of pregnancy independently increase a woman's risk of long-term heart complications, the "double-hit group"—those with histories of hypertensive disorders of pregnancy who also had high blood pressure at the time of assessment—are most at risk.
Fortunately, the risk can be assessed quickly and non-invasively on an echocardiogram. Dr. Countouris and her team found that eight to 10 years after delivery, 79% of women from the double-hit group had left ventricular remodeling, or relative thickening of the walls of their left ventricles. This compares to 38.2% of those who had neither, 36.4% in those with histories of only hypertensive disorders of pregnancy and 46.2% in women with current hypertension alone. Having both a history of hypertensive disorder of pregnancy and current hypertension also was associated with poorer left heart diastolic function, which reflected the left ventricle getting stiffer and not filling with blood to its full capacity.
"Identifying women at high risk can provide a window of opportunity for targeted interventions to prevent heart disease," said Dr. Countouris. "Suggesting simple changes in lifestyle or diet, including regular exercise and better management of other cardiovascular risk factors, can prevent adverse changes in the heart and lower the risk of heart disease later in life.
More studies are needed to clarify the cause-and-effect relationship between complicated pregnancies and long-term effects on the heart, said Dr. Countouris.
---
McGowan Quality Management Specialists Assist the Center for Vaccine Research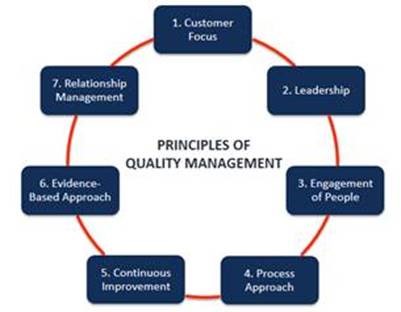 Shawn Bengtson, RQAP-GLP, Director, Quality Assurance-Quality Systems Programs with the assistance of Nika Hazen, Quality Systems Development Manager, have played a key role in the Center for Vaccine Research's pursuit of improved COVID-19 medical countermeasures & therapeutic technologies.  The McGowan Center for Preclinical studies (CPCS), under Mr. Bengtson's leadership has developed a quality management program initially to address needs in the CPCS , but the unique procedures and training that a formal quality management program requires, has led to requests from other University departments for assistance in the development and implementation of their Quality Management Systems (QMS) .  The Center for Vaccine Research (CVR) (Pitt- Regional Biocontainment Facility-RBL) had a need to initiate the establishment of a quality management program as their work on COVID-19 & associated variant testing ramped-up over this past year.  Mr. Bengston and Ms. Hazen have been instrumental in the design and implementation of the CVR -RBL quality management program as fit for purpose in the challenges of a select agent biosafety level 3 (ABSL3/BSL3) regulated research environment.
In addition to the CVR-RBL support, the McGowan Institute quality assurance unit (QAU) are assisting by providing sytems implementation and monitoring support for other programs cross the campus such as the Infectious Disease Laboratory along with serving as the Quality Assurance Advisory Core for the NIH/NIDCR funded Michigan-Pitt-Wyss Interdisciplinary Translational Project Program and the SHARE/ MediCiti Institute of Medical Sciences, India.
---
Researchers at University of Pittsburgh Design Active Materials for Self-Regulating Soft Robots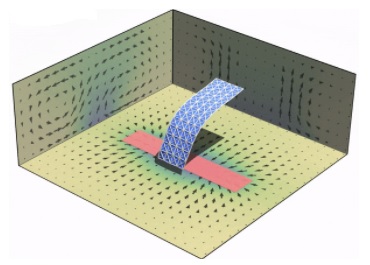 During the swarming of birds or fish, each entity coordinates its location relative to the others, so that the swarm moves as one larger, coherent unit. Fireflies on the other hand coordinate their temporal behavior: within a group they eventually all flash on and off at the same time and thus act as synchronized oscillators.
Few entities, however, coordinate both their spatial movements and inherent time clocks; the limited examples are termed "swarmalators,"1 which simultaneously swarm in space and oscillate in time. Japanese tree frogs are exemplar swarmalators: each frog changes both its location and rate of croaking relative to all the other frogs in a group.
Moreover, the frogs change shape when they croak: The air sac below their mouth inflates and deflates to make the sound. This coordinated behavior plays an important role during mating and hence, is vital to the frogs' survival. In the synthetic realm there are hardly any materials systems where individual units simultaneously synchronize their spatial assembly, temporal oscillations, and morphological changes. Such highly self-organizing materials are important for creating self-propelled soft robots that come together and cooperatively alter their form to accomplish a regular, repeated function.
Chemical engineers at the University of Pittsburgh Swanson School of Engineering have now designed a system of self-oscillating flexible materials that display a distinctive mode of dynamic self-organization. In addition to exhibiting the swarmalator behavior, the component materials mutually adapt their overall shapes as they interact in a fluid-filled chamber. These systems can pave the way for fabricating collaborative, self-regulating soft robotic systems.
The group's research was published in the journal Proceedings of the National Academy of Sciences. Principal investigator is McGowan Institute for Regenerative Medicine affiliated faculty member Anna Balazs, PhD, Distinguished Professor of Chemical and Petroleum Engineering and the John A. Swanson Chair of Engineering. Lead author is Raj Kumar Manna, PhD, and co-author is Oleg E. Shklyaev, PhD, both post-doctoral associates.
"Self-oscillating materials convert a non-periodic signal into the material's periodic motion," Dr. Balazs explained. "Using our computer models, we first designed micron and millimeter sized flexible sheets in solution that respond to a non-periodic input of chemical reactants by spontaneously undergoing oscillatory changes in location, motion and shape. For example, an initially flat, single sheet morphs into a three-dimensional shape resembling an undulating fish tail, which simultaneously oscillates back and forth across the microchamber."
The self-oscillations of the flexible sheets are powered by catalytic reactions in a fluidic chamber. The reactions on the surfaces of the sheet and chamber initiate a complex feedback loop: Chemical energy from the reaction is converted into fluid flow, which transports and deforms the flexible sheets. The structurally evolving sheets in turn affect the motion of the fluid, which continues to deform the sheets.
"What is really intriguing is that when we introduce a second sheet, we uncover novel forms of self-organization between vibrating structures," Dr. Manna adds. In particular, the two sheets form coupled oscillators that communicate through the fluid to coordinate not only their location and temporal pulsations, but also synchronize their mutual shape changes. This behavior is analogous to that of the tree frog swarmalators that coordinate their relative spatial location, and time of croaking, which also involves a periodic change in the frog's shape (with an inflated or deflated throat).
"Complex dynamic behavior is a critical feature of biological systems," Dr. Shklyaev says. "Stuff does not just come together and stop moving. Analogously, these sheets assemble in the proper time and space to form a larger, composite dynamic system. Moreover, this structure is self-regulating and can perform functions that a single sheet alone cannot carry out."
"For two or more sheets, the collective temporal oscillations and spatial behavior can be controlled by varying the size of the different sheets or the pattern of catalyst coating on the sheet," says Dr. Balazs. These variations permit control over the relative phase of the oscillations, e.g., the oscillators can move in-phase or anti-phase.
"These are very exciting results because the 2D sheets self-morph into 3D objects, which spontaneously translate a non-oscillating signal into "instructions" for forming a larger aggregate whose shape and periodic motion is regulated by each of its moving parts," she notes. "Our research could eventually lead to forms of bio-inspired computation – just as coupled oscillators are used to transmit information in electronics – but with self-sustained, self-regulating behavior."
1KP O'Keeffe, H Hong, SH Strogatz. Oscillators that sync and swarm. Nature Communications, 8, 2017, 1504. DOI: 10.1038/s41467-017-01190-3.
Illustration:  Self-oscillations of a passive sheet. Center of the sheet oscillates back and forth across the catalytic patch (red). Dr. Raj Kumar Manna.
---
AWARDS AND RECOGNITION
Dr. William Federspiel Receives the 2020 Marlin Mickle Outstanding Innovator Award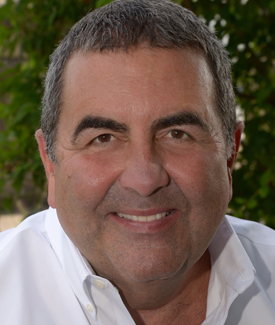 William Federspiel, PhD, Director of the Medical Devices Laboratory at the McGowan Institute for Regenerative Medicine, is the recipient of the 2020 Marlin Mickle Outstanding Innovator Award.  Dr. Federspiel will be as presented with this prestigious honor during the awards ceremony held virtually by the Innovation Institute on April 22 at 4:30 p.m.
The Innovation Institute established the Outstanding Innovator Award in 2016 to recognize the lifetime achievements of Pitt faculty who have made an impact through the commercial translation of their research. It is named for Marlin Mickle, who holds the University record for invention disclosures filed, patents issued, and startups formed.
At the University of Pittsburgh, Dr. Federspiel is the John A. Swanson Professor in the Department of Bioengineering with secondary appointments in Chemical Engineering, Critical Care Medicine, and the Clinical Translation Institute. He is also the CoFounder of ALung Technologies, a Pittsburgh-based medical start-up company, for which he serves as the head of the scientific advisory board.
The major research theme of the Medical Devices Laboratory is the development of medical devices whose therapeutic function stems from biotransport and bioseparation processes and which can be translated for near-term clinical use in critical care medicine.  A span of Dr. Federspiel's research interests include:
Design and development of novel artificial lung devices, including respiratory support catheters and paracorporeal assist lungs, for near-term clinical use in the treatment of respiratory failure in patients with acute, acute on chronic, or chronic lung insufficiencies.
Design and development of membrane and particle-based blood purification devices for the selective or semi-selective and patterned removal of pathogenic antibodies, inflammatory mediators, and other blood borne solutes for near-term clinical use in critical care settings.
Advancing the development of novel artificial lung platforms for future applications by combining microfabrication and fiber technology with cellular and biomolecular components to create biohybrid artificial alveolar capillary units and bioactive hollow fibers with improved gas exchange efficiency and capacity.
Developing improved transport models and understanding of polymer degradation and drug delivery from nanoparticles and microparticles.
Advanced application of fluid mechanics and mass transport principles to model and optimize artificial lungs and other membrane-based medical devices where functional performance depends on underlying transport or separation principles that dictate the device characteristics.
Development of mathematical and computer simulation models related to respiratory and cardiovascular fluid mechanics and mass transport.
Development of oxygen depletion devices for blood storage systems that will extend the shelf life of red cell units and deliver red cells of higher efficacy and lower toxicity for transfusion therapy.
Dr. Federspiel is the fifth recipient of this award named for the late Marlin Mickle, who from the Swanson School of Engineering is known as the pioneer of the field of Radio Frequency Identification (RFID). Dr. Mickle is the University's all-time leader in most categories that measure innovation commercialization, including issued patents and licenses. Dr. Federspiel is among the top handful of faculty in those categories.  Previous McGowan Institute for Regenerative Medicine affiliated faculty members winning this prize include:  Rory Cooper, PhD (2016), Joseph Glorioso, PhD (2017), and Stephen Badylak, DVM, PhD, MD (2018).
Congratulations, Dr. Federspiel!
---
2021 ISSLS Prize in Basic Science Awarded to Dr. Nam Vo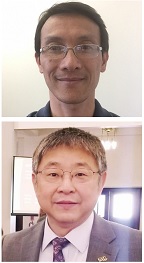 The International Society for the Study of the Lumbar Spine (ISSLS) Prize program, sponsored by European Spine Journal, comprises three awards of $20,000 each. Prizes are awarded competitively on the basis of scientific merit in one or more of the following areas: Basic Science, Bioengineering Science, and Clinical Science.
The ISSLS Prize Committee has awarded the 2021 ISSLS Prize in Basic Science to McGowan Institute for Regenerative Medicine affiliated faculty member Nam Vo, PhD, Associate Professor in the Departments of Orthopaedic Surgery and Pathology, and his research team for their manuscript, "A Novel Inducible System to Regulate Transgene Expression of TIMP1."  McGowan Institute affiliated faculty member Bing Wang, MD, PhD, Director of the Molecular Therapeutics Laboratory as well as an Associate Professor in the Departments of Orthopaedic Surgery and Neurology at the University of Pittsburgh School of Medicine, is a co-author of the study.
The abstract of this work follows:
Purpose: Inflammatory and oxidative stress upregulates matrix metalloproteinase (MMP) activity, leading to intervertebral disc degeneration (IDD). Gene therapy using human tissue inhibitor of metalloproteinase 1 (hTIMP1) has effectively treated IDD in animal models. However, persistent unregulated transgene expression may have negative side effects. We developed a recombinant adeno-associated viral (AAV) gene vector, AAV-NFκB-hTIMP1, that only expresses the hTIMP1 transgene under conditions of stress.

Methods: Rabbit disc cells were transfected or transduced with AAV-CMV-hTIMP1, which constitutively expresses hTIMP1, or AAV-NFκB-hTIMP1. Disc cells were selectively treated with IL-1β. NFκB activation was verified by nuclear translocation. hTIMP1 mRNA and protein expression were measured by RT-PCR and ELISA, respectively. MMP activity was measured by following cleavage of a fluorogenic substrate.

Results: IL-1β stimulation activated NFκB demonstrating that IL-1β was a surrogate for inflammatory stress. Stimulating AAV-NFκB-hTIMP1 cells with IL-1β increased hTIMP1 expression compared to unstimulated cells. AAV-CMV-hTIMP1 cells demonstrated high levels of hTIMP1 expression regardless of IL-1β stimulation. hTIMP1 expression was comparable between IL-1β stimulated AAV-NFκB-hTIMP1 cells and AAV-CMV-hTIMP1 cells. MMP activity was decreased in AAV-NFκB-hTIMP1 cells compared to baseline levels or cells exposed to IL-1β.

Conclusion: AAV-NFκB-hTIMP1 is a novel inducible transgene delivery system. NFκB regulatory elements ensure that hTIMP1 expression occurs only with inflammation, which is central to IDD development. Unlike previous inducible systems, the AAV-NFκB-hTIMP1 construct is dependent on endogenous factors, which minimizes potential side effects caused by constitutive transgene overexpression. It also prevents the unnecessary production of transgene products in cells that do not require therapy.
Congratulations, Drs. Vo and Wang!
---
Drs. Adam Feinberg and Kathryn Whitehead Elected AIMBE 2021 Fellows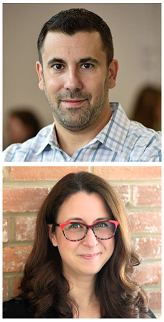 The American Institute for Medical and Biological Engineering (AIMBE) announced the election of 174 new members of the AIMBE College of Fellows in recognition of their distinguished and continuing achievements in medical and biological engineering.  Two of those inductees include McGowan Institute for Regenerative Medicine affiliated faculty members:
Adam Feinberg, PhD, Professor, Department of Biomedical Engineering, Carnegie Mellon University: Feinberg was nominated, reviewed, and elected by peers and members of the College of Fellows for outstanding contributions to tissue engineering and 3D bioprinting.
Kathryn Whitehead, PhD, Associate Professor, Department of Chemical Engineering, Carnegie Mellon University: Whitehead was nominated, reviewed, and elected by peers and members of the College of Fellows for developing innovative technologies for biologics delivery and for active advocacy of diversity and inclusivity in academia.
Election to the AIMBE College of Fellows is among the highest professional distinctions accorded to a medical and biological engineer. The College of Fellows is comprised of the top two percent of medical and biological engineers. College membership honors those who have made outstanding contributions to "engineering and medicine research, practice, or education" and to "the pioneering of new and developing fields of technology, making major advancements in traditional fields of medical and biological engineering, or developing/implementing innovative approaches to bioengineering education."
AIMBE Fellows are among the most distinguished medical and biological engineers including 3 Nobel Prize laureates, 18 Fellows having received the Presidential Medal of Science and/or Technology and Innovation, and 195 also inducted to the National Academy of Engineering, 94 inducted to the National Academy of Medicine, and 43 inducted to the National Academy of Sciences.
Congratulations, Drs. Feinberg and Whitehead!
---
Dr. Rocky Tuan Named 2021 Fellow of the ORS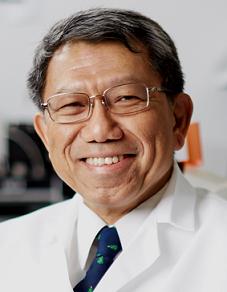 McGowan Institute for Regenerative Medicine affiliated faculty member Rocky Tuan, PhD, Vice-Chancellor and President, the Lee Quo Wei and Lee Yick Hoi Lun Professor of Tissue Engineering and Regenerative Medicine, The Chinese University of Hong Kong (CUHK), has been named a 2021 Fellow of the Orthopaedic Research Society (ORS). Being one of the first scholars in Hong Kong to earn this prestigious honor, Dr. Tuan is recognized by the ORS for his outstanding achievements in the field of musculoskeletal research and contributions to the ORS.
Specializing in skeletal tissue engineering and regeneration, Dr. Tuan has a distinguished research track record that covers basic science and engineering, as well as translational and clinical applications. He has integrated "smart" biomaterial and bioengineering technologies with stem cells to develop translational applications for the repair and regeneration of human tissues. He has recently engineered the first-ever "microJoint," a three dimensional joint-on-a-chip, to replicate a human joint using a microbioreactor platform, which will be used to study and screen for potential therapeutic agents for debilitating joint diseases, such as osteoarthritis.
The 2021 ORS Fellowship adds to a number of honors Dr. Tuan has received, including fellowship of the American Institute of Medical and Biological Engineering (AIMBE) in 2000, the International Combined Orthopaedic Research Societies (i-CORS) in 2016, the National Academy of Inventors (NAI) in 2017, the Chinese Association of Inventions (CAI) in 2018, and the American Association of Anatomists (AAA) in 2019. In particular, Dr. Tuan was the recipient of the Marshall Urist Award for Excellence in Tissue Regeneration Research of the ORS in 2004. A long-term member of the ORS, he also chaired the Editorial Advisory Board of the Journal of Orthopaedic Research, the official publication of the ORS, from 1998-2006.
Dr. Tuan said, "I am honored to be selected as a Fellow of the ORS, the leading organization in the field of orthopaedic research. I hope my experience in the orthopaedic research community can help foster and guide cross-regional and interdisciplinary collaborations, to cultivate knowledge and advance technological innovations in Hong Kong and worldwide for the improvement of human health."
For over 65 years, the ORS has been the leading research society supporting biologists, clinicians, engineers, orthopaedic surgeons, and other professionals in the field of musculoskeletal research from across the globe.  ORS Fellows are the longstanding members who have demonstrated exemplary service and leadership, substantial achievement, expert knowledge, and significant contributions to the ORS, its governance, and the field of musculoskeletal research. Fellows will represent ORS as the thought leaders and topic experts in their respective disciplines.
Congratulations, Dr. Tuan!
---
Dr. Freddie Fu is the Most-Cited Author on ACL Reconstruction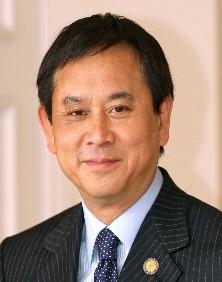 A study published in the Orthopaedic Journal of Sports Medicine identifying the top 100 most-cited articles on anterior cruciate ligament (ACL) reconstruction, the procedure to fix the most commonly injured ligament in the knee, found that the University of Pittsburgh was the most prolific institution of influential ACL research. Furthermore, Freddie Fu, MD, Chair of Orthopaedic Surgery at Pitt and an affiliated faculty member of the McGowan Institute for Regenerative Medicine, was the number one author.
Researchers at the Central South University in Changsha, China, reviewed more than 17,000 articles on ACL reconstruction published since 1950. When they narrowed the list down to the top 100 most cited articles, the University of Pittsburgh was the most productive research institution, publishing 14 of these top 100 articles. Dr. Fu authored 13 of these, making him the researcher with the most total publications on the top 100 list. These findings reinforce the degree of international influence the University of Pittsburgh and Dr. Fu have established in the field of ACL research.
Dr. Fu has been investigating the ACL since the start of his career and has worked to better understand ACL reconstruction while also fostering the spirit of collaboration that allowed research at the department to flourish. In addition to establishing the Sports Medicine Fellowship Program at Pitt, Dr. Fu has also served as the head team physician and orthopaedic surgeon for the University of Pittsburgh athletic department for nearly 35 years and has been the David Silver Professor and Chair of the Department of Orthopaedic Surgery at the University of Pittsburgh School of Medicine since 1998.
---
Regenerative Medicine Podcast Update
The Regenerative Medicine Podcasts remain a popular web destination. Informative and entertaining, these are the most recent interviews:
#219 –– Dr. Eric Schmuck discusses his research in cardio-regenerative medicine.
Visit www.regenerativemedicinetoday.com to keep abreast of the new interviews.
---
PUBLICATION OF THE MONTH
Author: Lucy A Bosworth, Kyle G Doherty, James D Hsuan, Samuel P Cray, Raechelle A D'Sa, Catalina Pineda Molina, Stephen F Badylak, Rachel L Williams
Title: Material Characterisation and Stratification of Conjunctival Epithelial Cells on Electrospun Poly(ε-Caprolactone) Fibres Loaded with Decellularised Tissue Matrices
Summary: The conjunctiva, an under-researched yet incredibly important tissue, plays key roles in providing protection to the eye and maintaining homeostasis of its ocular surface. Multiple diseases can impair conjunctival function leading to severe consequences that require surgical intervention. Small conjunctival defects can be repaired relatively easily, but larger defects rely on tissue grafts which generally do not provide adequate healing. A tissue engineering approach involving a biomaterial substrate capable of supporting a stratified epithelium with embedded, mucin-secreting goblet cells offers a potential solution. As a first step, this study aimed to induce stratification of human conjunctival epithelial cells cultured on electrospun scaffolds composed from poly(ε-caprolactone) (PCL) and decellularised tissue matrix (small intestinal submucosa (SIS) or urinary bladder matrix (UBM)) and held at the air/liquid interface. Stratification, up to 5 cell layers, occurred more frequently on scaffolds containing PCL + UBM. Incorporation of these decellularised tissue matrices also impacted material properties, with significant changes occurring to their fibre diameter, tensile properties, and chemical composition throughout the scaffold structure compared to PCL alone. These matrix containing scaffolds warrant further long-term investigation as a potential advanced therapy medicinal product for conjunctiva repair and regeneration.
Source: Pharmaceutics. 2021 Feb 28;13(3):318.
---
GRANT OF THE MONTH
PI: Alejandro Almarza
Co-PI: Juan Taboas
Title: Polymer Scaffolds for Mandibular Condyle Cartilage Regeneration
Description: The most severe cases of TMJ disorders consist of mandibular condyle degeneration. Unfortunately, no regenerative options exists and current treatments do not restore full function. The articulating tissue of the condyle is a fibrocartilage that consists of an intricate interface between fibrous, cartilaginous, and boney tissue that is essential for normal function and that is lost in severe TMJ disorders. The objective of this study is to regenerate fibrocartilage-bone interface of the mandibular condyle in skeletally mature goats using a comprehensive tissue engineering approach. A condylar defect will be treated with novel multilayer scaffold implant designed to promote site-specific tissue regeneration. We have strong pilot in-vivo data showing that our scaffolds components regenerate fibrous and cartilage tissue in our novel goat model, and bone in a segmental defect model. We will implant the scaffolds in a mediolateral grove-shaped condylar defect. We hypothesize that a multilayer scaffold will allow for site- specific fibrous-cartilage-bone regeneration of the mandibular condyle cartilage when compared to a homogenous sponge scaffold and untreated control defects. First, we will study the properties of a multilayer scaffold design in-vitro. We will characterize the permeability and release of TGFβs from the scaffold. Second, we will assess the functional healing of condylar defects treated with the multilayer scaffolds. We will assess mechanical properties, regenerate tissue composition, and condylar architecture formation using terminal assays at 1, 3 and 6 months post-surgery. Third, we will study the regeneration potential of three cell subpopulations found on the condyle. Successful completion of this proposal is the critical step to provide a regenerative therapy to treat TMJ mandibular cartilage degeneration, and a basis for successful osteochondral tissue regeneration in other sites.
Source: National Institute of Dental & Craniofacial Research
Term: December 1, 2020 – November 30, 2024
Amount: $567,746 (one year)