McGowan Institute for Regenerative Medicine 2023 Best Doctors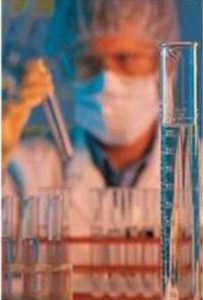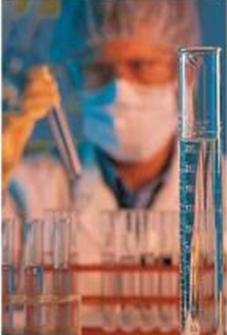 The McGowan Institute for Regenerative Medicine applauds its affiliated faculty members who were recently recognized by Pittsburgh Magazine as a Top Doctor.  Castle Connolly Top Doctors is a healthcare research company and the official source for Top Doctors for over 25 years.  This year, 18 McGowan Institute affiliated faculty were recognized in the May issue of the magazine.  Congratulations are extended to:
Cardiovascular Disease:  Joon Sup Lee, MD, Dennis McNamara, MD
Gastroenterology:  Michael Pezzone, MD, PhD
Neurological Surgery:  David Okonkwo, MD, PhD
Ophthalmology:  Ian Conner, MD, PhD
Orthopedic Surgery:  MaCalus Hogan, MD, MBA, Kurt Weiss, MD
Otolaryngology: Joseph Dohar, MD, Carl Snyderman, MD, MBA
Pathology:  Anthony Demetris, MD
Pediatric Cardiology:  Jacqueline Kreutzer, MD
Pediatric Surgery:  George Gittes, MD
Plastic Surgery:  Howard Edington, MD, Michael Gimbel, MD, Peter Rubin, MD, Mario Solari, MD
Surgery:  George Mazariegos, MD
Urogynecology/Female Pelvic Medicine & Reconstructive Surgery: Pamela Moalli, MD, PhD
Congratulations, all!
---
RESOURCES AT THE MCGOWAN INSTITUTE
May Histology Special – Verhoeff-Van Gieson (VVG) Staining
Elastin is a protein in connective tissue that allows many tissues in the body to resume their shape after stretching or contracting. Elastin helps skin to return to its original position when it is poked or pinched.
Elastin serves an important function in arteries as a medium for pressure wave propagation to help blood flow and is particularly abundant in large elastic blood vessels such as the aorta. Elastin is also very important in the lungs, elastic ligaments, the skin, and the bladder, elastic cartilage. It is present in all vertebrates above the jawless fish
Verhoeff's stain forms a variety of cationic, anionic and non-ionic bonds with elastin, the main constituent of elastic fiber tissue.  Elastin has a strong affinity for the iron-hematoxylin complex formed by the reagents in the stain and will hence retain dye longer than other tissue elements, which allows elastin to remain stained while other tissue elements are decolorized.  Elastic fibers and cell nuclei are stained black, collagen fibers are stained red, and other tissue elements including cytoplasm are stained yellow.


You'll receive 25% off TVVG Staining in May when you mention this ad.
Contact Julia at the McGowan Core Histology Lab by email: Hartj5@upmc.edu or call 412-624-5265.
Sample Submission Procedures: Please contact us to schedule a drop off time. When you arrive at the building you can call our laboratory at (412) 624-5365. Someone will meet you in the lobby to collect your samples. When your samples are completed, you will receive an email to schedule a pickup time.
---
SCIENTIFIC ADVANCES
The Unseen Eye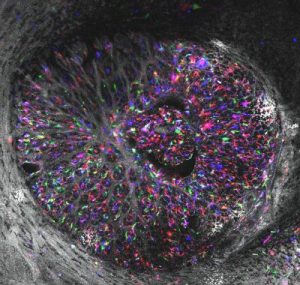 Recently reported by PittWire, researchers at the University of Pittsburgh – in a collaboration with Harvard School of Medicine – have captured stunning images of never-before-seen elements of the eye. These images show new details of astrocytes, which are used to keep nerve cells in the eye healthy.
"At the front of the bridge between the eye and the rest of the brain is a region called the lamina cribrosa," wrote Susannah Waxman, a doctoral student in the laboratory of McGowan affiliated faculty member, Ian Sigal, PhD, Associate Professor and Director of the Laboratory of Ocular Biomechanics in the Department of Ophthalmology at the University of Pittsburgh School of Medicine. "This spot is an initial site of the neurodegeneration that causes progressive vision loss in glaucoma."
"In glaucoma, it is not yet clear whether these astrocytes are heroes, villains, or something in between."
In the past, researchers have used rodent models to study changes in astrocyte morphology. The problem is that these rodents do not have lamina cibrosa astrocytes, which severely limited the knowledge gained from such models.
In a paper recently published in Experimental Eye Research, the authors described "an approach to visualize astrocytes in the eye that does not rely on rodent models or imperfect inferences based on cytoskeleton shape," Ms. Waxman said.
The approach used is called Multicolor DiOlistic labeling, which uses high resolution images of the astrocytes to create three-dimensional astrocyte models.
"We aim to use this approach to investigate differences between healthy astrocytes and those in the early stages of glaucoma," Ms. Waxman said. "This will help us better understand astrocyte-mediated mechanisms of disease and the complicated roles they play."
Illustration:  PittWire.
---
Helping Bones Heal Themselves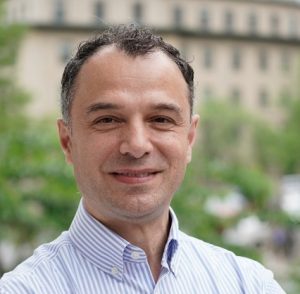 In the first year or two of their lives, babies can naturally heal bone damage on the top of their skull; however, their bodies lose this skill as they grow older. Researchers at the University of Pittsburgh used this knowledge to develop a novel approach that promoted bone regeneration in mice without the need to implant bone tissue or biomaterials.
"Our approach is inspired by babies because they have an amazing ability to regenerate bone defects in the calvarial bones that make up the top of the skull," said senior author Giuseppe Intini, DDS, PhD (pictured), Associate Professor of Periodontics and Preventive Dentistry at the University of Pittsburgh, School of Dental Medicine. "By harnessing the body's own healing capacity with autotherapies, we can stimulate bone to heal itself. We hope to build on this research in the future to develop novel therapies for people."
Dr. Intini's team created a technique that uses a device similar to an orthodontic wire. This device carefully stretche the skull along its sutures, which in turn activated skeletal stem cells.
"In babies, the calvarial bones are not completely fused, so the sutures where stem cells reside are still open," Dr. Intini explained. "We wondered whether the unfused sutures had something to do with the bone regenerative capacity observed in babies and hypothesized that we could reverse engineer this in adults by mechanically opening the sutures to activate the stem cell niche and boost stem cell numbers."
The researchers used a so-called bone distraction device in mice to apply a controlled pulling force to the calvarial bones. This force is strong enough to widen slightly the sutures but not enough to cause a fracture. As a result, the treated mice regenerated bone to heal a large defect in the skull.
"If you can effectively activate the stem cell niche, you can increase the number of stem cells and sustain regeneration of bone defects," said Intini. "Remarkably, we showed that the defect can heal even if it's away from the suture."
The treatment only worked in young adult mice – approximately two months old – but was ineffective in older mice.
"In older mice, the quantity of stem cells in calvarial sutures is very low, so expanding this niche is not as effective in boosting healing capacity," Dr. Intini said. "Overcoming this challenge is a focus of research to come."
Current treatments for skull damage are usually bone grafts or implantation of biomaterials that act as scaffolds for bone regeneration, but these approaches are not always effective and come with risks. The researchers hope to use their findings to inform novel therapies in people with skull injuries or long bone fractures.
The results of the study were recently published in Proceedings of the National Academy of Sciences.
---
Dr. Antonio D'Amore Named Topic Editor for Frontiers in Bioengineering and Biotechnology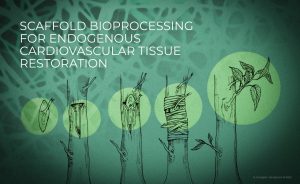 McGowan Institute affiliated faculty member Antonio D'Amore, PhD, Research Assistant Professor in the Departments of Surgery and Bioengineering at the University of Pittsburgh, has been named a guest editor for an article collection in Frontiers in Bioengineering and Biotechnology. The research topic is titled, "Scaffold bioprocessing for endogenous cardiovascular tissue restoration."
Frontiers' Research Topics are peer-reviewed article collections around cutting-edge research themes. Defined, managed, and led by renowned researchers, they unite the world's leading experts around the hottest topics – stimulating collaboration and accelerating science.
Guest editors are asked to:
edit an article collection around your research;
grow your network and collaborate with leading researchers around the world;
track impact in real-time with advanced impact metrics;
ensure quality through rigorous, transparent and fast peer review; and
increase visibility with the possibility of a freely shareable ebook.
The other guest editors for this issue are Petra Mela, PhD, Professor of Mechanical Engineering at the Technical University of Munich in Germany, and Anthal Smits, PhD, Assistant Professor at Eindhoven University of Technology in the Netherlands.
The abstract for this research topic follows:
As the field of cardiovascular tissue engineering and regenerative medicine keeps expanding its domain to a broader spectrum of clinical applications, only a limited number of medical devices with the ability to induce endogenous tissue restoration have reached the market and are now clinically available. Advanced material bioprocessing technologies, including additive manufacturing, and their increased capacity to control scaffold structure-function across the scales, play and will play a stronger role in accelerating translation. Improved control of biomaterials and engineered construct structure-function enables complex scaffold design paradigms to be challenged and evaluated. Scaffold structural and functional biomimicry, for instance, can now be implemented with an unprecedented level of realism at the organ and tissue scales.

Despite the broadly recognized value of cardiovascular tissue engineering and regenerative medicine, the field has not yet met success in translating the notion of endogenous tissue restoration from academia to the bedside. This is generally attributed to the persistence of major gaps in knowledge regarding the complex phenomena regulating material-driven host cell recruitment, tissue formation, elaboration, and complete maturation. The continuous advancement of additive manufacturing as well as fibrous material processing technologies such as electrospinning, melt electro writing, and jet-spinning enables the engineering of tissue and organ surrogates with increased control on scaffold micro-meso architecture, macro morphology, and their related function. This platform, if well developed, has the potential to provide powerful tools to gain a mechanistic understanding of the relationship between scaffold structure-function, and endogenous tissue growth. The better this fundamental, basic science question is addressed the sooner translation will happen.

The scope of this special issue is to collect and showcase the most promising bioprocessing technologies for the engineering of cardiovascular tissue surrogates and for advanced regenerative medicine therapies that are addressing unmet clinical needs in cardiovascular diseases. The editors are welcoming original research articles and reviews that cover emerging strategies for scaffold processing with emphasis on the impact of the engineered construct architecture on endogenous cardiovascular tissue elaboration in vitro and in vivo.
Abstract submissions are currently being accepted until January 31, 2024.
Photo credit: Dr. Nadia Consiglio
---
AWARDS AND RECOGNITION
Dr. William Wagner Receives the 2023 Marlin Mickle Outstanding Innovator Award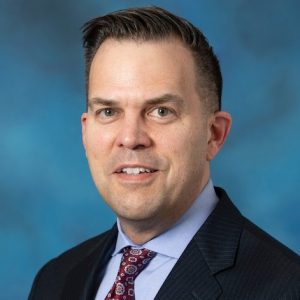 William Wagner, PhD (pictured), Director of the McGowan Institute for Regenerative Medicine, is the recipient of the 2023 Marlin Mickle Outstanding Innovator Award.  During the Innovation Institute's Celebration of Innovation on April 25, 2023, Dr. Wagner was presented with this prestigious honor. Watch a video here.
The Innovation Institute established the Outstanding Innovator Award in 2016 to recognize the lifetime achievements of Pitt faculty who have made an impact through the commercial translation of their research. It is named for Marlin Mickle, who holds the University record for invention disclosures filed, patents issued, and startups formed.
Dr. Wagner is a Distinguished Professor of Surgery, Chemical Engineering, and Bioengineering at the University of Pittsburgh. He serves as Scientific Director of the NSF Engineering Research Center on "Revolutionizing Metallic Biomaterials" and Chief Science Officer for the Armed Forces Institute of Regenerative Medicine. He holds a B.S. (Johns Hopkins Univ.) and Ph.D. (Univ. of Texas) in Chemical Engineering.
Dr. Wagner's research interests are generally in the area of cardiovascular engineering with projects that address medical device biocompatibility and design, hypothesis-driven biomaterials development, tissue engineering, and targeted imaging. Under his leadership, the McGowan Institute has been one of the most prolific research institutes at the University of Pittsburgh in terms of commercialization activity. McGowan-affiliated faculty and students have submitted more than 1,000 invention disclosures; have been issued 220 patents; and have executed more than 234 spinout companies.
Dr. Wagner is the fifth recipient of this award named for the late Marlin Mickle, from the Swanson School of Engineering, who is known as the pioneer of the field of Radio Frequency Identification (RFID). Previous McGowan Institute for Regenerative Medicine affiliated faculty members winning this prize include:  Rory Cooper, PhD (2016), Joseph Glorioso, PhD (2017), Stephen Badylak, DVM, PhD, MD (2018), and William Federspiel, PhD (2020-2021).
Congratulations, Dr. Wagner!
---
Dr. Leah Byrne Receives the Emerging Innovator Award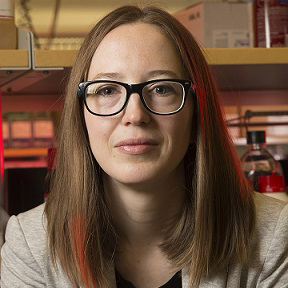 McGowan Institute for Regenerative Medicine affiliated faculty member Leah Byrne, PhD (pictured), Assistant Professor in the Department of Ophthalmology at the University of Pittsburgh, is the recipient of the 2023 Emerging Innovator Award.  During the Innovation Institute's Celebration of Innovation on April 25, 2023, Dr. Wagner was presented with this prestigious honor. Watch a video here.
The Innovation Institute established the Emerging Innovator Award in recognition of the potential difference developers can make on people's lives through commercial translation. The Emerging Innovator Award was established three years ago to recognize Pitt innovators in mid-career who have demonstrated an extraordinary commitment to achieving impact for their research through commercialization.
Dr. Byrne holds the position of Assistant Professor, Department of Ophthalmology, University of Pittsburgh, with secondary appointments in the Departments of Neurobiology and Bioengineering. The Byrne Lab develops gene-based approaches, including viral vector-mediated gene delivery and genome editing, to interrogate the biology underlying retinal disease and treat inherited blindness.
Dr. Byrne has received numerous awards for her research. She served as an Associate Scientific Advisor: Science Translational Medicine, was named an Emerging Vision Scientist, National Alliance for Eye and Vision Research, a Research to Prevent Blindness Career Development Award, and a Foundation Fighting Blindness Individual Investigator Award. Dr. Byrne is also the co-founder and CSO of Avista Therapeutics, a company working to develop gene therapies for retinal degeneration.
Congratulations, Dr. Byrne!
---
Dr. Krzysztof Matyjaszewski Receives the 2023 NAS Award in Chemical Sciences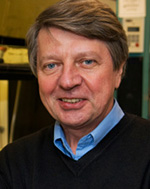 McGowan Institute affiliated faculty member Krzysztof Matyjaszewski, PhD (pictured), J.C. Warner Professor of Natural Sciences at Carnegie Mellon University, has been named the recipient of the 2023 National Academy of Sciences (NAS) Award in Chemical Sciences "for his trailblazing and transformative advancements in polymer chemistry."
The NAS posts that Dr. Matyjaszewski has made "transformative contributions to polymer chemistry. His novel method of polymer synthesis has shaped the field and can be used to produce a wide range of polymers, copolymers, and hybrid materials with a wide range of commercial, biomedical, and environmental applications."
Dr. Matyjaszewski's research interests include macromolecular engineering; synthesis of well-defined macromolecules via living and controlled polymerizations; homogeneous and heterogeneous catalysis; and the preparation of well-defined polymers and hybrids for optoelectronics, ceramics, and biomedical applications. He discovered Cu-mediated atom transfer radical polymerization, commercialized in US, Europe, and Japan.
The NAS Award in Chemical Sciences is presented annually to honor innovative research in the chemical sciences that contributes to a better understanding of the natural sciences and to the benefit of humanity. The NAS Award in Chemical Sciences was established in 1978 and supported by Occidental Petroleum Corporation from 1978 to 1996. The Merck Company Foundation assumed sponsorship in 1999. The award is presented with a medal and a $15,000 prize.
Congratulations, Dr. Matyjaszewski!
---
Badylak Lab Student Wins Outstanding Student Award from TERMIS-AM

Marley Dewey, PhD (pictured), a post-doctoral fellow in the laboratory of Stephen Badylak, DVM, PhD, MD, will receive the Students & Young Investigators Section (SYIS) Scientific Excellence Award from TERMIS-AA. Dr. Badylak is a deputy director of the McGowan Institute for Regenerative Medicine, professor in the Department of Surgery, and director of the Center for Pre-Clinical Tissue Engineering within the Institute.
This award aims "to recognize scientific excellence of the four top rated abstracts in the field of tissue engineering and regenerative medicine to trainees and young investigators… with the aim of recognizing and honoring scientists in the early stage of their careers."
The criteria for this award states that applicants must be investigators early in their careers, including graduate students and postdoctoral fellows with less than 5 years of postdoctoral experience; they must submit an abstract for TERMIS AM, and SYIS for consideration; and attendance at the 2023 TERMIS Americas Conference in Boston is mandatory. Awardees received a $500 travel stipend. The conference was held April 11-14, 2023.
Dr. Dewey completed her doctoral training at the University of Illinois Urbana-Champaign, where she modified mineralized collagen scaffolds for large-scale bone regeneration and investigated the in vitro immune response, mechanics, bacterial response, and multiple cellular responses within this system. Her research interests include investigating the immune and various cell responses of soft tissue systems to biomaterials, including how matrix-bound nanovesicles impact optic nerve regeneration.
Congratulations, Dr. Dewey!
---
PUBLICATION OF THE MONTH
Author: Susannah Waxman, Bryn L Brazile, Bin Yang, Po-Yi Lee, Yi Hua, Alexandra L Gogola, Po Lam, Andrew P Voorhees, Joseph F Rizzo 3rd, Tatjana C Jakobs, Ian A Sigal

Title: Lamina cribrosa vessel and collagen beam networks are distinct
Summary: Our goal was to analyze the spatial interrelation between vascular and collagen networks in the lamina cribrosa (LC). Specifically, we quantified the percentages of collagen beams with/without vessels and of vessels inside/outside of collagen beams. To do this, the vasculature of six normal monkey eyes was labeled by perfusion post-mortem. After enucleation, coronal cryosections through the LC were imaged using fluorescence and polarized light microscopy to visualize the blood vessels and collagen beams, respectively. The images were registered to form 3D volumes. Beams and vessels were segmented, and their spatial interrelationship was quantified in 3D. We found that 22% of the beams contained a vessel (range 14%-32%), and 21% of vessels were outside beams (13%-36%). Stated differently, 78% of beams did not contain a vessel (68%-86%), and 79% of vessels were inside a beam (64%-87%). Individual monkeys differed significantly in the fraction of vessels outside beams (p < 0.01 by linear mixed effect analysis), but not in the fraction of beams with vessels (p > 0.05). There were no significant differences between contralateral eyes in the percent of beams with vessels and of vessels outside beams (p > 0.05). Our results show that the vascular and collagenous networks of the LC in monkey are clearly distinct, and the historical notions that each LC beam contains a vessel and all vessels are within beams are inaccurate. We postulate that vessels outside beams may be relatively more vulnerable to mechanical compression by elevated IOP than are vessels shielded inside of beams.
Source: Exp Eye Res. 2022 Feb;215:108916. Epub 2021 Dec 29.
---
GRANT OF THE MONTH
PI: Antonio D'Amore
Title: A Biomimetic Pulmonary Valve that Decreases Re-operations in Pediatric Patients with Congenital Heart Disease
Description: Congenital heart disease (CHD) is caused by defects in the heart structure that occur at birth and affect blood flow through the heart and the rest of the body. CHD affects around 10 out of 1,000 live-born children, 25% of which will need an intervention or surgery within their first year of life. Circa 1 million children and 1.4 million adults live with CHD in the US, and over 182,000 heart valve replacements are performed every year. Currently, available heart valve prostheses do not perform as native cardiac tissue and have several limitations related to their durability and ability to support tissue regeneration. In addition, they have been associated with complications such as clots, increased risk of thrombosis and thromboembolism, calcification, and infection. Replacement of bioprosthetic valves often requires complex and high-risk operations and poses an economic burden of $1.7B in the US per year to the healthcare system.
Neoolife aims to overcome these major drawbacks in CHD therapy by developing tissue engineered heart valves (TEHVs) that are fabricated using scaffolds that mimic human tissue. Through endogenous tissue growth, Neoolife's biomimetic pulmonary heart valves are extensively augmented or eventually replaced, leaving autologous and functional leaflets that grow with the CHD pediatric patient that are durable and non-thrombogenic. These biomimetic valves do not require life-long blood thinner treatments and are resistant to calcification and infection. In this STTR Phase I project, Neoolife will modify its proprietary Double Component Deposition (DCD) technology to obtain a more homogeneous biomimetic scaffold deposition. Biomimetic pulmonary heart valve prototypes (n=10) will be fabricated using a new multiple stage processing setup. The prototypes will be tested in vitro for their mechanical and functional properties and assessed in vivo (n=5, 180 days) to evaluate polymer degradation, cellularization, biomechanics, and valve function.
In Phase II, further in vitro and in vivo studies will be performed to provide sufficient technical information to demonstrate that Neoolife developed pulmonary heart valve qualifies for obtaining a Humanitarian Device Exemption (HDE) designation for the treatment of pediatric CHD.
Source: Small Business Technology Transfer Program
Term: 13 months
Amount: $265,000