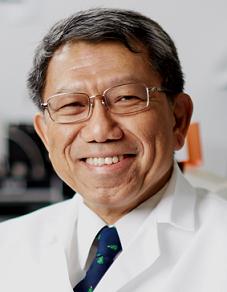 The microJoint, a three-dimensional model that replicates a human joint on a small scale, is under development in Pittsburgh. Once completed, it could have the potential to revolutionize the treatment of conditions related to joint complications, such as osteoarthritis. A radically new way of thinking — and a culture that encourages risk-taking — were key to its development.
Leading the charge on this groundbreaking project is McGowan Institute for Regenerative Medicine affiliated faculty member and principal investigator Rocky Tuan, PhD, director of the Center for Cellular and Molecular Engineering in the Department of Orthopaedic Surgery at the University of Pittsburgh and a fellow of the National Academy of Inventors. He is also vice chancellor and president of the Chinese University of Hong Kong. He and his collaborators at Stanford University and Tulane University were recently awarded $1.75 million from the National Institutes of Health for their work, which has already shown incredible promise.
The microJoint is composed of human tissues, constructed in the laboratory and grown as microscale structures – usually referred to as tissue chips – and generated using three key components: adult mesenchymal stem cells as the cell source, biological factors to facilitate growth, and a light-polymerized gel that acts as a scaffold.
Engineered cartilage serves as the centerpiece of the model, sitting in a small cylindrical chamber within a microbioreactor built by Dr. Tuan's team using 3D printing. The cartilage is connected to a series of similar chambers that house the key elements of the microJoint — including the synovium, macrophages, and an infrapatellar fat pad — by a precisely calibrated set of microtubes containing synovial fluid and other tissue fluids. The model may not look much like a human joint, but physical appearances aside, it is nearly identical.
"The only difference between the cartilage we've grown and the cartilage in your body is that ours was constructed from scratch as a tissue chip," said Dr. Tuan. "It's truly identical to human cartilage, meaning we'll be able to use it to better understand joint diseases and test experimental treatments."
Dr. Tuan and his team believe the microJoint could usher in the development of a new wave of effective, permanent treatments, in some cases even replacing options like opioid prescriptions and joint replacements.
Osteoarthritis is a leading cause of disability all around the world. It affects nearly one in six people in the United States, where more than $125 billion goes toward treatments to reduce pain or delay additional treatment. There is no cure; osteoarthritis is not preventable, and we are not sure what causes it to develop.
Read more…