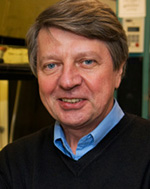 McGowan Institute for Regenerative Medicine affiliated faculty member Krzysztof Matyjaszewski, PhD, the J.C. Warner Professor of Natural Sciences at Carnegie Mellon University (CMU), is co-founder of BioHybrid Solutions, a start-up company founded at CMU which is developing a protein enhancement technology platform. The team at BioHybrid Solutions transforms proteins into efficient therapeutics and catalysts using patented protein-polymer conjugation technology. Protein-based therapeutics are used to treat viral infections, cancer, immune disorders, spinal cord injury, and other conditions. Furthermore, proteins (of which enzymes are a subclass) have broad applications in many areas, like biofuel production, decontamination and sensing technologies for protection against chemical warfare, or protein-based catalysis for pharmaceutical and chemical industries.
"Bare" proteins (non-hybridized with polymers), which can also be used in all of these areas, have poor market traction due to their poor stability and loss of functionality within a short period of time. Thus, "bare" proteins are expensive and inefficient, providing an opportunity for more stable and efficient protein-polymer hybrids. Polymer conjugation is the most attractive way to enhance protein performance for applications such as therapeutics, biocatalysis, and biofuel production. The team's current work utilizes its technology platform towards the development of a new enzyme-based catalyst for biodiesel production, providing cost-effective access to cheaper, renewable feedstocks and reduced wastewater emission.
Startup funding came from the U.S. Department of Energy's Small Business Innovation Research grant of $150,000 and a subcontract from the U.S. Department of Defense for $140,000, which are the first funding rounds in a multi-phase project that has a total of $1.5 million available to the new company. Through the small business research program, the federal government funds projects that can lead to commercialization of a product.
Other CMU co-founders of BioHybrid Solutions are Antonina Simakova, PhD, post doctoral research associate, Chemistry, and Alan Russell, PhD, Highmark Distinguished Career Professor, Institute for Complex Engineered Systems and Biomedical Engineering, and former founding director of the McGowan Institute for Regenerative Medicine.
Read more…
Defense Innovation, Austin, Texas, November 29-December 1, 2016.