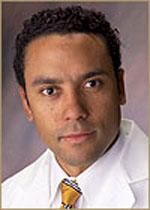 The University of Pittsburgh Schools of the Health Sciences has been awarded a U.S. Department of Defense (DOD) contract that could lead to $90 million in research over the next decade to improve trauma care for both civilians and military personnel.
The contract will launch with a $10.8 million project to create a nationwide network of trauma systems and centers capable of conducting detailed research to improve military trauma care. The Linking Investigations in Trauma and Emergency Services (LITES) Network will include extensive data collection to obtain and link information covering pre-hospital care through recovery after discharge on potentially thousands of trauma cases across the country.  McGowan Institute for Regenerative Medicine affiliated faculty member David Okonkwo, MD, PhD, Professor and Executive Vice Chair of Neurological Surgery, University of Pittsburgh, Director of Neurotrauma and of the Scoliosis and Spinal Deformity Program at UPMC, Clinical Director of the Brain Trauma Research Center, and a member of the Medical Staff for the Pittsburgh Steelers, is a co-principal investigator of the project.
"Our immediate goal is to characterize what our network can do by obtaining intensive data from the pre-hospital and in-hospital settings, which is beyond what is normally obtained by trauma centers across the country," said Jason L. Sperry, MD, MPH, principal investigator, professor of surgery and critical care medicine at Pitt's School of Medicine, and trauma surgeon at UPMC. "Our sense is that after approximately 2 years of accruing large amounts of data, we'll be able to launch subsequent projects at the DOD's request—including the gold standard: randomized clinical trials—to find out what approach to care works best to keep people who are injured in a trauma from dying."
In its initial project, the LITES Network is expected to provide epidemiological data on moderate and severe injuries in the U.S. and identify any regional variations in the types of injuries and the way they're managed.
"The LITES network will allow us to study the continuum of trauma care from the first emergency medical services contact through the emergency department and on to the operating rooms and intensive care units," said Frank X. Guyette, MD, MPH, associate professor of emergency medicine in Pitt's School of Medicine, medical director of STAT MedEvac, and co-principal investigator of LITES. "The lessons learned through this project will teach us how to better care for ill and injured civilians and protect our soldiers in the future."
A recent National Academies of Sciences, Engineering, and Medicine report determined that the lives of hundreds of U.S. service members could likely be saved in future wars if trauma care were optimal, and that those gains would lead to tens of thousands of civilian lives saved if such improvements were shared with U.S. trauma centers.
"That report set a bold goal to achieve zero preventable deaths after injury and minimal trauma-related disability," said Dr. Sperry. "Serendipitously, the LITES Network has the potential to spur research that will lead to clinical advancements to achieve that ambitious goal."
The University of Pittsburgh previously has collaborated with the University of Colorado and Oregon Health & Science University, and due to their integrated research approach and clinical trial experience, these three institutions will provide the trauma leadership necessary for the successful execution of the clinical trial network. The initial study also will use five other trauma centers: the University of Texas at Houston, Vanderbilt University, University of Louisville, Baylor College of Medicine, and the University of Arizona. Additional trauma centers from across the country will be involved in subsequent studies, including the University of Pennsylvania, University of Utah, University of Texas Southwestern, and the University of Florida. The Pitt Graduate School of Public Health's Epidemiology Data Center will be the data coordinating center, while the Multidisciplinary Acute Care Research Organization at Pitt will be the clinical coordinating center.
Unlike most multi-center studies of this magnitude, LITES Network projects will be made more efficient by relying on a central Institutional Review Board at Pitt. This will allow the network more flexibility to respond quickly to specific DOD project requests.
The LITES Network contract follows an established track record of Pitt successfully producing valuable results for the DOD, including the Prehospital Air Medical Plasma Trial, the Study of Tranexamic Acid During Air Medical Prehospital Trial, and the Traumatic Brain Injury Endpoints Development Initiative.
In addition to Drs. Sperry, Guyette, and Okonkwo, core leadership for the LITES Network includes Stephen R. Wisniewski, PhD, of Pitt; Ernest E. Moore, MD, of the University of Colorado; and Martin A. Schrieber, MD, of the Oregon Health and Science University. Barbara Early, BSN, of Pitt, will be the program administrator.
Read more…
UPMC/University of Pittsburgh Schools of the Health Sciences Media Relations News Release