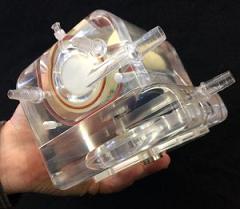 University of Pittsburgh researchers have developed and tested a wearable artificial lung (pictured) that eventually could be used by patients with advanced lung disease. The new device, which showed positive results in pre-clinical tests, promises to deliver greater mobility and increased odds for survival following severe lung damage.
Lung disease is a widespread problem in the United States. One type of lung disease, chronic obstructive pulmonary disease (COPD), is the third leading cause of death in the U.S., according to the American Lung Association. Caused by smoking or exposure to other lung irritants, more than 11 million people likely have COPD. In some cases, COPD causes severe damage to the lungs, requiring a lung transplant.
Those suffering from lung failure have limited options. After being placed on the organ transplant list, it normally takes several months for a patient to receive a lung transplant. During this time, patients are usually confined to the hospital bed, sedated, and hooked up to costly and cumbersome heart-lung machines that function to replace their damaged lungs.
"Despite recent advances such as portable heart-lung machines, a truly wearable artificial lung has yet to be developed for clinical use," said lead investigator William Federspiel, PhD, Whiteford Professor of Bioengineering in Pitt's Swanson School of Engineering and director of the Medical Devices Laboratory at the McGowan Institute for Regenerative Medicine.
Together with a multidisciplinary group of colleagues at Pitt, Dr. Federspiel's team has developed and tested the Paracorporeal Ambulatory Assist Lung (PAAL). The device is both compact and lightweight. It's about the size of a tissue box and weighs approximately 4 pounds – about the weight of a laptop. Their preliminary study was published recently in the Journal of Heart and Lung Transplantation.
The study found that PAAL meets the basic requirements for adult respiratory support following lung failure. The primary function of the lungs is to supply oxygen to the blood. PAAL supplied oxygen to the blood at levels roughly equivalent to human oxygen levels needed during resting.
The researchers were encouraged to find low blood damage and minimal blood clotting in the pre-clinical trials. This, combined with increased activity levels permitted by a wearable device, could eventually mean lower mortality rates for patients with severe acute or chronic lung failure.
An artificial lung has to last a patient up to several months until a donor organ becomes available. To test the long-term effectiveness of PAAL, 5-day pre-clinical studies were recently completed, and 30-day pre-clinical studies are planned in the near future.
"The artificial lung study we performed shows promise for patients as this approach opens the window for the outpatient management of patients with failing lungs who otherwise would not be able leave the intensive care unit," said McGowan Institute affiliated faculty member Jonathan D'Cunha, MD, PhD, UPMC's head of lung transplantation.
Other McGowan Institute affiliated faculty members who are co-authors on the study include Robert Kormos, MD, Professor of Cardiothoracic Surgery and Bioengineering at the University of Pittsburgh and director of UPMC's Artificial Heart Program and co-director of the Heart Transplantation Program, and James Antaki, PhD, Professor in Biomedical Engineering, Carnegie Mellon University.
Dr. Federspiel and his colleagues have also obtained a patent for the device and hope to test it in clinical trials in the near future.
Illustration:  UPMC.
Read more…
Abstract (In vitro and in vivo evaluation of a novel integrated wearable artificial lung.  Shalv P. Madhani, BS, Brian J. Frankowski, Greg W. Burgreen, PhD, Jim F. Antaki, PhD, Robert Kormos, MD, Jonathan D'Cunha, MD, PhD, William J. Federspiel, PhD.  The Journal of Heart and Lung Transplantation; 2017.)