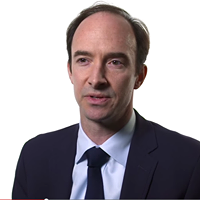 Recently, a Phase 1 clinical trial for the treatment of severe neurological diseases began with its first patient with McGowan Institute for Regenerative Medicine affiliated faculty member Mark Richardson, MD, PhD, Director of Epilepsy and Movement Disorders Surgery at the University of Pittsburgh Medical Center and an investigator in the trial, performing the surgical delivery approach.  The trial by Voyager Therapeutics, Inc., a clinical-stage gene therapy company developing life-changing treatments for severe neurological diseases, aims to further optimize the surgical delivery of VY-AADC01 for advanced Parkinson's disease.
This planned Phase 1 trial explores a posterior (i.e., back of the head) surgical delivery approach, compared to Cohorts 1-3 from a separate, ongoing Phase 1b trial that used a transfrontal (i.e., top of the head) surgical delivery approach, into the putamen, a specific region of the brain targeted by Voyager's gene therapy program.  A posterior approach could better align the infusion of VY-AADC01 with the anatomical structure of the putamen to potentially reduce the total procedure time and increase the total coverage of the putamen.  The administration of VY-AADC01 with this posterior approach was well-tolerated by the patient.  No serious adverse events were reported and the patient was discharged from the hospital the day after surgery.
"We are excited to successfully dose the first patient with this new surgical delivery approach," said Dr. Richardson.  "Reducing the number of bilateral surgical infusions from two with the transfrontal approach to one with the posterior approach is likely to reduce the total procedure time for this innovative program to treat advanced Parkinson's disease."
"Along with the potential to reduce the procedure time, this approach may also increase the coverage of the brain region we are targeting with VY-AADC01," said Bernard Ravina, MD, chief medical officer at Voyager.  "Preliminary total procedure time and putaminal coverage data from this trial that continues to enroll will be available during the third quarter of 2017 and will help inform the design of the pivotal Phase 2-3 program planned to initiate during late 2017."
The clinical trial approach with VY-AADC01 has the potential to durably enhance the conversion of levodopa to dopamine and provide clinically meaningful improvements in motor symptoms in Parkinson's disease following a single administration.
Read more…
Voyager Therapeutics News Release