As reported by Casey Adams for Inside UPMC, 20 students from North Carolina Agricultural & Technical State University (NC A&T) who are enrolled in University of Pittsburgh's distance learning class, "Artificial Organs," recently made a 7-hour trek from their university to visit the Procirca Perfusion Simulation and Education Center at UPMC Shadyside.  The course is conducted by McGowan Institute for Regenerative Medicine faculty member Harvey Borovetz, PhD, Distinguished Professor and former Chair (2002-2013) in the Department of Bioengineering, Swanson School of Engineering at the University of Pittsburgh, the Robert L. Hardesty Professor in the Department of Surgery, University of Pittsburgh School of Medicine, a Professor of Chemical and Petroleum Engineering, a Professor – Clinical and Translational Science Institute, a University Honors College Faculty Fellow, and within the McGowan Institute, the Deputy Director of Artificial Organs and Medical Devices.
Their journey from Greensboro to Pittsburgh was funded by a diversity grant provided through the Swanson School of Engineering as part of Pitt's Year of Diversity initiatives.
Perfusion is the process of managing cardiopulmonary bypass (CPB), a technique that temporarily takes over the function of the heart and lungs during surgery, maintaining the circulation of blood and the transfer of oxygen to the body and removal of carbon dioxide. The device that supports CPB is often referred to as the heart–lung machine or "the pump." Once CPB is initiated, the patient's heart and lungs are stopped, providing the surgeon with a motionless, bloodless surgical field for safe and effective repair of cardiac disease.
During the 2-day visit, students were exposed to clinical biomedical technologies and met with Pitt faculty, staff, and students in Pitt's Department of Bioengineering, and Procirca's artificial heart program and perfusion staff.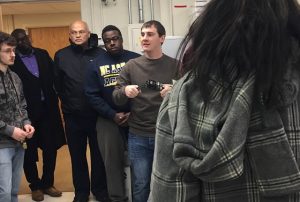 Brandon D'Aloiso, a first-year student in UPMC's cardiovascular perfusion program and a 2016 baccalaureate from Pitt's Department of Bioengineering, explained the perfusion circuit to the group, how it works, and how it's connected to the native heart.
"I appreciated the opportunity to interact with professionals in the field, as well as Pitt faculty and students who are in a similar program to ours," said Erika Johnson, a second-year master's student in the biomedical engineering program at NC A&T. "It was intriguing to see the resources used by those in our profession and hear about the various academic and professional opportunities available."
The Procirca Perfusion Simulation and Education Center at UPMC Shadyside has modern cardiopulmonary bypass, extra-corporeal membrane oxygenation and ventricular assist devices that are available for use by cardiac surgical teams who treat these patients. A more complete understanding of extra-corporeal technology is gained through demonstrations, hands-on learning, and high fidelity simulation, supported with didactic training from UPMC and Procirca faculty.
"One of our primary missions, beyond patient care, is education," said McGowan Institute faculty member Stephen Winowich, president of Procirca, a UPMC-owned company. "When Dr. Borovetz expressed interest in bringing students from his distance learning class and having us facilitate the clinical experience for them, we happily obliged. In addition to our commitment to education, interacting with the students is fun for us."
Dr. Borovetz said this was the first group of students from his distance learning course to visit Pitt and the Procirca center, with plans to bring another group this fall.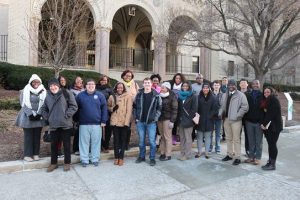 "This experience made the long drive from North Carolina worth every minute," said Trevon Nelson, a second-year master's student in the biomedical engineering program at NC A&T. "It was inspiring to see all the innovation and perfusion equipment that Pitt has and get hands-on experience with the perfusion equipment we've studied in a textbook."
Illustration:  Inside UPMC.
Read more…