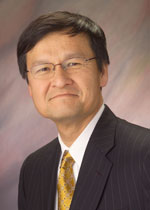 Recent research published in the journal Circulation estimated the impact of lifestyle factors on premature mortality and life expectancy in the US population.  The researchers recommended the following 5 simple lifestyle changes:
Eat a healthy diet.
Don't smoke.
Exercise regularly.
Keep trim.
Drink moderately.
McGowan Institute for Regenerative Medicine affiliated faculty member Joon Sup Lee, MD, Associate Professor of Medicine at the University of Pittsburgh, Division Chief of Cardiology, and Executive Director of UPMC Heart and Vascular Institute, hopes the research (in which he was not involved) inspires Americans to lead healthier lives.
"It's important for the public to understand the magnitude of the impact lifestyle has," said Dr. Lee, to Linda Carroll for Today.
We're just now starting to see the impact of "the tsunami impact of obesity," Dr. Lee continued.
Up until 2011, deaths from heart disease had been declining mostly due to improvements in technology and medicine, he said. "But after that it started going up again."
"If all my patients really understood we are talking about a decade of your life that you could be prolonging they might be inspired to make more changes," Dr. Lee said. "And though the paper doesn't address this, it's not simply about extending the duration of your life, but likely also extending the healthy duration of life."
Read more…
Abstract (Impact of Healthy Lifestyle Factors on Life Expectancies in the US Population. Yanping Li, An Pan, Dong D. Wang, Xiaoran Liu, Klodian Dhana, Oscar H. Franco, Stephen Kaptoge, Emanuele Di Angelantonio, Meir Stampfer, Walter C. Willett, Frank B. Hu. Circulation; 2018;CIRCULATIONAHA.117.032047.)