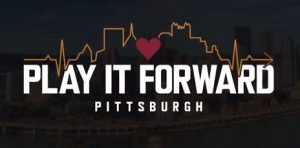 Philanthropists Cindy and Rob Citrone, dedicated to improving outcomes for pediatric transplantation across the United States and increasing the number of organ donors, have donated $2 million to Children's Hospital of Pittsburgh of UPMC. The Citrones will also match up to $1 million in additional donations raised for Children's transplant program.
At Children's, the Citrones' gift will foster collaboration among pediatric transplant programs with the goal of sharing best practices and clinical data to better standardize care and improve outcomes for children from throughout the U.S. who receive a transplant. This effort will be named in honor of UPMC surgeon Thomas E. Starzl, MD, the father of modern transplantation.
"We are very grateful to have the Citrone family so invested in our mission and to so generously support our efforts to improve outcomes for pediatric transplant patients around the country," said George Mazariegos, MD, chief of pediatric transplantation at Children's and McGowan Institute for Regenerative Medicine affiliated faculty member. "Dr. Starzl played a pioneering role in bringing transplantation to the forefront of medicine, and his legacy continues to bring international recognition to the city of Pittsburgh. We are honored to acknowledge him this way."
"This effort will drive change and give a voice to pediatric patients and their families regarding transplantation. We will unite a community of pediatric liver transplant centers committed to innovation and developing and sharing best practices," added Dr. Mazariegos.
The gift to Children's is part of the Citrones' Play It Forward Pittsburgh Campaign, which they established to increase organ donor registration, fund life-saving research, and change policy surrounding organ donation and transplantation nationally, starting in Pittsburgh. The campaign aims to establish Pittsburgh as the national leader in organ donation, and transform the way residents feel about organ donation and transplantation. Some of the partners involved in Play It Forward are the city's three major sports franchises – Pittsburgh Steelers (the Citrones' are minority owners of the Steelers), Pittsburgh Penguins, and Pittsburgh Pirates – as well as UPMC, the University of Pittsburgh, and Carnegie Mellon University.
"We are honored to support Children's Hospital and build upon their transformative work in transplantation, giving children the opportunity to live a full life," said Rob and Cindy Citrone.
"The city of Pittsburgh is a community of champions and we want to make sure our kids are champions in their lives. With this focus on collaboration, we can make the greatest impact by improving the outcomes for those who will live longest with their donor organ: the children."
Children's Hillman Center for Pediatric Transplantation is the nation's first pediatric transplant center and has been at the forefront of pediatric transplantation for more than three decades. As an international leader, Children's transplant surgeons have performed more than 3,500 organ transplants, more than any other pediatric transplant center and are achieving patient outcomes that are among the highest in the world. Children's is the leader in liver transplants as a treatment for metabolic disease, like maple syrup urine disease, having transplanted more than 330 patients with metabolic disease, more than any other center, including adult facilities.
To become an organ donor, visit the Play It Forward Pittsburgh website.
Illustration:  Play It Forward Pittsburgh.
Read more…
Children's Hospital of Pittsburgh of UPMC News Release