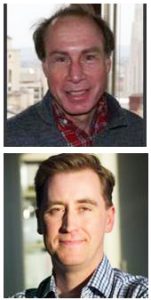 A lead gift of $600,000 from the Henry L. Hillman Foundation will help the University of Pittsburgh Brain Institute (UPBI) launch groundbreaking interdisciplinary projects to advance research on normal brain function and its impairment in a range of disorders. With matching funds from internal sources, the UPBI is distributing a total of $925,000 to five projects managed by Pitt faculty that address paralysis, Parkinson's disease, adolescent substance use, obsessive compulsive disorder, and brain computation. The funding also will support the growth of a UPBI Brain Bank to further research.  Two of the selected projects will be managed by McGowan Institute for Regenerative Medicine affiliated faculty members:
Enhanced Neural Prosthetics Using Shared-Mode Control: This project builds on the world's most advanced program in brain-controlled robotic arms and hands for paralyzed individuals. Led by Andrew Schwartz, PhD, distinguished professor of neurobiology at Pitt, a group of Pittsburgh scientists and engineers will enhance the performance of neural prosthetics, allowing a paralyzed person to manipulate an object. A prosthetic limb will operate under an individual's brain control, with a boost from an artificial intelligence component designed to predict what the individual intends to do. This shared-mode control will enable people who have quadriplegia to dexterously handle objects with a robotic arm and hand, and thus increase their independence in daily life.
The Impact of Variability on Neuronal Processing: Neurons are an unpredictable lot, varying their response from moment to moment within any given experiment. They also generate large amounts of data. Coping with such large-scale data and characterizing variability across brain regions will be essential to constructing models of how the brain processes sensory signals, and ultimately for developing an overarching theory of cognition.  Through their work, Brent Doiron, PhD, associate professor of mathematics, and Matthew Smith, PhD, assistant professor of ophthalmology, both of Pitt, will aim to understand the functional consequences of variability on specific brain computations and the behaviors that they generate.
"Collectively, these projects have the potential to significantly advance our understanding of brain function and shed light on disorders that affect millions of people. New therapies are urgently needed, and the road to these cures begins with this kind of fundamental research," said Peter Strick, PhD, scientific director of the UPBI, who also is a distinguished professor and holds the Thomas Detre Endowed Chair in the Pitt School of Medicine Department of Neurobiology. "These projects will enable us to better frame the national research agenda and compete more effectively for large-scale federal funding opportunities."
Read more…
UPMC/University of Pittsburgh Schools of the Health Sciences Media Relations News Release