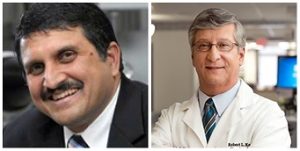 The McGowan Institute for Regenerative Medicine congratulates McGowan Institute for Regenerative Medicine affiliated faculty members …
Prashant Kumta, PhD, Edward R. Weidlein Chair Professor at the University of Pittsburgh Swanson School of Engineering and School of Dental Medicine, Engineering Director of the Center for Craniofacial Regeneration, and the Founding Director of the Center for Complex Engineered Multfunctional Materials, both at the University of Pittsburgh, and
Robert Kormos, MD, Professor of Cardiothoracic Surgery and Bioengineering at the University of Pittsburgh, director of UPMC's Artificial Heart Program, and co-director of the Heart Transplantation Program,
… on their award of $50,000 from the Coulter@Pitt TPII Program for a full year starting July 1, 2017 and ending June 30, 2018.
CardioSense is a rapid and simple point-of-care technique for detecting and monitoring cardiovascular disease.  This hand-held device reads a drop of blood and then determines within 5 minutes the levels of cardiac markers, i.e. Troponin, in the bloodstream.  The results are then transmitted wirelessly to a healthcare provider for further action.  Learn more here.
Drs. Kumta and Kormos demonstrated to the program's Oversight Committee (OC) that CardioSense satisfies a large unmet clinical need and that, in the OC's judgement, there is likely a viable path to commercialization.
The Coulter Program's mission is to help translate promising technologies to clinical practice through commercial products, with the goal of improving healthcare and patient outcomes.  To do so requires tremendous effort on the part of the innovators and subsequent business teams to address the challenges of product development, clinical trials, regulatory approvals, raising capital, and a myriad of marketing and economic issues.