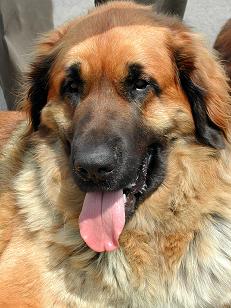 McGowan Institute for Regenerative Medicine affiliated faculty member David Okonkwo, MD, PhD, Professor and Executive Vice Chair of Neurological Surgery, University of Pittsburgh, recently was consulted on a very rare canine neurosurgery case.  The patient was a 5½ -year-old, female Leonberger named Anchor who underwent spinal surgery at Purdue University Veterinary Teaching Hospital.  Anchor holds expert status in water rescue.
Timothy Bentley, BVSc (Dist), MRCVS, an Associate Professor of Veterinary Neurology and Neurosurgery at Purdue, was the lead surgeon on Anchor's case.  There are three levels of spinal surgeries Dr. Bentley typical does — daily repair of slipped or fractured disks in dogs, once-a-month surgeries for tumors in the protective layer surrounding the spinal cord, and the occasional rare spinal surgery.
"But this is about as delicate as it gets," he said. "The last time was 2011 when I truly had to go inside the spinal cord itself." Such tumors can be inaccessible or intertwined with nerve fibers that, if damaged, can negatively affect the dog's recovery or survival.
After becoming familiar with the canine spinal cord anatomy, Dr. Okonkwo provided his guidance to Dr. Bentley.  "Anchor's tumor is very similar to a form of tumor we see frequently in humans," he said, noting the importance of avoiding injury to the spinal cord.
"One key focus of spinal cord tumor surgery at UPMC is to maintain an adequate blood pressure so oxygen continues to reach the spinal cord," Dr. Okonkwo said. "Dr. Bentley and I discussed how to translate that principal over to Anchor's surgery to preserve function in her hind legs."
Today, Anchor is back home in the Pittsburgh area receiving rehabilitation therapy and getting stronger each day with improved use of her back left leg.
Illustration:  Wikipedia.
Read more…