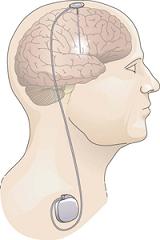 It is only in the last decade that deep brain stimulation (DBS) technology was refined and widely accepted as a treatment for Parkinson's disease and movement disorders, according to McGowan Institute for Regenerative Medicine affiliated faculty member Mark Richardson, MD, PhD, Assistant Professor of Neurological Surgery at the University of Pittsburgh and the Director, Brain Modulation Laboratory, and the Director, Epilepsy and Movement Disorders Surgery Program, both in the Department of Neurological Surgery.
What is DBS?
DBS surgery involves placing a thin metal electrode (about the diameter of a piece of spaghetti) into one of several possible brain targets and attaching it to a computerized pulse generator, which is implanted under the skin in the chest below the collarbone.  All parts of the stimulator system are internal; there are no wires coming out through the skin.  A programming computer held next to the skin over the pulse generator is used during routine office visits to adjust the settings for optimal symptom control.  Unlike older lesioning procedures or gamma knife radiosurgery, DBS does not destroy brain tissue.  Instead, it reversibly alters the abnormal function of the brain tissue in the region of the stimulating electrode.  It is important to note that DBS therapy may demand considerable time and patience before its effects are optimized.
How does DBS work?
DBS is not a cure for movement disorders, but it can successfully treat symptoms by disrupting the abnormal patterns of brain activity that become prominent in these diseases.  DBS is often described as a brain "pacemaker" because constant pulses of electrical charge are delivered at settings that are thought to restore normal brain rhythms, allowing the restoration of more normal movements.  The exact mechanisms of this neuromodulation are still unknown.
Who should get DBS?
This is a common question with a surprisingly simple answer:  Anyone who would get significant benefit from the treatment and can undergo the operation with minimal risk.  It is not necessary to suffer for years after diagnosis with a movement disorder, trying every known combination of medicine, before DBS can be considered.  DBS is a surgical option that is known to improve quality of life for movement disorder patients, so when one's quality of life is dramatically affected by a disease or by medication side effects, it's time to consider DBS.
Patients with these conditions may benefit from DBS:
Parkinson Disease:  DBS surgery offers important symptomatic relief in patients with moderate disability from Parkinson's disease who still retain some benefit from antiparkinsonian medications and who are cognitively intact. Patients who fluctuate between "ON" and "OFF" medication states are usually good surgical candidates, as are those who have troublesome dyskinesias.
Dystonia:  DBS surgery does not cure dystonia but can decrease the abnormal movements and postures of dystonia. The degree of benefit appears to vary with both the type of dystonia and the duration of the symptoms. Adolescents and young adults with inherited forms of primary dystonia appear to get very significant benefit. For patients with secondary dystonia due to stroke or head trauma, the benefit may be mild.  Adults who have had dystonia for many years probably have less improvement than those with more recent onset of symptoms.
Meige Syndrome:  Also known as oral-facial dystonia, this syndrome is a combination of two forms of dystonia: blepharospasm and oromandibular dystonia. Dr. Richardson works closely with Raymond Sekula, MD, Director of the Cranial Nerve Disorders Program, to identify patients with Meige Syndrome who may benefit from DBS.
Essential Tremor:  DBS is a highly effective therapy for patients with essential tremor, often resulting in an 80% decrease in tremor that lasts for several years.  Patients with a tremor secondary to stroke, traumatic brain injury, or multiple sclerosis are less likely to benefit from DBS.
Dr. Richardson is aware of the persistent unknowns of DBS research.  "There is still plenty of science in the field that remains to be uncovered," he said. "But it is important to note that it does work really well, even if we don't fully know why it works really well."
Illustration:  NIH.
Read more…
University of Pittsburgh Neurological Surgery: Deep Brain Stimulation for Movement Disorders