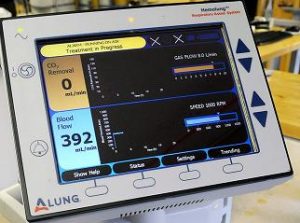 From core technology developed at the McGowan Institute for Regenerative Medicine by William Federspiel, PhD, William Kepler Whiteford Professor in the Department of Bioengineering, Chemical Engineering, and Critical Care Medicine, and the late Brack Hattler, MD, ALung Technologies, Inc., has designed and developed a medical device that removes carbon dioxide and delivers oxygen to the bloodstream, replacing intubation where oxygen is delivered to the patient through a tube that is placed into the entrance to the lungs. ALung announced recently the submission of its Investigational Device Exemption (IDE) application to the U.S. Food and Drug Administration (FDA) seeking approval to conduct a pivotal clinical study of the Hemolung Respiratory Assist System for the treatment of adults with severe acute exacerbations of chronic obstructive pulmonary disease (COPD).
COPD affects 30 million Americans and is the third leading cause of death in the United States behind cancer and heart disease. Acute exacerbations, defined as a sudden worsening of COPD symptoms, are a major cause of morbidity and mortality in COPD patients. For patients with severe exacerbations, high levels of carbon dioxide can result in respiratory failure and the need for intubation and mechanical ventilation as life saving measures. Unfortunately, mechanical ventilation is associated with many side effects, and in-hospital mortality remains as high as 30%. The Hemolung technology aims to avoid or reduce the need for intubation and ventilator support by directly removing carbon dioxide from the blood.
ALung has been working with the FDA under the Expedited Access Pathway (EAP) program to complete pre-clinical testing and finalize its clinical study protocol. "Submission of our IDE is a significant milestone, made possible only through the hard work of our team in close collaboration with the FDA," said Peter DeComo, Chairman and CEO of ALung. "We look forward to completing the IDE review and beginning the study later this year."
Illustration:  ALung Technologies, Inc.
Read more…
ALung Technologies, Inc. News Release