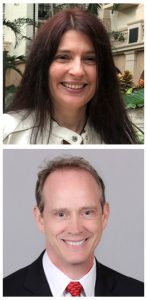 Research at Duquesne University using a nanomedicine that targets neuropathic pain at its source found that while males and females develop pain-like behavior to the same degree, the nanomedicine provided less relief for females.
The study, published in Scientific Reports (Nature), tested male and female rats using a nonsteroidal anti-inflammatory drug (NSAID) nanoemulsion, which delivers a low-dose medication to the site of injury. It found that male rats experienced neuropathic pain relief for five days, while female rats experienced only one day of relief from the same dose.
The study marks the latest findings of the university's Chronic Pain Research Consortium (CPRC), a multidisciplinary collaboration by Jelena Janjic, PhD (founder/co-director, pictured top), and John Pollock, PhD (co-director, pictured bottom).  A key component of this study is the application of the first inflammatory pain nanomedicine created by Dr. Janjic, which directly targets the source of pain.
"One of the goals of this research is to eventually develop personalized treatments for pain," said Dr. Janjic, associate pharmacy professor who co-authored the study. "Discovering more about the differences in pain response between males and females at the molecular level serves as a first step toward designing such treatments."
One of the possible reasons for the differences in the drug's effectiveness may be related to how immune systems function in slightly different ways in males and females, said Dr. Pollock, biological sciences professor.
"Every time we look carefully, we find there are subtle differences in the underlying physiology of females versus males," said Dr. Pollock, who co-authored the study. "Normally, how the body responds to injury and pain progresses with time, hopefully shifting to an immune response that supports healing and tissue regeneration. What we see in these rats is that the processes have several sex-specific differences that need to be clarified so we can provide the best pain relief therapy for humans."
The study focused on macrophages (also known as white blood cells), which contribute to neuroinflammatory pain by activating an enzyme known as cyclooxygenase-2 (COX-2). The Duquesne researchers suspected that honing-in on the differences in macrophage activity could provide insight about pain response between males and females.
"We saw that pain sensitivity was linked to the number of macrophages at the site of injury," said Brooke Deal, Duquesne graduate student researcher and co-author of the study. "The less macrophages at the injury site, the more pain relief."
The findings also demonstrate that COX-2 activation may have different levels of importance in the neuroinflammatory response depending on sex; this could mean that there are other immunological systems at work, Ms. Deal added.
The use of nanomedicines to treat pain is a future game-changer, Dr. Janjic said, noting that the nanoemulsion both treats pain and allows researchers to track the location of the immune cells in vivo.
"Imaging with nanomedicines can provide us with key information for the future," she said. "We can learn which medicine works better not only for men and women, but individual patients, as their bodies undergo biological changes during the course of their lives."
Read more…
Duquesne University News Release
Abstract (Deal B, Reynolds LM, Patterson C, Janjic JM, Pollock JA. Behavioral and inflammatory sex differences revealed by celecoxib nanotherapeutic treatment of peripheral neuroinflammation. Scientific Reports, 2022 May 30;12(1):8472.)