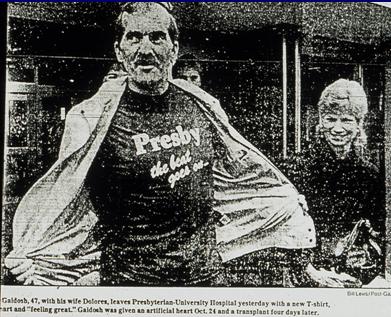 It was 30 years ago on October 24 in Pittsburgh that a Jarvik-7 total artificial heart was implanted into a patient at Presbyterian University Hospital.  This was the first clinical use of a mechanical blood pump in Pittsburgh, and 47-year-old Thomas Gaidosh (pictured) was the first recipient of this artificial heart.  The surgery was an emergency measure to keep Mr. Gaidosh alive until a donor heart was available for him.  The event was front page news in the Pittsburgh Press.
Mr. Gaidosh received a heart transplant within 4 days of the Jarvik-7 implant.  He went on to live 12 more years.  He was a wonderful supporter of the mechanical circulatory support program launched by Bartley Griffith, MD, and now under the direction of McGowan Institute for Regenerative Medicine faculty member Robert Kormos, MD, director of UPMC's Artificial Heart Program and co-director of the Heart Transplantation Program.  After 30 years, this exceptional program has helped almost 1,000 mechanical circulatory support patients (adult + pediatric).
UPMC's artificial heart program is one of the first to be established in the United States and is considered one of the most experienced centers. Over the years, the center has worked with a number of device manufacturers, performing laboratory and clinical studies as well as serving as a national training center for other medical centers implementing programs. As such, the team has seen the technology evolve to better meet the needs of patients with heart failure.  The team is a unique combination of clinical specialists and bioengineers who work together to optimize the patient's therapy.
Illustration:  Pittsburgh Press.