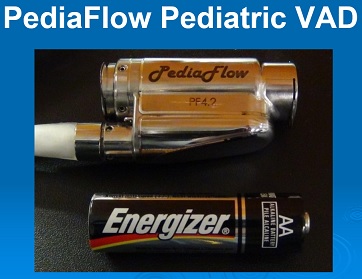 The recent Pittsburgh Post-Gazette newspaper article by Jill Daly highlights the significant challenges infants and children face if they require a heart transplant.
According to an article recently published in the American Journal of Transplantation, "pediatric heart transplant candidates face the highest waitlist mortality of all solid organ transplant candidates, in part due to limited organ availability."  "Although there has been an increase in the number of pediatric heart transplantations performed annually in the United States, this has not overcome the growing population of candidates."  Further, according to this journal article, "there has been no decrease in overall waitlist mortality, in spite of recent changes in US pediatric heart allocation policy."
What this means for many infants and small children, like Dean in the Pittsburgh news article, for whom a donor heart was not readily available, is that a ventricular assist device (VAD) is used to help these patients survive the wait for a donor heart.  In the Unites States, there is only one VAD approved by the Food and Drug Administration (FDA) for cardiac support of children, and that device is the Berlin Heart EXCOR … the VAD that was implanted in Dean.  As described in the news article, the Berlin Heart EXCOR poses limitations for pediatric patients, which is not unexpected given that the Berlin Heart EXCOR is 30-year old technology.
To address this current limitation of pediatric VAD technology, pediatric cardiologists, pediatric cardiac surgeons, and bioengineers at the McGowan Institute for Regenerative Medicine have developed a miniaturized, magnetically levitated, rotary VAD that can provide the blood flow needs for infants and small children with congenital and/or acquired cardiac disease.  This VAD, known as PediaFlow, is the size of a AA-cell battery; and as reported in The Journal of Thoracic and Cardiovascular Surgery, has demonstrated excellent biocompatibility in pre-clinical testing which is an essential condition for any VAD intended to support the failed circulation of these most special patients.  The ultimate goal is to make the PediaFlow developed at the McGowan Institute available to patients like Dean so that their wait for a heart transplant is associated with a good quality-of-life for them and their loved ones.
Illustration:  PediaFlow.  McGowan Institute for Regenerative Medicine.
Read more…
UPMC/Children's Hospital of Pittsburgh/PittHealthSciences Media Relations News Release
Abstract (Impact of the 2016 revision of US pediatric heart allocation policy on waitlist characteristics and outcomes.  Magnetta DA, Godown J, West S, Zinn M, Rose-Felker K, Miller S, Feingold B.  Am J Transplant. 2019 Sep 22.)
Abstract (Preclinical performance of a pediatric mechanical circulatory support device: The PediaFlow ventricular assist device.  Olia SE, Wearden PD, Maul TM, Shankarraman V, Kocyildirim E, Snyder ST, Callahan PM, Kameneva MV, Wagner WR, Borovetz HS, Antaki JF.  J Thorac Cardiovasc Surg. 2018 Oct;156(4):1643-1651.e7.)