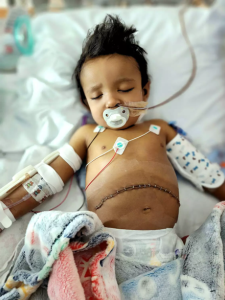 By Cristina D'Imperio
Nearly two years ago, Logan Salva of Ocala, Florida, was born with Alagille Syndrome, a rare genetic mutation that caused bile to build up in his liver. Alagille Syndrome appears in one out of 70,000 babies and can ultimately cause the liver to fail, necessitating a transplant.
As Logan's symptoms persisted, it became apparent that he needed a liver transplant. However, his parents Raska Marletto-Salva and Skyler J. Salva discovered that Logan could possibly spend months or years on a transplant waitlist. Based on his condition, they feared he would be unable to survive the wait.
According to the United Network for Organ Sharing (UNOS), there are approximately 400 children waiting for a liver transplant. An average of 6% of these children die while on the waitlist.
The Salvas then turned to living-donor transplantation and a pediatric liver transplant program at UPMC Children's Hospital of Pittsburgh.
George Mazariegos, MD, McGowan affiliated faculty, pediatric liver and intestine transplant surgeon, and the Director of the Hillman Center for Pediatric Transplantation at the Children's Hospital of Pittsburgh of UPMC is part of a collaboration with Advent Health for Children, which works with UPMC Children's Hospital to expand access to lifesaving pediatric liver transplants to central and northern Florida.
Through Advent Health for Children, Logan's family in central Florida was connected with UPMC Children's Hospital and Makenzie Beach, a nurse from Erie, Pennsylvania, who volunteered to be a living donor.
"The great thing about […] living donation," said Dr. Mazariegos in an interview with WTAE, "is that we are able to take a perfectly healthy segment of the liver in a transplant situation and be able to optimize [the] chance for a really great recovery."
Logan's family traveled to Pittsburgh for his surgery, and on June 8, 2023, surgeons successfully transplanted a portion of Beach's liver into Logan. Only about 5% of people who undergo a liver transplant receive the organ from a living donor.
Three months later and both Beach and Logan are doing well.
"It's incredible the change that we saw in him physically, just in his appearance and complexion and everything," Marletto-Salva, Logan's mother, said. "It happened within days, with his complexion, and that was just the beginning of it, and then he just started to fill out and look like a normal little kid again."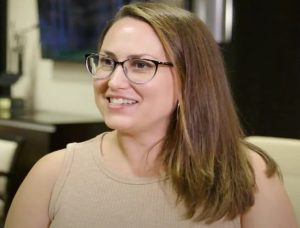 Beach has already returned to work. "It's much more manageable than people realize," she said. "My liver has probably already grown back to its full size again, and I was able to save a life for a couple weeks of some discomfort. It seems like a small price."
In an interview with WPXI, Dr. Mazariegos stated, "In most cases, when a child undergoes a transplant, their disease does not come back, and they are able to achieve a normal childhood, normal growth, and a normal transition into adulthood that wouldn't have been possible without the transplant."
Thanks to the altruistic donation by Beach, the efforts of Advent Health, and the research, studies, and surgeries performed by Dr. Mazariegos and others at UPMC, Logan now has the chance to live a healthy life.
"I feel like I was part of a miracle," said Beach.
Read the original reporting by WTAE News here.
Read more at People.
Read and watch more from Good Morning America.
Photos of Logan Salva and Makenzie Beach courtesy o UPMC Children's Hospital of Pittsburgh.