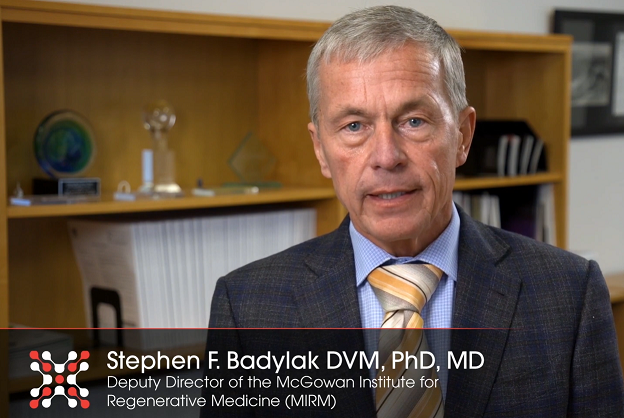 DiFusion Technologies, Inc. recently announced landmark data for the company's ZFUZE Surgical Polymer and how it compares to traditional biomaterials like Titanium and Poly-Ether-Ether-Ketone (PEEK). The data and the importance of the immune system response in new technologies such as ZFUZE were debated by Stephen Badylak, DVM, MD, PhD, Deputy Director of the McGowan Institute for Regenerative Medicine, Professor in the Department of Surgery at the University of Pittsburgh, and Director of the Center for Pre-Clinical Tissue Engineering within the Institute, at the International Society for Advancement of Spine Surgery (ISASS) in late May 2021 in Miami.  Dr. Badylak is a member of the Scientific Advisory Board of DiFusion Technologies, Inc.
The immune system plays a vital role in tissue healing, but only recently have experts come to understand the importance of the immune system in normal tissue/organ development, remodeling following injury, and regeneration and how important it is to consider the immune response in the design and development of implantable medical materials and devices. Medical practitioners are now considering the "host response" for medical implants as the human immune system sees Titanium and PEEK as "foreign" which triggers a chronic long-term inflammatory response.
Dr. Badylak is among the foremost experts the immune response to biomaterials. He discussed data related to ZFUZE at the ISASS meeting. "Imagine having two materials and making identical devices in terms of the mechanical properties, such as pore size, but one material (PEEK) promotes a prolonged inflammatory response and the other material (ZFUZE) promotes a pro-healing remodeling response," said Dr. Badylak. "We have tested over 300 different biomaterials with respect to the type of macrophage response that is elicited and have never seen immunomodulation like we have for ZFUZE in anything other than a naturally occurring molecule."  Watch a video of Dr. Badylak explaining the technology here.
"Dr. Badylak's presentation at ISASS was a wake-up call to the industry. For many years orthopedic OEM's have borrowed materials like titanium and PEEK from the aerospace industry, based on strength or surface topography. He showed us an entirely new way of looking at the host response to medical implants," said Jeffrey Fernyhough, MD, Founder and CEO, Florida Back Institute. "Companies should be looking to material biocompatibility first and foremost when selecting future biomaterials."
Dr. Badylak's Osteoimmunology Study was followed by a Clinical Patient review of ZFUZE surgeries performed by Paul Kraemer, MD, of the Indiana Spine Group. "We have reviewed more than 25 surgeries via CT scan and have documented early boney ingrowth and ongrowth in every patient to date. The big takeaway from these cases is how ZFUZE performs in immuno-compromised patients such as diabetics, osteopenic patients, and even smokers," Paul Kraemer, MD.
"Host rejection of medical implants is a major concern across virtually every sector of medicine. The results we have gleaned via Dr. Badylak's work not only have major implications in orthopedics but in regenerative medicine as a whole," said Derrick Johns, Founder and CEO of DiFusion Technologies. "Pairing Dr. Badylak's osteoimmunology data with Dr. Kraemer's clinical results at ISASS is a difficult challenge for traditional implant makers to overcome and puts DiFusion at the forefront of biomaterial OEM's."
Illustration:  DiFusion Technologies, Inc.
Read more…