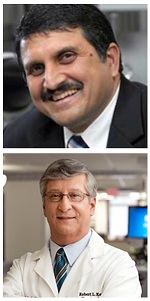 The Department of Defense Office of the Congressionally Directed Medical Research Programs (CDMRP) announced that the FY18 Peer Reviewed Medical Research Program Discovery Award application submission from the laboratory of McGowan Institute for Regenerative Medicine affiliated faculty member Prashant Kumta, PhD, Edward R. Weidlein Chair and Professor at the University of Pittsburgh Swanson School of Engineering and School of Dental Medicine, was recommended for funding.
The project entitled, "Novel Aptamer-Based Biosensor Platforms for Detection of Cardiomyopathy Conditions," is awarded for $300K including indirect costs for 18 months.
Members of Dr. Kumta's lab involved in the research include:  Moni K. Datta, PhD (principal investigator), Abhijit Roy, PhD, and Sangeetha Kunjukunju, PhD.
Along with members from Dr. Kumta's lab, McGowan Institute for Regenerative Medicine Deputy Director Robert L. Kormos, MD, Brack G. Hattler Professor of Cardiothoracic Transplantation, Professor Cardiothoracic Surgery and Bioengineering, Department of Cardiothoracic Surgery, Heart and Vascular Institute, University of Pittsburgh Medical Center, is a co-inventor on the patent related to this work.
Congratulations, all!
Read more…
University of Pittsburgh Swanson School of Engineering News Release