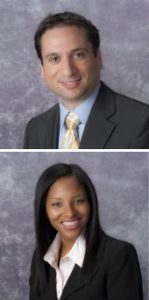 From the desk of J. Peter Rubin, MD, FACS, UPMC Endowed Professor, Chair of Plastic Surgery, Professor of Bioengineering, and McGowan Institute faculty member:
"I would like to take the opportunity to announce the renaming of our Vascularized Composite Allotransplantation (VCA) Laboratory to the "Vascularized Composite Allotransplantation and Microsurgery (VCAM) Laboratory."  This new name reflects not only the unique expertise in state-of-the-art VCA research, but also emphasizes the lab's advanced microsurgical capabilities.
The VCAM Laboratory Co-Directors, Mario G. Solari, MD, and Kia M. Washington, MD, are exceptional leaders in VCA and both highly skilled reconstructive microsurgeons who can address the most difficult reconstructive problems in both the operating room and apply their skills to large and small animal models.  They remain committed to advanced basic science and translational research, and are always happy to discuss collaborations both within our University research community and with investigators at other institutions.  Notably, the advanced microsurgical capabilities can enable the completion of surgical models employed in research projects across numerous scientific disciplines.  Our clinical VCA program remains active with the United Network for Organ Sharing (UNOS) and our commitment to translational research in VCA is stronger than ever.
The Vascularized Composite Allotransplantation and Microsurgery (VCAM) Laboratory capabilities include:
Microsurgical transplantation of vascularized tissues, such as facial tissue, whole eye, limb, and the individual components of muscle, nerve, skin, and bone;
State-of the-art immunological techniques including cellular assays, flow cytometry, rtPCR, and cytokine analysis; and
Nerve histomorphometery, conduction studies, and functional testing.
Key statistics of lab include:
Over $6 million in active funding from the Department of Defense and other sources including funding from the Joint Warfighter Medical Research Program for whole eye transplant research;
Experienced team of 3 Principal investigators, 1 MD/PhD Transplant Immunologist, 5 microsurgeons, 3 postdoctoral fellows, and 1 Program Coordinator;
Six operating microscopes, making this one of the best equipped microsurgical labs in the nation; and
Large and small animal surgery capabilities.
We now start a new era of scientific research, building and expanding upon the numerous successes of our VCAM Laboratory team.  Dr. Solari and Dr. Washington look forward to continuing current collaborations and establishing new ones where their expertise in microsurgery and transplant immunology can be of value.  I have no doubt that the Vascularized Composite Allotransplantation and Microsurgery (VCAM) Laboratory will flourish under their leadership."