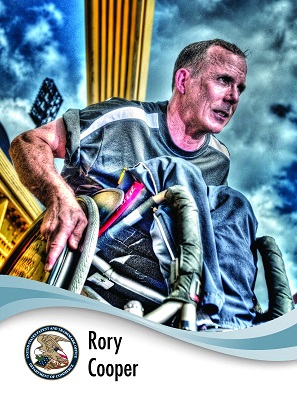 McGowan Institute for Regenerative Medicine affiliated faculty member Rory Cooper, PhD, director of the Human Engineering Research Laboratories at Pitt, was recently honored with his U.S. Patent and Trademark Office inventor trading card and portrait (pictured).
Dr. Cooper is the 28th inventor and the first Pitt professor to receive this honor, which was established in 2012. Other inventors who have received this honor include Thomas Edison, George Washington Carver, Abraham Lincoln and Hedy Lamarr, among others.
Dr. Cooper has over two dozen patents in his name, with his portrait featuring one of them — the Ergonomic Dual Surface Wheelchair Pushrim, a wheelchair accessory designed to relieve stress on the wheelchair pusher's upper body. He is also the associate dean for inclusion and the FISA/Paralyzed Veterans of America Distinguished Professor at Pitt's School of Health and Rehabilitation Sciences.
Congratulations, Dr. Cooper!
Illustration:  U.S. Patent and Trademark Office (click for view of card front and back: USPTO.)
Read more…